Angel Fire - North Central New Mexico
Includes Eagle Nest
Experience Angel Fire and Eagle Nest, New Mexico
Angel Fire is named for the gorgeous light created when the sun sets and rises behind the nearby mountains, and the town lives up to its name, offering a scenic backdrop for the year-round recreation that takes place there.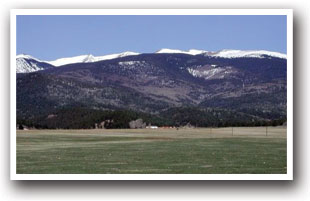 It's rare that visitors to this high-altitude getaway find themselves indoors. Surrounded by mountains, lakes and rivers, Angel Fire offers countless opportunities for hiking, biking and fishing in the summer or skiing, ice fishing and snowmobiling in the winter.
Angel Fire Ski Resort takes advantage of the area's 210 inches of annual snowfall, providing runs for every level of skier and snowboarder. The resort also offers freestyle parks with half-pipes and rails as well as a large Nordic park, where cross-country skiers and snowshoers can enjoy acres of trails. In the summer, the resort is open to hikers and bikers, who can take the lifts up to explore the mountains when they're not covered in snow.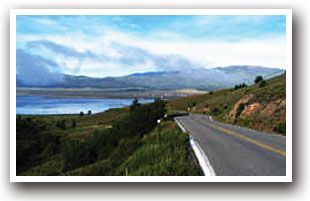 Hiking and cycling enthusiasts will also enjoy Carson National Forest to the town's west and the Cimarron Canyon Area to its northeast, both of which offer miles of trails for all skill levels. Those looking for an easy hike can try out the Clear Creek trail in the Cimarron Canyon Area, which leads to waterfalls. The more adventurous can try to climb Wheeler Peak - at 13,161 feet, it's New Mexico's highest mountain.
Anglers can enjoy the area's well-stocked waters year round. Monte Verde Lake, stocked with trout, is open during the summer and rents out fun paddle-boats and row boats. Eagle Nest Lake, featuring some of the best trout and salmon fishing in the Southwest, is open year round, for both ice and regular fishing.
Other nearby activities include white water rafting on the Rio Grande, Chama and Red rivers as well as the Enchanted Circle Scenic Byway, which takes drivers by the Vietnam Veterans National Memorial, a soaring homage to those who fought in the conflict. Shopping and dining in town are also plentiful, with options for every taste and style.
Vacationers who are lucky might even find themselves at one of the town's many festivals held throughout the year, such as the Angel Fire Balloon Rally in July or the Music from Angel Fire international chamber music series in the fall.
With so much to do, it's clear that sunsets aren't the only thing Angel Fire has going for it.
Angel Fire is near: Red River & Taos
Angel Fire Activities & Maps
Scenic Byways:
Enchanted Circle Scenic Byway

---