New Mexico Scenic Byways Map
High Road to Taos Scenic Byway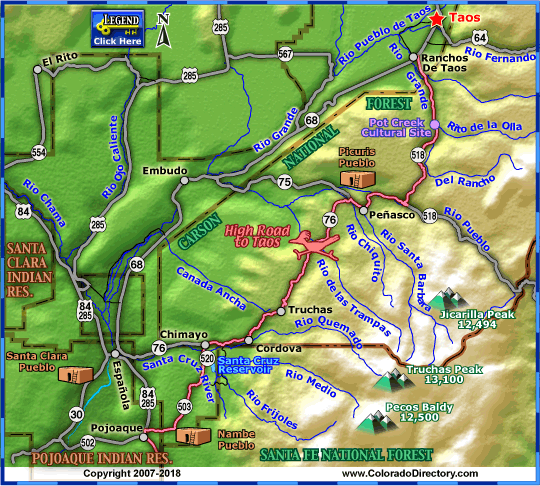 Vacationers can travel from Santa Fe to Taos any number of ways, but one of the most scenic and entertaining routes is on the High Road to Taos.
The 67-mile-long scenic byway takes drivers through several small Spanish-influenced towns that are home to historic buildings, beautiful artwork and astounding natural sites. Heading north from Santa Fe on U.S. 285, drivers can access the beginning of the route by turning east on 503 and following it to NM 520.
Traveling north on the road, vacationers stop in the small foothills town of Chimayo. Once a Spanish fortress, the town's plaza is home to the famous Santuario de Chimayo, a center that draws countless pilgrims because of its supposed ability to heal the sick. The historic building houses five colorful sacred paintings and numerous artifacts, but the real draw is El Posito ≠ a hole where cure seekers can grab handfuls of dirt to rub on their bodies or take with them.
From Chimayo, drivers head northeast on NM 76 to Cordova, a small forested town where resident artisans carve exquisite figures from Aspen and Cedar wood. Farther up the road lies Truchas, which was used as the setting for the Robert Redford movie ≥The Milagro Beanfield War.≤ Look for the adobe building with the cross near the town's entrance ≠ it's a meeting place for the Brotherhood of the Penitentes, a secret religious society know for its self-flagellation rites.
The route enters Carson National Forest just past Truchas, where drivers can take in the surrounding Sangre de Cristo mountains. Drivers turn south onto NM 75 and follow it to NM 518 to continue on the route. Along the way, numerous pullouts offer scenic views of the mountains and vegetation that surround the road.
History buffs can make a stop and stretch their legs at Carson National Forest's Pot Creek Cultural Site. The site's gate is locked, but vehicles can park along the road and walk in. Visitors to the site will find a one-mile loop trail that leads to a kiva and a reproduction of a pueblo room.
Finally, drivers follow NM 518 until it drops into Ranchos de Taos. The quaint town is home to the San Francisco de Asis, a beautifully simple 18th century mission church. The structure's rustic adobe walls have inspired countless artists and photographers, including famous painter Georgia O'Keefe.
Heading north on NM 68 will take vacationers the rest of the way to Taos ≠ but who's in a hurry? With so much to do and see along the High Road to Taos, getting there is half the fun.
More Activities & Information
---
Scenic Byways in Colorado