Colorado Scenic Byways Map
Gunnison Taylor Park Loop Scenic Drive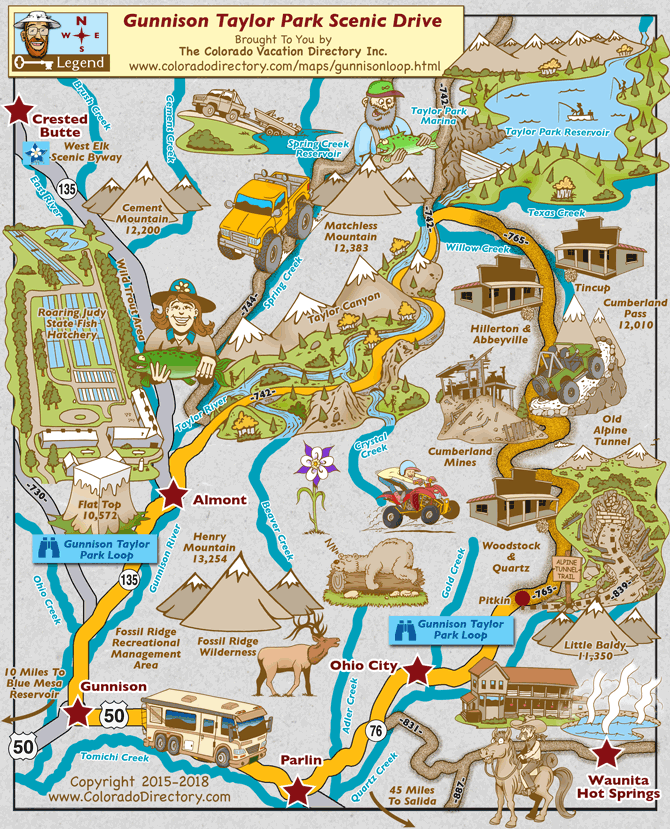 Gunnison, Colorado offers unparalleled history and recreation throughout the year. This area narrates a story through gleaming vistas, mining/ghost towns, and wildlife. While this is not a state designated Scenic Byway, a drive around this loop will help you see why we think this route is worth mentioning.
There are several ghost towns to explore while on your drive: Abbeyville, Hillerton, Quartz, Tincup, Woodstock. All of these towns were established for the miners of the 1800s but no longer have operating businesses. Learn the history of the area and discover some of the old buildings still standing.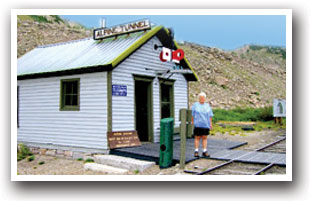 The Alpine Tunnel (the first tunnel to cross the Continental Divide in 1882) served the Denver, South Park & Pacific Railroad as a passage through the Continental Divide for mining operations during the late 1800s. Crossing over Cumberland Pass at 10,000' you'll have access to several mines and beautiful views of the 13,214' Fairview Peak and 12,985' Squaretop Mountain. The tunnel has since been sealed off but the railroad bed is explored by hikers and off-road vehicles.
The Cumberland Pass Road is the highest standard car road for summer use in the nation. At the 12,200' summit you can view the Cumberland mining area. Cumberland Pass Road was built in 1882 to connect Tincup with the Denver, South Park & Pacific Railroad at Pitkin. No traces remain today.
Pitkin, Ohio City, and Parlin are not considered ghost towns as they have year round residents and some city buildings are still in use but not many vacationers know about them. Make sure to stop while on your drive to see all the cool stuff there is around the towns.
Stop at Taylor Park Reservoir along the way to do a little fishing or just to dip your feet in. The reservoir is prime for catching trophy Lake Trout and Pike but anglers will also crowd the tail waters of the Taylor River just below the dam. Some other fun things to do at the Reservoir include the Boating Marina, Hiking, and Bird Watching. Or you could stop along the Taylor River, the East River, or the Gunnison River for a great afternoon picnic.
A drive through Taylor Canyon is definitely worth it; see granite cliffs above, be surrounded by a dense forest, and watch the powerful waves of the Taylor River below. There's hiking and rock climbing available as well as fishing, kayaking, and wildlife watching.
Location: This 90 mile loop starts in Gunnison; travel east along Highway 50 towards Parlin. From here, turn left on County Road 76 and travel through Ohio City, Pitkin, and Tincup all the way to Almont. Take Highway 135 south to finish the loop in Gunnison.

Places to Stay & Fun Things to Do
Mother Lode RV Park
Off the beaten path in the mountains in a historic mining valley; 20 miles northeast of Gunnison, Mother Lode is a seasonal full hookup RV park. Pets welcome. Ride your ATV or Jeep to the Alpine R&R Tunnel.
Waunita Hot Springs Ranch - A Hot Springs Retreat



27 miles east of Gunnison, Waunita offers family lodge rooms; reunion and church retreat lodge. Large HOT SPRINGS POOL! From Ranch gate ATV in summer or fall; snowmobile in winter to early spring.
More Activities & Information
Gunnison, Colorado includes: Almont, Blue Mesa Lake, Ohio City, Parlin, Pitkin, Sargents, Sapinero, Taylor Park, Waunita Hot Springs
---
---
Scenic Byways in Colorado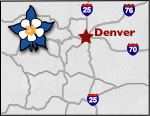 ---