Colorado Scenic Byways Map
Pawnee Pioneer Trails Scenic Byway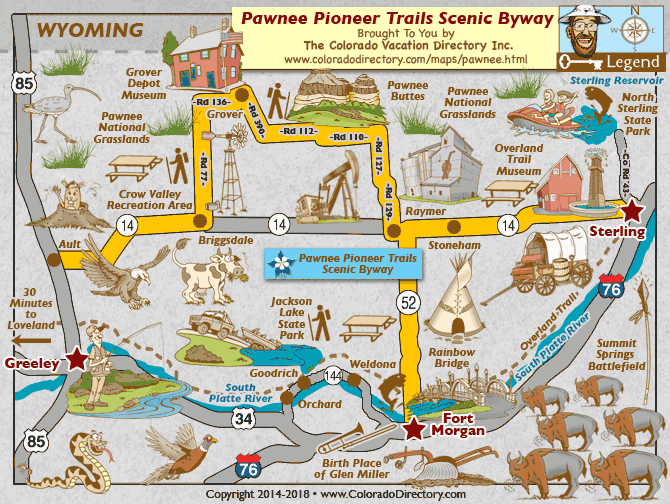 Pawnee Pioneer Trails Byway retraces the steps of the old Native American and pioneer trails across the open plains. This prairie was once inhabited by Plains Indians and buffalo and was later traveled by fur trappers in the 19th century. Frontiersman, cattle ranchers, and homesteaders settled the plains, giving birth to many railroad towns.
Life was not easy during this time, as settlers were challenged everyday by Mother Nature. From the psychological damage of isolation to the droughts and high winds, the people became as worn and tough as the land they inhabited. Even today you must be careful, as the area has few trees and therefore little protection from the wind and sun.
Rising 250 feet above the flat and desolate prairie are the striking sandstone towers known as the Pawnee Buttes. They stand tall and proud, contrasting with the surrounding plains. There is a beautiful four-mile hike through the sandstone wonders on the Pawnee Buttes Trail. Other recreation in the area includes mountain biking and picnicking.
Despite the harsh environment, the area is not devoid of wildlife; pronghorn antelope, mule deer, coyotes, foxes, snakes, prairie dogs, and hundreds of bird species. Birding is a very popular activity in the Pawnee National Grasslands.
One of the must-see places along the byway is the Rainbow Arch Bridge. It has earned a space on the National Register of Historic Places because of the exceptional design. 11 arches stretch over 1,100 feet of the South Platte River.
The best time to visit the Pawnee Buttes is in the spring or fall, when the temperatures are milder. In the early mornings and evenings, the bright colors painted across the sky add to the artwork of the sandstone towers. The land is virtually silent, except for the occasional cry of a songbird. The solitude gives visitors a feel for what the west was like for early settlers.
Location: The byway leads east from Ault to Briggsdale on State Hwy 14. From Briggsdale, turn north on State Hwy 392, which will merge again with Hwy 14 at Raymer. From there, you can continue on Hwy 14 to Sterling or turn onto Hwy 52 towards Fort Morgan. The byway is 125 miles long and will take about 2 hours to drive.
Places to Stay & Fun Things to Do
RV World LLC -- Sales, Service, Rentals

Discover RV WORLD with Pet-friendly RENTALS. In Nunn serving Northern CO: Loveland, Fort Collins. Winter rates! Personalized service to get you on the road. SALES: Travel Trailers, RVs and 5th Wheels.
More Activities & Information
Fort Collins, Colorado includes: LaPorte, Wellington, Windsor
Fort Morgan, Colorado includes: Akron, Brush, Keenesburg, Orchard, Weldona
Loveland Area, Colorado includes: Berthoud, Evans, Greeley, Johnstown
Sterling, Colorado includes: Briggsdale, Crook, Fleming, Grover, Stoneham
---
Scenic Byways in Colorado