New Mexico Scenic Byways Map
Jemez Mountain Trail Scenic Byway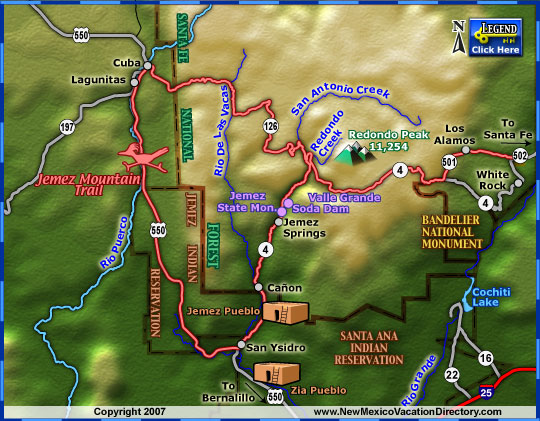 There's more than one way to get from Albuquerque to Santa Fe, but most travelers - if given the choice - would probably opt to take the Jemez Mountain Trail. Filled with tons of recreational opportunities, historic stops and chances to eat, relax and shop, the 163-mile scenic byway makes getting there half the fun.
Drivers can start by heading north on I-25 from Albuquerque, and then exiting at Bernalillo - a quaint Hispanic village with an annual wine festival every Labor Day - and heading west on US 550. Just past Bernalillo, drivers can stop at Coronado State Monument. Named for Francisco Vasquez de Coronado, who camped in the area while searching for the fabled Cities of Gold, the monument features partially reconstructed Native American ruins, including a large reconstructed kiva and 15 panels of excavated mural art.
Farther down the road, drivers take a sharp turn onto NM 4 at San Ysidro and follow the route north to Jemez Pueblo, a town full of authentic Native American arts and crafts markets as well as traditional food vendors. Jemez Springs - 12 miles up the road - offers even more fun, with lots of hiking and cross-country skiing trails as well as the Jemez Springs Bath House, an 1870s Victorian offering mineral baths and massages.
When the pampering is finished, drivers can check out Jemez State Monument, home to the 600-year-old ruins of a Native American village as well as the remnants of a historic Spanish mission church. Farther down the road, Soda Dam is a great display of natural beauty, formed by mineral deposits left by the area's hot springs.
As drivers continue along the route, they'll travel through Valle Grand - part of the large volcanic caldera encompassed by the Valles Caldera National Preserve - and pass lots of places ideal for hiking, fishing and horseback riding. In the summer, visitors can take wagon rides through the area; and in the winter, sleigh rides.
Bandelier National Monument is also located on this scenic byway, allowing visitors a chance to explore excavated Anasazi cliff dwellings. And nearby, in Los Alamos, drivers can learn about more recent history by stopping at the Bradbury Science Museum, which explores Los Alamos National Laboratory's role on developing the atomic bomb.
From there, drivers can head out of Los Alamos on NM 503 and then take US 84/285 south to Santa Fe - if they can bear to tear themselves away from the Jemez Mountain Trail, that is.

Places to Stay & Fun Things to Do
Chama Trails Inn



An Inn with a touch of Old New Mexico in Chama: handmade furniture, family suites, gas-log fireplaces, jetted tub. Trails nearby: ATV, hike, snowmobile. ROMANCE PACKAGES: flowers and private label wine.
More Activities & Information
---
Scenic Byways in Colorado