Colorado Scenic Byways Map
Alpine Loop Backcountry Byway
The Alpine Loop National Backcountry Scenic Byway is the true gems of the San Juan Mountains in southwest Colorado. Most scenic byways are located on paved highways, while backcountry byways focus on the out-of-the-way sights. These routes are gravel and dirt roads that may not be suitable for all vehicles. However, for those with appropriate vehicles, backcountry byway can offer an intimate view of a variety of areas off the beaten path.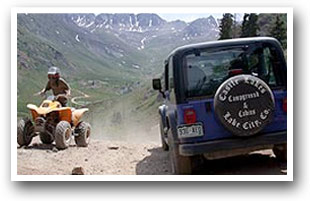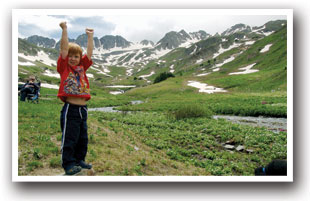 Whether you start from Lake City, Ouray or Silverton, gravel roads lead you into the high alpine meadows and forests. As your elevation increases, so does your need for a 4-wheel drive, high clearance vehicle. This byway takes you into the Backcountry of Colorado's mining past, up above the timberline into the tundra, and over two high elevation passes.
Volcanic activity filled the southwest region of Colorado before humans walked the planet. These volcanoes filled the area with rich deposits of gold, silver, zinc and other precious materials. In the late 1800s, miners came west to strike it rich from the remnants of the volcanoes. Many of the towns boomed when the railroad brought mobility and transpiration into the Rocky Mountains. However, the towns along the Alpine Loop Backcountry Byway (Animas Forks, Gladstone and Ironton) were too far up the mountains to get railroad access. Now, only the skeletons of these mining towns remain. These towns did not endure the natural elements of floods, harsh winters, or being mined dry, but the scenery still survives, spending time on the byway is popular and a must do when on vacation in the Southwest..
Originally built as toll roads for the stages and freighters of the late 1800s, these roads are now your access into Colorado's frontier history. The Alpine Loop covers 65 miles of roads between the towns of Lake City, Ouray and Silverton. Depending on winter snows, the loop opens in late May to early June and closes in late October.
Historic interest include ghost towns, abandoned mining camps, and cabins that were built from the mid-1870s through the early 1900s. The true star of this show is NATURE in all her glory: waterfalls, rare wildlife, spectacular fields of wildflowers, and geologic features such as jagged volcanic peaks, glacier-carved cirques, and canyons.
Depending on your time and the adventure your looking for, you can spend an afternoon or an entire week
exploring the Alpine Loop byway.
A QUICK PICNIC IN MY FAMILY CAR
Yes, you can drive the early parts of this byway from any of the three launch towns in your family car, but when the gravel roads start to resemble rocky river beds, it's time to turn around as the road does get rough. A picnic lunch, your camera, and a scene of adventure will take your family into Colorado's Backcountry.
A GUIDED EXPERIENCE
If driving a 4-lane Highway through Colorado's Mountains was enough adventure for you, let someone else drive as you enjoy the scenery and history of the area. Lake City, Ouray and Silverton all have professional 4WD/Jeep Tour companies with experienced guides who will take you on a 1/2 day to full day adventure. Some tours can also include a ride on Silverton's famous Narrow Gauge train!
CONQUER THE MOUNTAIN
Give 1-2 days to cover all the byway has to offer. To traverse many parts, you will need a 4-wheel drive, high clearance vehicle such as a Jeep or ATV. If you don't have such a vehicle, you can rent one in the surrounding communities (Lake City, Ouray or Silverton).
Be sure to travel either Cinnamon Pass or Engineer Pass, both rising to over 12,000'.
On Engineer Pass, Mt. Sneffels at 14,150', Wetterhorn Peak at 14,017' and Uncompahgre Peak at 14,309' can be seen.
From Cinnamon Pass, one can view Handies Peak at 14,048', Redcloud at 14,034', and Sunshine Peaks at 14,001'.
NOT TO BE MISSED - the American Basin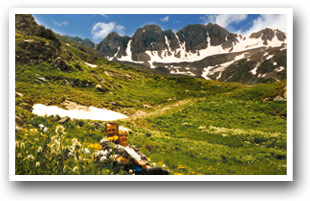 A stop at the American Basin in summer is a wildflower mecca! Colorado's state flower, the columbine, will fill the valley with its true glory of whites, purples, and yellows. The River flowing through this high mountain valley makes this a great location for an afternoon picnic. No need to plan a hike; park your 4WD and start the picture-fest. The large bumblebees are a nice surprise as they meander the valley amidst the columbines. This may not be the wildflower capital of Colorado, but it should be!

Places to Stay & Fun Things to Do
Alpine Moose Lodge and Cookhouse 14


Spacious lodge rooms, recently upgraded, in Lake City some with king bed. Alpine Moose has best view of the mountains above our historic town. Grill Restaurant Cookhouse has down to earth, everyday food.
Alpine Village - Historic Log Cabin Rentals


Unwind in our quiet alpine village in Lake City. Romantic getaway or family vacation. Historic log cabin rentals. 1- or 2- bedrooms with kitchenette. On top of the Rockies: fish, hike, ATV, Jeep. WiFi. Smart TV.
G&M Cabins - Downtown Lake City

Visit ghost towns on top of the world, G&M Mountain Cabins have direct access for OHVs to the Alpine Loop! Stay in Lake City CO walk to downtown shops, restaurants, river fishing. WiFi and DirecTV with HD.
Sportsman Fly Shop, Fly-Fishing Trips and Shuttle Service


In Lake City 50+ years! Full Service Outdoors Stop: Pro Fly Shop, fishing guides - beginners to advanced, sportsman equipment rentals, trail maps. Shuttle service. Soaring mountains, clear streams, wildlife!
Woodlake Park Campground and Cabins

Uncrowded BIG RIG Park! Pull-thru, full hookup RV sites. A tenters Campground. Rentals: Cabins and a vacation home. Woodlake is along Silver Thread Scenic Byway, near Lake City and Alpine Loop Byway.
More Activities & Information
Lake City, Colorado includes: Powderhorn
Ouray, Colorado includes: Ridgway
---
Scenic Byways in Colorado