Colorado Scenic Byways Map
Silver Thread Scenic and Historic Byway
Creede boomed in 1890, sometimes adding up to 300 people a day. Abandoned when the silver prices dropped in 1893, the next years brought major floods and fires. The winters of this area were harsh, and in 1848, John C. Fremont lost 1/3 of his men. In the winter of 1873, Alfred Packer was the sole survivor to return from his exploration of the mountains, supposedly eating his companions. Between silver and cannibalism, the region of the Silver Thread Scenic and Historic Byway is rich in history.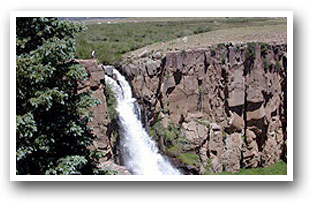 Beauty surrounds the region. The San Juan Mountains are visible from the byway, and the Wheeler Geologic National Area provides views of exquisite land formations. Be sure you have a 4 wheel drive vehicle to travel to the Wheeler Area and be prepared to hike a few miles where the road ends. Also in the area is Coller State Wildlife Area. Here, Elk gather before migrating. Between 700-1,000 Elk have been spotted here at one time. Don't miss the North Clear Creek Waterfalls, known for being the most photographed site, or Spring Creek Pass, home of the great Continental Divide.
Wagon Wheel Gap is a site rich in history. Built in 1870, this was the first Stage Stop between South Fork and Lake City. However, the Ute Indians used the area long before for what they called "Little Medicine," or hot mineral waters. Today, these hot springs are resorts and privately owned.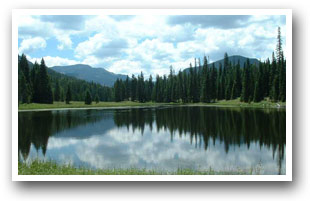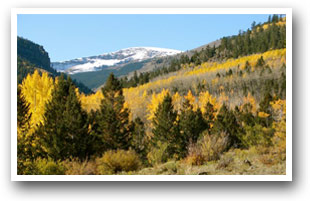 Outdoor enthusiasts will find plenty to do. Between two wilderness areas and numerous fourteeners, camping, fishing, hiking, rafting, and biking are popular activities. The winter months provide ice fishing in the reservoirs, snowshoeing, cross country skiing, and snowmobiling on mapped and maintained trails.
Location: Start traveling along Highway 149 in South Fork, and pass through Wagon Wheel Gap, Creede, Lake City, Powderhorn, and end your journey Where Highway 50 crosses over Highway 149.

Places to Stay & Fun Things to Do
Alpine Village - Historic Log Cabin Rentals


Unwind in our quiet alpine village in Lake City. Romantic getaway or family vacation. Historic log cabin rentals. 1- or 2- bedrooms with kitchenette. On top of the Rockies: fish, hike, ATV, Jeep. WiFi. Smart TV.
Cottonwood Cove Guest Ranch: Cabins, RV Park, Jeeps, Horse Rides, Rafting, Fishing, Restaurant and Gift Shoppe



Vacation along Silver Thread Scenic Byway (Hwy 149) between Creede and South Fork. Guest ranch mountain cabins: kitchens, fireplaces. RV sites: full hookup, pull-thru. Jeep Rentals, Horse Rides Here!
Creede Underground Mining Museum, Mine Tours and Community Center

ON-SITE: gift shop, event center, family picnic area. Blasted out of a solid rock cliff by 3 Creede miners; this is an authentic Underground Mining workplace Museum with demonstrations and exhibits in shafts.
Fun Valley Family Resort: Cabins, RV Park, Campground

Since 1959 families have been coming to Fun Valley for a safe place to experience nature. South Fork is deep in the beautiful Colorado Rockies. Our resort offers cabins, RV park sites and campground tenting.
G&M Cabins - Downtown Lake City

Visit ghost towns on top of the world, G&M Mountain Cabins have direct access for OHVs to the Alpine Loop! Stay in Lake City CO walk to downtown shops, restaurants, river fishing. WiFi and DirecTV with HD.
Rainbow Lodge, Cabins, RV Park and UTV Rentals



In South Fork. Rainbow RV Park is open May-October with WiFi, Full Hookups and Cable TV Hookups. Rainbow Lodge Rooms and Cabins have full kitchens; open year round. On-Site UTV/ATV Rentals!
Riverbend Resort Cabins and RV Park


Between South Fork and Wolf Creek Ski Area; Riverbend Resort is near Pagosa Springs and Alamosa. Year Round Full hookup RV Park. Cabins: fireplaces, decks overlooking privately stocked river frontage.
Soward Ranch: Colorado Cattle Ranch - Guest Cabin - Fly-Fishing



Guest-Cabin est 1932. A cattle ranch for 133 years. Exclusive fishing at Soward: fly-fishing streams and stocked ponds. Secluded Colorado cabins on 1,200 acres in the upper Rio Grande Valley near Creede.
Wagon Wheel Cabins - Your Home On The Road

Mountain rustic meets simple modern when you vacation at Wagon Wheel Cabins: WiFi, DirecTV, ATV trailer parking, comfortable beds. In Lake City, walking distance to everything. Non-smoking. Pet friendly.
More Activities & Information
Gunnison, Colorado includes: Almont, Blue Mesa Lake, Ohio City, Parlin, Pitkin, Sargents, Sapinero, Taylor Park, Waunita Hot Springs
Lake City, Colorado includes: Powderhorn
---
Scenic Byways in Colorado