Colorado Fishing
Lake City Fishing Map
Click areas on Map for More Fishing Information
The area surrounding Lake City has plentiful fishing for all ages. Fish for Native Cutthroat, Rainbow, Brook, Brown, and Lake trout as well as Kokanee Salmon in certain areas. The average trout size ranges 10-16 inches but you could get lucky and snag one 20 inches or larger.
Lake City Area Public River Fishing
West, Middle, and East Forks of the Cimarron River - All three of these Forks have the same rules and regulations and you can catch the same kinds of trout in all three. There is no boating allowed on any of the rivers. Hike to all three rivers off Forest Service Road 870.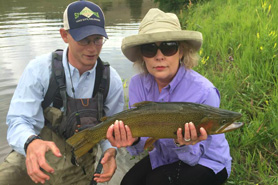 Fall Creek - Fish with artificial flies and lures only. All fish must be returned immediately (catch and release). There is no boating allowed on the creek. Access the creek along a hiking trail off forest service road 870.
Big Blue Creek - A few beaver ponds along the creek provide some excellent fishing. Depending on how clear the water is, the fish may be extremely easy or very difficult to find around the tree line. Access to the creek is along Forest Service Road 868, about 10 miles north of Lake City. 2-wheel drive vehicles can get there but we recommend 4-wheel drive, as this is an unpaved road.
Lake Fork of the Gunnison River - There is public fishing access from about 14 miles north to 2.5 miles south of Lake City along Highway 149. Only non-motorized boats are allowed. All rainbow trout must be returned immediately to the water (catch and release) and you can only use artificial flies and lures on the river.
Lake City Area Public Lake Fishing
Deer Lakes - These lakes are kept well stocked by Colorado Parks and Wildlife and are perfect for teaching kids the techniques of fishing. Only non-motorized boats are allowed on the lakes. Located east of Lake City on Los Pinos Cebolla Rd, these lakes are man-made (very easy access).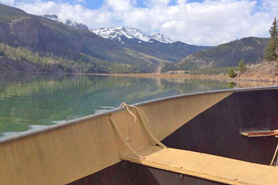 Lake San Cristobal - Motorized boats are allowed on this lake. This is the only lake in the area in which you can catch Kokanee Salmon as well as trout. The lake thaws around April/May and that's when the veteran anglers come out but some of the best fishing is during the summer months on a boat. Located just south of Lake City and fed from the Lake Fork of the Gunnison River, this lake is perfect for everyone.
Places to Stay & Fun Things to Do
Arrowhead Mountain Lodge, Restaurant and Bar


SECLUDED year-round in the Uncompahgre National Forest! Arrowhead Mountain Lodge: Restaurant, bar, UTVing, fishing, snowmobiling. Near the Black Canyon between Montrose and Gunnison off US 50.
Blue Mesa Fishing - Guided Lake and Ice-Fishing


A PREMIER FISHING EXPERIENCE in GUNNISON: Guided lake and trolling for Rainbow Trout and Kokanee Salmon on Blue Mesa Reservoir. WINTER Ice-fishing from Mid-December to Late-March.
Kreuger Ranch Cabins

Sports and Relaxation specialist will both be happy: Wild Trout fishing and unguided hunting near Gunnison, Kreuger is a working ranch on 500-acres! Stay in one of our log cabins or bring your RV.
Oleo Ranch - A SIlverhook Ranch - Colorado Vacation Cabins


Each log vacation cabin at Oleo Ranch has its own privacy. Cebolla Creek trout fishing on-site. In the Mountains between Creede and Lake City, Colorado. PETS WELCOME when in designated cabins.
Sportsman Fly Shop, Fly-Fishing Trips and Shuttle Service


In Lake City 50+ years! Full Service Outdoors Stop: Pro Fly Shop, fishing guides - beginners to advanced, sportsman equipment rentals, trail maps. Shuttle service. Soaring mountains, clear streams, wildlife!
More Activities & Information
Lake City, Colorado includes: Powderhorn
---
Fishing in Colorado