Colorado Fishing
Elevenmile & Tarryall Reservoirs Fishing Map
Click areas on Map for More Fishing Information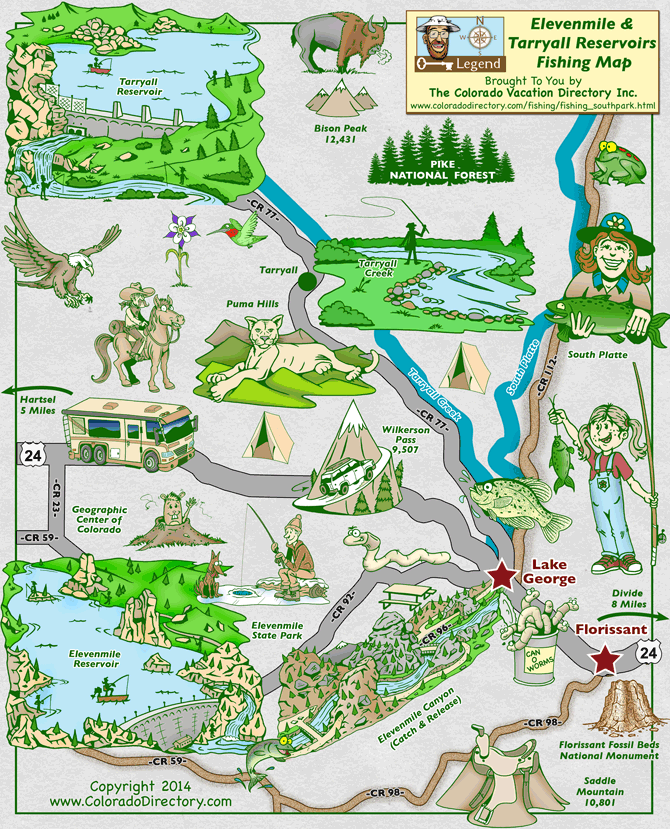 The Elevenmile Reservoir and South Platte River are filled with various kinds of trout: Brown, Cutbow, Native Cutthroat, Rainbow, and Snake River Cutthroat. Located on the southern edge of the Pike National Forest, this area has some of the best fishing in Colorado. With numerous dams, falls, and pools, you'll come back over and over again to find your favorite fishing spot.
Elevenmile River & Tarryall Creek Public Fishing Access
Elevenmile Canyon of the South Platte River - The lower section of the South Platte River is trying to rebuild itself after being over-fished and un-stocked for years. This stretch of the river through Elevenmile Canyon is catch and release only and you must only use artificial flies and lures. There are still Gold Medal Waters before the river reaches the Elevenmile Reservoir.
Tarryall Creek - There are a few access points along the creek that have exceptional fishing: Ute Creek Trailhead and Twin Eagles Picnic Area. Both of these are easily accessible along County Road 77. If you're looking for more of an adventure, take Forest Road 210; the road is 4WD and hiking is required near the meeting of the South Platte River. If you're up for it, you'll find some of the best parts of the stream. Another great section of the creek is right below the dam.
South Platte River - Heading North out of Lake George, the South Platte River is very mild. The river is wider and the water is calmer. Perfect for a day of fly-fishing. This river is very popular which means it may be hard to find a spot and not be disturbed by other anglers; get there early in the morning and you'll have more luck. Access this section of the river via County Road 112.
Elevenmile & Tarryall Reservoir Public Fishing Access
Elevenmile Reservoir - Fishing in the reservoir you'll get to experience a wide variety of water activities. Spear fishing is allowed above water within 100-ft of the marina, boat ramp, swim beach, or dam infrastructure. Ice fishing is popular in the winter months but your shelter must be portable. Motorized boating is also allowed. Besides fishing for various species of trout, you can also catch Kokanee Salmon and Northern Pike. Keep in mind, a State Park Pass is required to access the reservoir. Access via County Road 92 and County Road 59.
Tarryall Reservoir - In addition to four species of trout, you can also catch Northern Pike in the reservoir. Motorized boats are permitted on the reservoir and ice fishing is allowed in the winter months. Access to the reservoir via County Road 77, also known as Tarryall Road.
Please note: Lake George is not open for public fishing.
Places to Stay & Fun Things to Do
Mountain River Lodge and Luxury Cabin Rentals



Lovingly renovated luxury mountain cabin rentals keep the original structural integrity in Lake George. Fish the South Platte River. Relax in our main lodge or on our patio with grills, firepits, rock fireplace.
More Activities & Information
Pikes Peak West, Colorado includes: Divide, Eleven Mile Reservoir, Florissant, Lake George, Tarryall Reservoir
---
Fishing in Colorado