Pikes Peak West - South Central Colorado
Includes Divide, Eleven Mile Reservoir, Florissant, Lake George, Tarryall Reservoir
Pikes Peak West is between Ute Pass and Wilkerson Pass along Highway 24 and offers an abundance of outdoor recreation; from Reservoirs to rivers, mountains to open valleys, and is full of wildlife. Eleven Mile Reservoir and Lake George are great for anglers; their Gold Medal waters are home to large cutthroat, rainbow and brown trout as well as northern pike. Bird watchers can look for flocks of white pelicans, blue herons, avocets, sandhill cranes, ibis and Canadian geese near the more shallow stretches of water.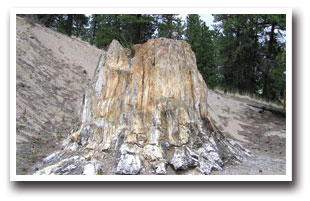 Near the top of Ute Pass at 9,165-feet sits Divide originally named Hayden's Divide after Ferdinand Vandeveer Hayden. It is the dividing point for winter snow run-off into the South Platte and Arkansas Rivers. Divide is the gateway to many of Colorado's outstanding State and National Parks — visitors are in awe of its' wild beauty and pristine vistas.
At the intersection of Highway 24 and County Road 1 is Florissant est in 1870. Vacationers just looking for some time away from it all should check out Mueller State Park, near Divide. The park's 5,000 acres offer spectacular views of Pikes Peak and miles of trails for hiking, biking, horseback riding, cross-country skiing and snowshoeing.
Pike National Forest has hundreds of acres of wilderness trails for horseback riding, driving ATVs or dirt bikes, hiking, mountain biking, hunting, fishing, sledding, snowmobiling. View wildlife of elk, deer, mountain goats, and eagles.
Take a trip back in time; Florissant Fossil Beds National Monument is home to thousands of insect and plant fossils, petrified redwood stumps and more, dating back to prehistoric times. Check in at the visitor's center for educational films and exhibits and then wander down the monument's two self-guided trails to see and learn more. Keep your eyes out for the many different kinds of animals living at the monument!
Pikes Peak West is near: Cripple Creek, Park County & Pikes Peak Area
Featured Pikes Peak West Businesses
Eleven Mile State Park
VACATION WHERE FISHING IS KING. Eleven Mile State Park: scenic vistas, un-crowded ideal sailing, great ice fishing, 349 campsites. Experience 11-Mile Reservoir, one of Colorado's largest reservoirs!



---
Mountain River Lodge and Luxury Cabin Rentals
Lovingly renovated luxury mountain cabin rentals keep the original structural integrity in Lake George. Fish the South Platte River. Relax in our main lodge or on our patio with grills, firepits, rock fireplace.







---
Mueller State Park
Near Divide: 3 cabins with full kitchens; STAY in Winter and SAVE Money. Mueller State Park: 55 miles of nature trails: hike, horseback ride, cross-country ski, snowshoe. Plus 119 campsites and pond fishing.





---
Pikes Peak West Activities & Maps
National Parks and Monuments:
Florissant Fossil Beds National Monument

Scenic Byways:
Gold Belt Tour Scenic Byway

Fishing:
Elevenmile & Tarryall Reservoirs Fishing Map

Local Area Maps:
Pikes Peak & Cripple Creek Area Map

---