Local Area Map
Pikes Peak & Cripple Creek Area Map

Not all towns appear on map. The publisher does not assume any responsibility for accuracy or completeness of maps. This information was compiled as accurately as possible.
Discover the Greater Pikes Peak Region -- Manitou Springs, Woodland Park, Cripple Creek, Lake George
Though not the highest peak in the state, Pikes Peak is the most traveled to mountain in North America and second in the world only to Mt Fuji in Japan. Zebulon Pike was the first white man to see the peak in 1806. Unfortunately, the man whose name is tied to the peak, was never able to reach the summit. He even predicted that no one would ever be able to scale this mountain. But in 1820, Stephen Long and 3 others climbed the mountain and reached the summit. Today, over 6 million people reach the summit each year, either by foot, automobile, or railroad. Those who have reached the summit understand what Kathy Lee Bates felt when she reached the summit, and was inspired to write the poem "America the Beautiful."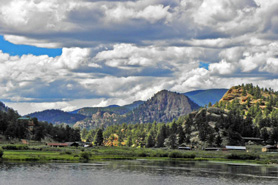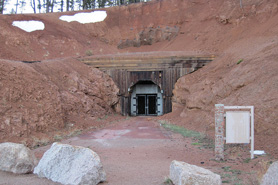 There are a few ways to reach the summit. For those who wish to hike it, Barr Trail leads up the mountain to the summit. The trail starts in Manitou Springs and winds 13 miles to the top. The hike is very strenuous, as it has a 7,400' gain from the bottom. The average slope is about 11%. For those not in the physical condition to hike up, the Pikes Peak Highway also leads to the summit. The highway was built in 1915, at a cost of $350,000 at the time. For a travel back in time, you can take the Pikes Peak Cog Railroad to the summit. The Cog Railroad was opened on June 30, 1891, carrying a church choir to the summit as its first passengers. Though the track is only 8.9 miles long, it takes over 3 hours to travel round trip on the train.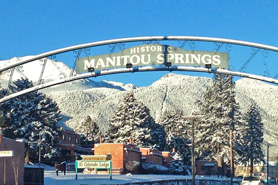 Pikes Peak hosts three major events every year. The Pikes Peak Marathon is held in August. Thousands of runners come to this event, racing on Barr Trail round trip. The fastest time is 3 hours 16 minutes. The Pikes Peak auto climb takes place on the last Saturday of June. Car racers travel 12.42 miles around 156 turns for a 5,000' elevation change on a gravel road to the summit. The fastest time is 10 minutes 4.6 seconds. The third annual event is the New Years Eve fireworks. A local climbing group hikes the mountain, and then sets off fireworks that can be seen as far away as Denver.
Pikes Peak Area Activities & Maps
National Parks and Monuments:
Florissant Fossil Beds National Monument
Garden of the Gods Recreation Area
Pikes Peak National Landmark
The United States Air Force Academy

Scenic Byways:
Gold Belt Tour Scenic Byway
Pikes Peak Highway Scenic Drive

Hiking Trails:
Garden of the Gods Recreation Area Hiking Trail
Green Mountain Falls Hiking Trails

Fishing:
Rampart Reservoir Fishing Map

Jeep & 4WD:
Monument & Woodland Park Jeeping & ATV/UTV Trails

Snowmobiling:
Monument, Woodland Park & Pikes Peak Snowmobile Trails

Local Area Maps:
Colorado Springs Area Map
Pikes Peak & Cripple Creek Area Map

More Activities & Information
Cripple Creek, Colorado includes: Victor
Pikes Peak Area, Colorado includes: Cascade, Chipita Park, Deckers, Green Mountain Falls, Manitou Springs, Woodland Park
Pikes Peak West, Colorado includes: Divide, Eleven Mile Reservoir, Florissant, Lake George, Tarryall Reservoir
---