Colorado Fishing
Rampart Reservoir Fishing Map
Fishing the Rampart Reservoir Recreation Area
Above Colorado Springs, Rampart Reservoir offers easily accessible fishing during the summer months.
RAMPART RESERVOIR RECREATION AREA: The 500 surface-acre reservoir, the largest in Pike National Forest, is open from Mid-May to December 1st, weather permitting. The reservoir is surrounded by trails and forests great for hiking, biking and picnicking.
BOAT RAMP: The ramp is on the Dikeside. All trailered and motorized watercraft are inspected by the CPW for aquatic nuisance species. Boat speeds should not create a white water wake. Please stay at least 150 feet from people fishing along the shoreline.
Anglers will find Tiger trout, Brown trout, Cutbow Trout, Rainbow trout and Kokanee. The fish are stocked by Colorado Parks and Wildlife. A Colorado Fishing License is required and all state regulations must be followed. Bag and Possession limit for Lake Trout are 2.
HIKING and MOUNTAIN BIKING TRAILS: Rampart Gulch (Trail 700) and Nichols (Trail 709) are great for hikers; while Rainbow Gulch (Trail 714) is popular with mountain bikers.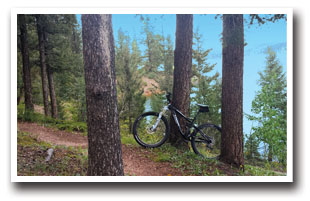 PROMONTORY PICNIC AREA: There are over 30 picnic sites with tables and fire grates. Amenities include drinking water, 2 vaulted toilets and trash collection. Please pay it forward and clean up when you're done. Take only pictures; leave only footprints. PLEASE NOTE: These are not overnight camping sites.
The water level can vary; Rampart Reservoir is the domestic water supply for Colorado Springs.
PETS ALLOWED: All pets must be kept on a leash not longer than 6 feet.
PROHIBITED: Wading, swimming, water skiing, and ice fishing.
LOCATION: A 40 minute drive from Colorado Springs and just over four miles east of Woodland Park. To access Rampart Reservoir from Woodland Park, take Rampart Range Road out of town. Turn right on Loy Creek Road. Turn right again to get back on Rampart Range Road (Forest Road 300). Continue south on Rampart Range Road until you reach 306 Forest Road. Turn left and continue across the dam to find parking.
More Activities & Information
Pikes Peak Area, Colorado includes: Cascade, Chipita Park, Deckers, Green Mountain Falls, Manitou Springs, Woodland Park
---
Fishing in Colorado