Colorado Fishing
Taylor River Fishing Map
Click Trout Symbols on Map for More Fishing Information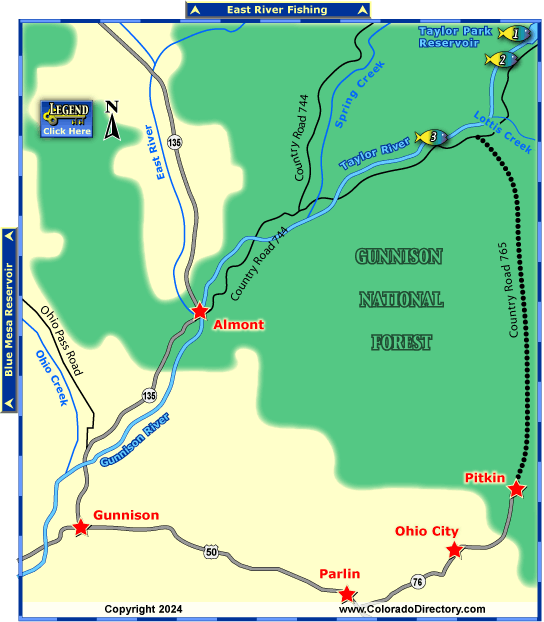 The Taylor River is located in Gunnison County, starting up in high country and traveling through Gunnison National Park. It is the largest tributary of the upper Gunnison River. The area became famous when Jim Taylor, for who the river is named, discovered gold in 1859. The area was transformed into a mining town for the next few years. The Taylor Dam was constructed between 1935-1937.
It is the tail-water below the Taylor Dam and reservoir that is most well known for its fishing. This catch-and-release area provides some of the largest rainbow trout in Colorado. This area is less than a half-mile long, and is always populated by many anglers, hoping to catch trout that are 8 pounds and up. The area is also known for its legendary midwinter fishing.
Fishing in the reservoir is also popular. Here, 10-14 inch rainbow, brown, Snake River cutthroat and lake trout are popular catches, as well as Kokanee salmon. This area has best fishing in May and June.
In the lower Taylor River, below the Lottis Creek Campground, pocketwater and big riffles hold aggressive trout in swift currents. The steep gradient and slippery rock and treacherous currents make wading difficult. However, in August, the flows drop and make fishing easier.
More Activities & Information
Gunnison, Colorado includes: Almont, Blue Mesa Lake, Ohio City, Parlin, Pitkin, Sargents, Sapinero, Taylor Park, Waunita Hot Springs
---
Fishing in Colorado