Colorado Fishing
White River Valley Fishing Map
Click areas on Map for More Fishing Information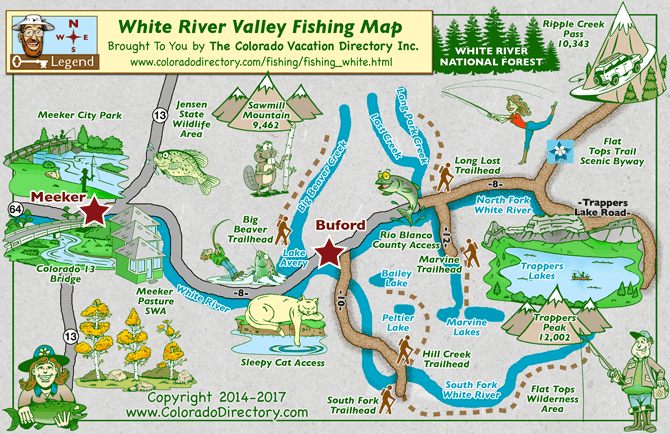 Public Fishing Areas in the White River Valley Near Meeker and Buford, Colorado
The White River Valley: An Anglers Mecca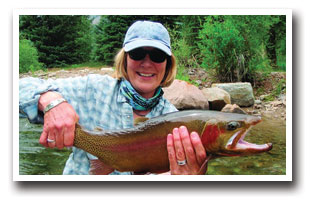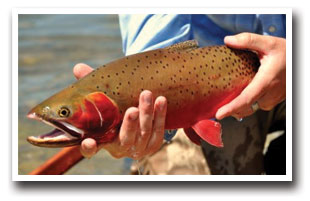 The White River Valley fishing area is located in White River National Forest. Start in Meeker at the Colorado 13 Bridge and follow the Flat Tops Trail Scenic Byway to find spectacular fishing areas. Some of Colorado's largest fish can be found in the White River: native Cutthroat, Brown, and Rainbow Trout. A lot of the fishing in the area is on private land and is not accessible to the public but we have highlighted our favorite public fishing spots for you to explore!
White River Public Fishing Access Points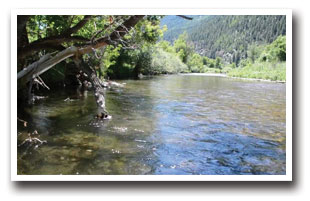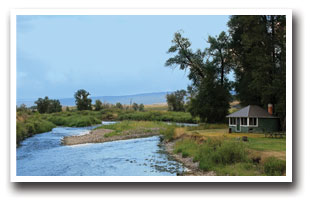 White River: From where the North Fork and the South Fork converge in Buford, the White River travels west along County Road 8. Anglers can access the White River from the Colorado 13 Bridge and east towards the Nelson-Prather, Meeker City Park and the Sleepy Cat Access points. Be sure to read more about these access points below.
Meeker City Park: Catch Brown, Rainbow, and native Cutthroat Trout within the Meeker city limits at Meeker City Park. The river is often overlooked because of the location but it is open to the public starting at the 10th Street Bridge and continuing upstream to the Circle Park Bridge.
Meeker Pasture SWA: To access the Meeker Pasture State Wildlife Area, head north from Meeker on Highway 13 for 1.5 miles. Turn right onto County Road 8, and follow it east just past milepost marker 2. Look for roadside parking to access the 1/4 mile of cold-water river fishing. Great spot to catch trout. NOTE: Do not cross through private property in the area.
Sleepy Cat Access: About 14 miles down the road is the Sleepy Cat Access. Start at the ponds and work your way upstream for two miles until you get to a path leading you to the road.
White River Valley Public Fishing Access Points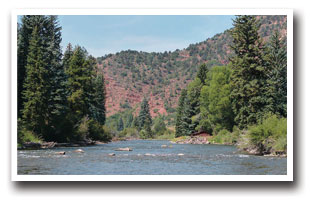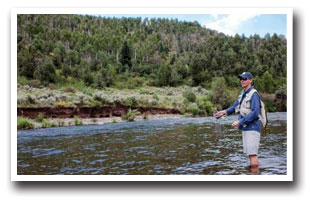 Big Beaver Creek: Accessing this mountain stream is made easy by the updated facilities that are compatible for large RVs and campers. There are also some picnic tables, fireplaces and vault toilets. The Big Beaver Trail Head follows the Big Beaver Creek north from Lake Avery. Anglers can expect to catch Brown, Brook and Rainbow Trout as well as Kokanee Salmon near the lake.
Long Park Creek: Gain access to this creek via The Long Lost Trail Head, east of Buford, Colorado. The trail follows Long Park Creek for about 4 miles. You can also access Lost Creek from this trail. Rainbow, Brook and Cutthroat trout are just waiting to be reeled in. Spend the day enjoying this pleasant fishing and hiking experience.
Lost Creek: Is also reached by the Long Lost Trail Head. The trail primarily follows Long Park Creek, but branches off to follow Lost Creek part-way up the trail where Lost Creek converges with Long Park Creek. Lost Creek is filled with Brook, Rainbow and Cutthroat Trout. Combining these two mountain creeks is a great way to get the most from your fishing adventure.
North Fork White River: Begins at Trappers Lake east of Buford, Colorado. The river cuts through the White River National Forrest along County Road 8. It is joined by the South Fork of the White River at the town of Buford. The River continues westbound from there under the White River name. Along County Road 8, AKA The Flat Tops Trail Scenic Byway, there are numerous access points that give anglers ample opportunities to reel in Brook, Rainbow and Cutthroat Trout.
Rio Blanco County Access: Turn right where County Road 8 intersects with County Road 14 and drive about a mile to reach the Rio Blanco County Access. The North Fork of the White River is open between the county campground and the county picnic area.
South Fork White River: Spilling down from Trappers Peak, the South Fork White River travels through a wide valley full of hay fields. You can reach some of this rivers prime fishing spots by heading south on County Road 10 out of Buford. The South Fork Trailhead will lead anglers all along its banks. There are a lot of willow filled sections that make it difficult to fish. For best results, get in the water and wade upstream. Find your spots and a reel in your fill of Brook, Rainbow and Cutthroat Trout.
White River Valley Lake Public Fishing Access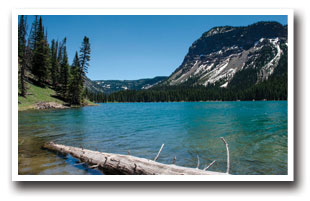 Bailey Lake: Access this mountain lake as you would Peltier Lake. Bailey Lake is 3 miles to the north through grass covered slopes and Aspen trees. The trip rewards fishermen with a beautiful calm mountain lake that is full of Brook and Rainbow Trout.
Lake Avery (aka Big Beaver Reservoir): Not visible from County Road 8, you'll need to watch for signs to the left about 20 miles east of Meeker. There is a boat ramp but it is a no-wake (no waves) lake. It also has picnic areas and restrooms available. Morning and late evening are the most active time for fish. Avery Lake is a popular ice fishing destination during the winter months.
Marvine Lakes: From Buford, head east to County Road 12. County Road 12 is a dirt road that travels south to Marvine Trailhead. Walk the trail for 6 miles to the two Mountain lakes. Anglers have caught their share of Book and Cutthroat Trout. Bring your waders for an extra advantage. Meat anglers have also had a good time catching 8-10" Brookies. Perfect for the frying pan! Any Cutthroats caught should be released.
Peltier Lake: Go South on County Road 10 from Buford until you reach the Hill Creek Trailhead. Just past the cattle guard is a small parking lot for the trailhead. Hike the brush covered trail up along the hillside. Aspen trees begin to line the trail as you walk the 3.5 miles up to Peltier Lake. The trail continues north to Bailey Lake. Anglers can expect to catch Brook, Rainbow, and Cutthroat Trout.
Trappers Lake: Located at the end of the North Fork of the White River on the edge of the Flattops Wilderness Area, this lake holds the largest population of native Cutthroat Trout and is the second largest natural lake in Colorado. No motorized watercraft is allowed on the lake. There is a short hike to get to the lake so it may be a quieter area with less people.
The White River Valley area is a must for anglers to visit. Being located along the Flat Tops Trail Scenic Byway, the scenery is breathtaking and makes for a stunning backdrop to fish by. Winter months also make for some excellent ice fishing at Lake Avery. Meeker has the amenities that are needed to help make your White River Valley Fishing trip a successful one. You can see why The White River Valley is a anglers mecca.

Places to Stay & Fun Things to Do
Sable Mountain Outfitters: Fishing, Hunting, Horse Rides


Near Meeker in White River National Forest and Flat Tops Wilderness. Scenic trail rides, Belgian horse wagon rides, high country fishing camp at Marvine Lake, guided big game hunting, and drop camps.
More Activities & Information
Meeker, Colorado includes: Buford, Trappers Lake
---
Fishing in Colorado