Colorado Fishing
San Juan River - Navajo Lake Fishing Map
Click Trout Symbols on Map for More Fishing Information
One of Top Ten Fishing Destinations Worldwide
The tail-waters to Navajo Dam are the beginnings to the San Juan River, one of the top ten fishing destinations in the World! From the Dam to New Mexico Highway 173 (NM 173), almost seven miles of river, fishing is open to all who venture. The first 3½ miles, however, are designated Quality Water and have strict bag and possession limits and often allow catch and release only*.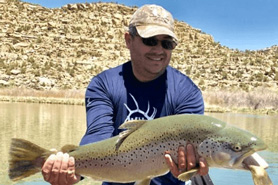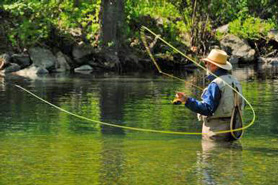 The Quality Water section of the San Juan yields a quality population of Rainbow, Cutbow, and Brown Trout. It's common to catch large fish due to the regulations enforced on this stretch of river. Several specially named areas provide good access and success rates in the Quality Water:
Cable Pool
Upper Flats
Texas Hole
Lower Flats
Lunker Alley
Baetis Bend
Caddis Corner
Just beyond (west of) Caddis Corner the water becomes Public Fishing and the regulations are based on the State of New Mexico. This section of the San Juan is referred to as Bait Water. The fish population dwindles some here in addition to individual fish size because bag and possession is less strict. Access is permitted just south of Archuleta, from here much of the river is under private ownership.
For those who enjoy lake fishing, Navajo Lake will never disappoint. From early spring to late fall anglers will find their catch of small-mouth Bass, Crappie and Pike.
*Bag and possession limits and catch and release regulations vary throughout the Quality Water section, please consult local guidelines for detailed information.

Places to Stay & Fun Things to Do
Blue Sky Fly Fishing Co

Over 40 years of combined professional experience fishing the San Juan River and Navajo Lake! Blue Sky Fly Fishing will show you the skills and secrets necessary to catch Rainbow and Brown Trout.
More Activities & Information
Navajo Lake, Colorado includes: Arboles, Navajo Dam
---
Fishing in Colorado