Colorado Fishing
Kremmling Area Fishing Map
Kremmling Area Fishing
Calling all anglers! The Green Mountain Reservoir and Williams Fork Reservoir Area is a fisherman's paradise. Not only are there 3 reservoirs in the area, there is Gold Medal Fishing along the Colorado River. The area offers fishing in all seasons, even for the determined ice fisherman. The area has four mountain towns, Heeney, Hot Sulphur Springs, Kremmling and Parshall that can provide fuel, dining, lodging, provisions and shopping. Be sure to know your fishing limits and have a current Colorado Fishing License if you plan to partake in some of the finest fishing in Northwestern Colorado.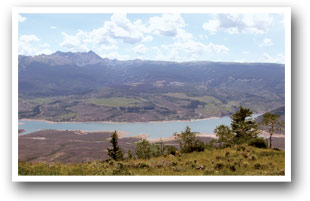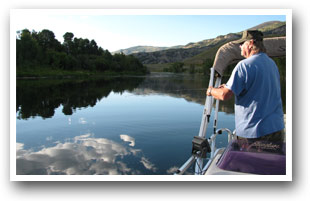 Public Reservoir and Lake Fishing
GREEN MOUNTAIN RESERVOIR - You can get to Green Mountain Reservoir by taking Highway 9 south from Kremmling, or from I-70 head north from Silverthorne. Green Mountain Reservoir is fed by the Blue River. Heeney has a marina, shops and a boat ramp. A beginner could also acquire a fishing guide in town. McDonalds Flats Boat Launch is on Heeney Road. There are countless fishing opportunities along the banks of the reservoir, and even more if you have a boat. Catch your limit of Trout and Kokanee Salmon. During the winter, ice-fishing is quite rewarding, it is recommended that you bring a gas powered auger because the ice is so thick. The Green Mountain Reservoir area offers much more than fishing alone. Trails and swimming surround this unique mountain reservoir.
LOWER CATARACT LAKE - Just west of Green Mountain Reservoir take Cataract Road south off of Heeney Road. As you fish this mountain lake, be sure to take in the spectacular scenery. When the water is frozen, ice-fishermen can expect to catch brown, brook and rainbow trout. Be sure to take the short stroll to Cataract Falls tumbling 300 feet into Cataract Creek.
WILLIAMS FORK RESERVOIR - Is south of Parshall off Highway 40. Road 3 travels southeast out of Parshall and circles Williams Fork Reservoir, Road 3 turns into Road 33 along the south side of the reservoir and eventually leads back to Highway 40. There are two boat ramps on Williams Fork Reservoir; off Road 3 on the east side of the reservoir is the East Side Boat Launch and on the other side of the reservoir is the West Side Boat Launch. Boat launches are a great way to make your way onto the ice during the winter fishing season. Bring the family for an easy and rewarding fishing experience. Bring your boat and enjoy the peaceful tranquility that is Williams Fork Reservoir.
WOLFORD MOUNTAIN RESERVOIR - North of Kremmling along Highway 40, Wolford Mountain Reservoir is fed by the Muddy Creek. A boat ramp is off Highway 40 on the west side of the reservoir. In February Kremmling hosts an ice-fishing contest, $10,000 for the winning tagged-fish competition. Fishermen can enjoy lucrative fishing opportunities year around, especially at the inlet and coves near the dam.
Public River and Creek Fishing
BLUE RIVER - Fly-fishing at it's finest. These fish are smart and are extremely skittish. Stealth is key. The tail end of the Blue River (before Green Mountain Reservoir) is catch and release and fishermen can only use flies and lures. After Green Mountain Reservoir, to the north, the Blue River is primarily surrounded by private property, be sure to stick to the public fishing area below the dam, accessed allowed during posted time periods.
COLORADO RIVER - This stretch of the Colorado River is Gold Medal Fishing. Fishing does not get better than this. From Hot Sulphur Springs to just after Kremmling you will enjoy reeling in brook, brown and rainbow trout. There are many access points along Highway 40, be sure to respect private property. See additional fishing along the Colorado River on our Granby Area Fishing Map.
MUDDY CREEK - A tributary of the Colorado River, the Muddy Creek provides anglers with opportunities to catch Rainbow and Brown trout. The Muddy Creek travels south towards the town of Kremmling. Above Wolford Reservoir, the Muddy Creek is private property. Below Wolford Reservoir near the dam, anglers can fish approximately 5 miles of a fisherman's paradise. The trout in Muddy Creek reach sizes of 14"-16".
TROUBLESOME CREEK - This creek connects to the Colorado River between Kremmling and Parshall. The East Fork of the Troublesome flows from Corral Peaks and meets up at the junction of County Roads 105, 22, and 2. To access Troublesome Creek, take Troublesome Gulch Road about 4.5 miles east of Kremmling. Anglers will find a variety of fish including cutthroat trout, rainbow trout and brown trout here.
Fishing in the Green Mountain Reservoir and Williams Fork Reservoir Area has some of Colorado's greatest fishing opportunities. With three reservoirs, one mountain lake and two Colorado River tributaries, not to mention Gold Medal Fishing on the Colorado River, you can see why this is a fisherman's paradise. Grab the wife, kids, and all your gear and head to the Green Mountain Reservoir and Williams Fork Reservoir Area. You are sure to catch your fill of fish.
Places to Stay & Fun Things to Do
Red Mountain RV Park

Full service RV Park in Kremmling. The Red Mountains has 100+ miles of ATV trails, start here. Fish the Colorado River! WiFi. 40 miles to Summit County and Rocky Mountain National Park. OPEN ALL YEAR!
More Activities & Information
Hot Sulphur Springs, Colorado includes: Parshall
Summit County, Colorado includes: Breckenridge, Copper Mountain, Dillon, Frisco, Green Mountain Reservoir, Heeney, Keystone, Silverthorne
---
Fishing in Colorado