Colorado National Parks
Florissant Fossil Beds National Monument
Today, the grounds of Florissant Fossil Beds are flowering meadows and forests, but 34 million years ago, Lake Florissant stretched 12 miles through this area. Around this lake huge redwoods, cedars and pines towered above lush ferns and shrubs. Countless species of insects crawled around the area while fish swam in the lake and many other animals wandered along its banks. However, when a nearby volcano erupted, all life was wiped out. The ash from the volcano settled at the bottom of the lake turning it into a rich clay, where the insects and plants were trapped. Eventually, these finely layered sediments became shale and transformed the buried plant and animal life into extremely detailed fossils. In 1969, the area was proclaimed a National Monument to protect the relics of the past. Today, over 60,000 fossils of extinct plants and animals have been found in the fossil beds. Covering 5,998 acres just west of Pikes Peak, and near Cripple Creek and Park County, 66,000 people visit this site every year.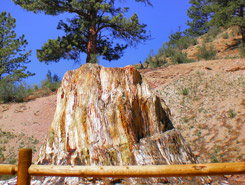 The park offers many activities to teach you about the history of this area. At the visitor center, located in the center of the park, exhibits go through the history of the Fossil Beds. Rangers also offer interpretive talks and free mini seminars in the summer. Summer months bring a series of lecture seminars which range from titles such as "Discovering the Secrets of Southern Rocky Mountain Wildflowers" to "Ancient Life and Landscapes of Florissant." For more information on these lectures, please call the visitor center at (719) 748-3253.
Hiking is an excellent way to explore the fossil beds. All trails start and end at the visitor center. The one mile long Petrified Forest Loop is an easy, self-guided trail that loops through the bed of the ancient Florissant Lake. Along the route, you will pass the "Big Stump," a huge petrified Redwood Stump. The Boulder Creek Trail is a 3.2-mile loop, going as far as the west boundary of the park. Along the way you will pass the distinctive rock form called "The Caves." On these hikes you might see some of the animals that inhabit the park. Common sightings include: squirrels, rabbits, bats, badgers, mountain lions, black bears, elk, mule deer, and countless species of birds.
Downloads:
View an area map of the Florissant Fossil Beds
(Map provided by the U.S. National Park Service)
Directions:
From I-25: Exit at US 24 West, travel 35 miles to town of Florissant, then follow signs two miles south to the visitor center on Teller County 1.
Places to Stay & Fun Things to Do
Mountain River Lodge and Luxury Cabin Rentals



Lovingly renovated luxury mountain cabin rentals keep the original structural integrity in Lake George. Fish the South Platte River. Relax in our main lodge or on our patio with grills, firepits, rock fireplace.
More Activities & Information
Pikes Peak Area, Colorado includes: Cascade, Chipita Park, Deckers, Green Mountain Falls, Manitou Springs, Woodland Park
Pikes Peak West, Colorado includes: Divide, Eleven Mile Reservoir, Florissant, Lake George, Tarryall Reservoir
---
National Parks and Monuments in Colorado