Colorado National Parks
Hanging Lake National Natural Landmark
Not all towns appear on map. The publisher does not assume any responsibility for accuracy or completeness of maps.
This information was compiled as accurately as possible.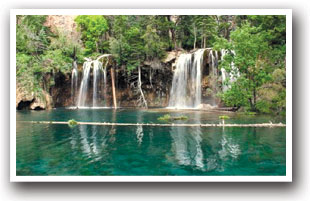 Thank you for enjoying all Colorado has to offer! We are asking for your help.
Please leave your Dog behind; as the wildlife such as squirrels and chipmunk find it hard to play with dogs around. Remember the stream you are walking next to is not for fishing; but is prefect for a photo! As a National Landmark swimming or wading is not allowed!
East of Glenwood Springs along I-70 resides Hanging Lake one of Colorado's prized water features. Access to the travertine deposit requires a bit more than a mile hike from the trailhead beginning on the north side of the mighty Colorado. The hike requires 1-2 hours round trip and is rated difficult by the park service, you'll find benches along the way to catch your breath and take in the scenery. Helpful tip... Carpool or go early! The parking lot fills up quickly and there is NO parking allowed on the I-70 ramp.
Hanging Lake National Natural Landmark received its designation in 2011 after missing it in 1980. Along with 6 other designations from Interior Secretary Ken Salazar, a Colorado Native, the 72-acre site in the White River National Forest is one of 13 landmarks in Colorado. The designation is reserved for sites with outstanding biological and geological resources. Hanging Lake represents a spectacular example of a lake formed by travertine deposition and comprises a rare wetland ecosystem including waterfalls and hanging gardens.
Driving Directions:
Access to the trailhead is only possible for I-70 eastbound traffic. For westbound travelers, exit at milepost 21 and turn around going east to the Hanging Lake exit.

Places to Stay & Fun Things to Do
Aunt Sara's River Dance RV Resort and Campground



Near Gypsum off I-70 along Eagle River; Aunt Sara's = BIG RIG RV Resort: Room for slideouts, 50amp, pull-thru. Campground between Vail and Glenwood Springs. SKIERS, Stay Here: Ski Vail, Beaver Creek!
Rodeway Inn Hotel- Glenwood Springs
Rodeway Inn is 12 miles from Ski Sunlight. Affordable Glenwood Springs hotel near hot spring pools. Large Family Suites: WiFi, refrigerator, microwave, Jacuzzi, king bed, fireplace. Continental breakfast.
More Activities & Information
Glenwood Springs, Colorado includes: New Castle
Vail Area, Colorado includes: Avon, Beaver Creek, Dotsero, Eagle, Edwards, Minturn, Red Cliff, Wolcott
---
National Historic Sites and Landmarks in Colorado