Colorado National Parks
Browns Canyon National Monument
Browns Canyon National Monument
Browns Canyon along the Arkansas River is known around the nation for its excellent rafting. With mountains, canyons, and gulches, there is no wonder why it has been designated as a National Monument.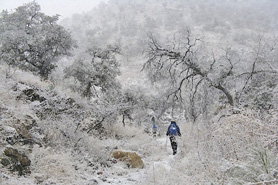 It has long been admired for its wildlife, whitewater rafting, hunting, fishing, and backcountry solitude. In the 1990s, citizens in Chaffee County worked with lawmakers to help keep this area protected. It wasn't until February 2015 that the President of the United States (Barack Obama) designated 21,586 acres between Buena Vista and Salida as Browns Canyon National Monument. Even though it is a protected area, visitors are still allowed to use it for hunting, fishing, and livestock grazing.
A vacationer's favorite activity in this area is most likely whitewater rafting or kayaking. This section of the Arkansas River is great for rafters of all ages with its class II-III+ rapids and because it is tamer than the rest of the river. There are many rafting companies in the area for you to experience a guided trip. Along the more relaxed sections of the river, you'll be able to look up and view the scenic canyon walls high above you, and if you're lucky maybe a Bighorn Sheep!
Fishing, along with Rafting, is a large draw to this area. World Class and Gold Medal Fishing makes this the river to cast your line in. The granite walls of the canyon provide for boulders scattered throughout the water creating calm pools and eddies - an angler's paradise.
Other fun things to do in this area include mountain biking, horseback riding, hiking, wildlife watching, stargazing, and photography. Camping is scattered throughout Pike National Forest but no campsites are developed and you can only access the sites by hiking in, mountain biking, or horseback. If you're looking for commercial campgrounds, check out Buena Vista and Salida. Both have campgrounds more suitable for those who prefer the less rugged experience. There are also some archaeological sites with stone artifacts that attribute to Paleo-Indian and early Archaic periods.
More Activities & Information
Buena Vista Area, Colorado includes: Johnson Village, Nathrop, St. Elmo
Salida, Colorado includes: Howard, Monarch, Poncha Springs
---
National Parks and Monuments in Colorado