New Mexico National Parks
Aztec Ruins National Monument
In many ways, Aztec Ruins National Monument looks like it's still lived in.
The more than 400 rooms in the monument's West Ruin are covered by well-preserved wooden roofs. Ancient reed mats lie on the ruins' stone floors, which are held together with the building's original mortar.
But in reality, Aztec Ruins has been empty since 1300, when the ancestral Puebloans who built it left for other settlements. Today, the small city is a well-preserved remnant of Native American culture, and a must-see stop for vacationers in the area.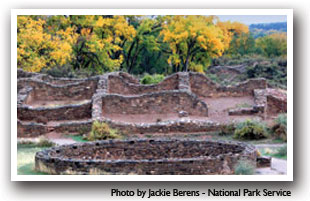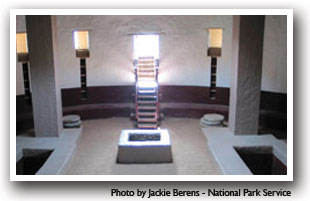 Built between 1100 and 1300, Aztec Ruins was once the largest Puebloan settlement in the Animas River Valley. When it was later abandoned, Spanish explorers who happened upon the ruins in the 1700s mistook it for something built by the Aztecs, the large Native American tribe that thrived in central Mexico. Later explorers and research proved that theory wrong, but the name, Aztec Ruins, stuck.
Visitors to Aztec Ruins explore the walking-only monument on the site's self-guided trail. The half-mile walk winds through the well-excavated West Ruin, where visitors can explore the building's rooms and kivas. Visitors end the walk at the Great Kiva, a re-creation of a 40-foot kiva once used as the settlement's central social and religious site. It's the largest and oldest structure of its kind in the world.
The Visitor's Center offers more information, including a museum filled with artifacts found at the site as well as a video explaining the Native Americans who once lived there. In the summer, the monument offers regular interpretive talks, educational lectures and craft demonstrations by native artisans.
Aztec Ruins National Monument is open 8 a.m. to 5 p.m. most of the year and 8 a.m. to 6 p.m. from Memorial Day through Labor Day. The park is closed Thanksgiving, Christmas and New Year's days.
Downloads:
Download a map of Aztec National Monument
(Map provided by the U.S. National Park Service)
Directions:
Aztec Ruins National Monument is located in Aztec, New Mexico near the crossroads of US 550 and NM Hwy 173.
From Albuquerque: Drive north on US 550 to Aztec. Turn left onto Hwy 516, cross the Animas River and immediately turn right onto Ruins Road to the monument.
From Durango: Travel south on US 550 to Aztec. US 550 turns into 516 and crosses the Animas River. Immediately after the river turn north onto Ruins Road and continue 1/2 mile to Aztec Ruins National Monument.
From Farmington: Drive east on Hwy 516 to Aztec. Turn left onto Ruins Road, 1/4 mile past Lightplant Road, and continue for 1/2 mile to the monument.
More Activities & Information
---
National Parks and Monuments in Colorado