Colorado National Parks
Mesa Verde National Park
Mesa Verde National Park is one of the most notable and best-preserved archeological sites in the United States, offering over 700 years of history to explore. Native Americans came to the area around the year 400 AD, and stayed in the region until around 1300. The cliff dwellings that the area is best known for represents only the last 100 years of Native American inhabitation of the area. The park was established in 1906, the first and still only cultural National Park set aside by the National Park System, opening that year with 27 visitors. Now the park averages about 600,000 visitors per year. Open year round and covering over 81 square miles between the towns of Cortez and Mancos, the park is filled with countless artifacts to explore. If possible, allow yourself several days to explore everything the park has to offer.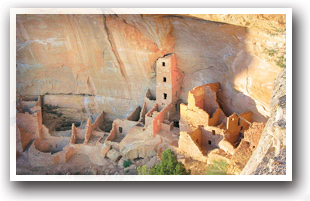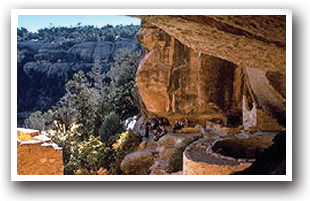 Many hiking trails are available for exploration. However, hiking only in developed and designated areas is allowed. The Soda Canyon trail offers an easier hike with the same amazing views as the other more difficult trails. Other trails bring you closer to the dwellings, but can be accessed only with a ranger. The Petroglyph Point Trail is an exciting trail with activities for children. From the visitors center you can get an interactive book to explore the various picture rock carvings of this trail. Many other trails are also available for exploration.
Mesa Verde offers many tours of the cliff dwellings. The Far View Visitor Center issues tickets for the Cliff Palace and Balcony House tours. For scheduling information, please visit https://www.nps.gov/meve/planyourvisit/fees.htm. A uniformed Park Ranger must accompany you to enter the dwellings, but there are many other mesa top sites and viewing points you can visit on your own.
Wildlife sightings are also common. Many animals inhabit the area, including mule deer, porcupines, coyotes, black bears, gray fox, mountain lions, elk, marmots and turkeys. Bird watching is another fun activity, as innumerable species of birds are found in the park.
Be sure to visit the Far View Visitor Center to purchase tickets and get other information on tours. The Visitor Center is open from 8AM to 5PM mid-April to mid-October. At the Chapin Mesa Museum, located near park headquarters, you can pick up self-guiding tour books, as well as explore some of the cultural and artistic life of the park's early inhabitants. The museum keeps a vast collection of Southwest artifacts as well as pottery and weavings. The museum is open from 8AM to 6:30 PM mid-April to mid-October. Lecture series are also offered every summer. One summer the lecture was Native American Art of the Past and Present in the American South West.
Downloads:
View an area map of Mesa Verde National Park
(Map provided by the U.S. National Park Service)
Directions:
Located in Southwestern Colorado, the entrance to the park is 9 miles east of Cortez in between Cortez and Mancos on US Highway 160.

Places to Stay & Fun Things to Do
Colorado Trails Ranch: A Guest Ranch Experience


A family experience: 1, 2 & 4 hour Horseback Rides! Lodging Guest: western trail rides, fly-fishing, youth programs, yummy food! Colorado Trails Ranch is tucked in the San Juan Mountains, north of Durango.
Dolores Mountain Inn


A comfortable, clean Inn with suites and motel rooms in the beautiful little Mountain town of Dolores. Play in Southwest Colorado: McPhee Reservoir, Boggy Draw Trail System, Mesa Verde National Park!
Echo Basin Resort - The Four Corners' Premier Cabin and RV Resort


AN IDEAL RESORT DESTINATION: Family vacations with RV sites and cabins. Echo Basin is between Durango and Mesa Verde National Park in Mancos, Colorado -- where Mesas meet Mountains.
More Activities & Information
Dolores Area, Colorado includes: Mcphee Reservoir, Stoner
Durango, Colorado includes: Bayfield, Hesperus, Ignacio, Lemon, Vallecito Lake
Mesa Verde Area, Colorado includes: Cortez, Mancos
---
National Parks and Monuments in Colorado