Durango - Southwest Colorado
Includes Bayfield, Hesperus, Ignacio, Lemon, Vallecito Lake
A city created by the railroad, Durango retains a "Frontier West" feeling; yet it is the home of Fort Lewis College and Durango Mountain Resort. Surrounded by the San Juan Mountains and set amidst reddish, sandstone bluffs, this town bustles with activity and adventure. Year round outdoor activities include mountain biking, rock climbing, hiking, rafting, kayaking, horseback riding, hunting, fishing, camping, snowmobiling, snowshoeing, snowboarding, and downhill skiing in the two-million acres of the San Juan National Forest.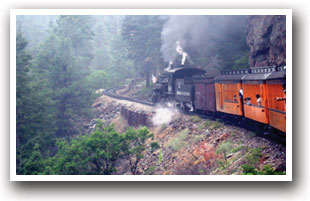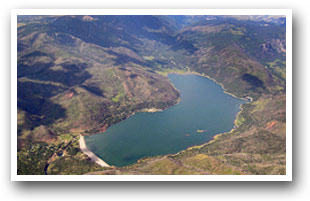 Take a walk through living history on Main Street, Durango's National Register Historic District, with gift shops, saloons and ice cream shops there is something for everyone in the family to enjoy. The famous Durango-Silverton Narrow Gauge Railroad is the country's only coal-and-steam-powered train operating daily with round trips to Silverton; chugging along sheer cliffs, criss-crossing the Animas River on its' 45 mile trip. The Animas River, "river of lost souls," has exciting whitewater rafting during spring run-off and settles down in the summer for family jaunts. Rent a bike for a day and discover why this area is so popular with mountain bikers.
Vallecito Lake near Bayfield is a beautiful mountain lake; 23 miles northeast of Durango. Enjoy a quiet, intimate visit to a secluded mountain valley, home to one of Colorado's largest lakes at an elevation of 8,000 feet. Surrounding the lake are a variety of accommodations and recreation opportunities. Cabins, dude and guest ranches, motel units, RV parks and campgrounds, are available along with marinas, stables, restaurants, stores and gift shops. Boating, fishing, horseback riding, hiking, backpacking, cross-country skiing, snowmobiling, snowshoeing, and ice fishing are all part of the allure of this year round outdoor mecca.
Just west of Vallecito Lake is the smaller Lemon (Reservoir) Lake. Only the east side of the lake is accessible by County Road 243. Fishing is good as it is stocked with trout and Kokanee salmon. Lemon Lake is also a fun place to boat, sail and wind surf.
Hesperus is a tiny community outside Durango; its "ski hill" is lit for night skiing and there's a tubing hill for kids. Believe it or not the "ski-hill" has a snack bar and warming hut. There is great hunting here in the fall.
Located in southwestern Colorado, Ignacio, is within the Southern Ute Indian Reservation. The Sky Ute Casino is the main attraction and features gaming halls, a bowling alley and new Cultural Center and Museum. Lake Capote is the reservation's top trout-fishing destination.
Durango Play Park is a Whitewater Park/Kayak Course located right in Durango on the Animas River. Starting at the Santa Rita Park and ending just behind Four Corners River Sports, this Park consists of multiple holes and waves that change with water flows. Some of the unique sections include the Smelter Wave/Hole, Corner Pocket, the Santa Rita hole, and the Big Kahuna wave.
25 miles north of Durango is Durango Mountain Resort (FKA Purgatory), which offers the unpretentious skiing of the southwest. Also nearby is Wolf Creek Ski Area for even more downhill skiing.
Commercial air travel accommodations are handled by Durango - La Plata County Airport. Please contact your preferred travel agent or airline for flight arrangements.
Durango is near: Mesa Verde Area, Navajo Lake, Pagosa Springs Area, Silverton & Farmington, NM
Premium Durango Businesses

Pine River Lodge - Overlooking Beautiful Vallecito Lake
YEAR AROUND FUN! Lodge with indoor pool! In the San Juan Mountains along Pine River overlooking Vallecito Lake, cabins and vacation homes with kitchens. Near Durango and Mesa Verde National Park.









---
Featured Durango Businesses
Bear Paw Lodge Cabins and Vacation Homes
Near Vallecito Lake, northeast of Durango with mountain cabins and modern vacation homes. Bear Paw Lodge, a family destination: woodsy, relaxing, uncrowded, playground, camp firepit, volleyball and WiFi!






---
Durango's Tamarron Vacation Rentals
Tamarron Resort is along the Million Dollar Highway, 15 miles north of downtown Durango; and, 5 miles south of Purgatory Ski Resort. Vacation Rentals: Kitchenette lodge rooms and studio lofts. Ski Shuttle!









---
Healing Waters Resort and Spa in Pagosa Springs
Soak in Pagosa Springs! Family Friendly Resort: Free access to our healing waters spa mineral baths, hot springs swimming pool, outdoor soaking tub during your stay in a hotel room, suite or family-cabin.






---
Old Hundred Gold Mine Tour - Historic Firsthand Experience
A family experience in Silverton! Gold Mine Tour with Tram Ride into Galena Mountain. Historic guided walk in a hundred years old mine. See gold, crystals, minerals. Must day trip from Durango or Ouray.






---

Pine River Lodge - Overlooking Beautiful Vallecito Lake
YEAR AROUND FUN! Lodge with indoor pool! In the San Juan Mountains along Pine River overlooking Vallecito Lake, cabins and vacation homes with kitchens. Near Durango and Mesa Verde National Park.









---
T Bar M Outfitters LLC
Serving the 4-Corners Region from Durango, T Bar M Outfitters LLC it the local leader in adventure with years of experience and a dedication to client satisfaction. Fishing and Wilderness Horseback Trips.




---
United Campground of Durango - A Train Enthusiast's Campground
JUMP into our POOL! Deluxe camping and recreation at moderate rates on the north edge of Durango, served by our town trolley. Ride the famous Narrow Gauge Railroad, it runs thru United Campground!






---
Westerly RV Park
OPEN ALL YEAR! Between Durango and Purgatory Ski Area. Westerly RV Park is across from Durango Hot Springs in the Animas River Valley. RV sites: 60X30, 30/50 amp hookups. Shade trees. Free WiFi.



---
For more travel information contact:
Durango Activities & Maps
National Parks and Monuments:
Chimney Rock National Monument
Mesa Verde National Park

Scenic Byways:
San Juan Skyway Scenic Byway
Tracks Across Borders Scenic Byway

Seasonal Attractions:
Music in the Mountains

Hiking Trails:
The Colorado Trail

Rafting & Kayaking:
Animas River Rafting & Kayaking
Piedra River Rafting & Kayaking

Jeep & 4WD:
Durango Jeeping & ATV/UTV Trails

Hot Springs:
Durango Hot Springs

Ski Areas & Resorts:
Hesperus Ski Area
Purgatory Ski Resort

Snowmobiling:
Durango Snowmobile Trails

Local Area Maps:
Durango Area Map
Vallecito Lake Area Map

---