Local Area Map
Vallecito Lake Area Map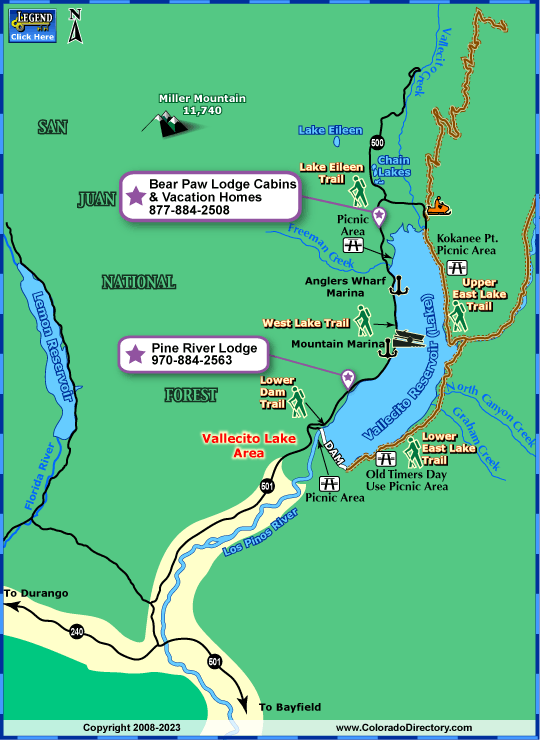 Not all towns appear on map. The publisher does not assume any responsibility for accuracy or completeness of maps. This information was compiled as accurately as possible.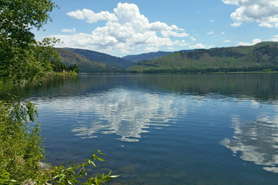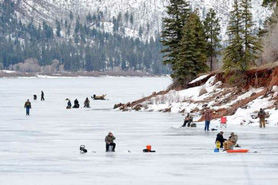 Vallecito Lake is one of Colorado's largest recreational lakes and is a 30 minute drive from Durango, CO. Los Pinos (Pine) Creek and Vallecito Creek both feed this mountain lake in southwest Colorado creating a habitat for rainbow trout, brown trout, and northern pike. The lake offers easy access by car on either paved or packed gravel roads surrounding 3/4 of the Lake. Many of the areas' accommodations (cabins, vacation home, full-hookup RV sites, and grassy tent sites) site at the water's edge, making this lake idea for a fishing destination. With 12 miles of shoreline activities include: boating, fishing, and ice fishing in winter.
FISHING TIP: Be sure you have a current Colorado Fishing License, many businesses in the area sell them. Browns are active year round, while northern pike are hooked from mid-May through mid-June.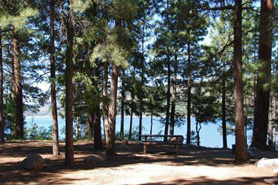 Enjoy a quiet, intimate visit to a secluded mountain valley, at an elevation of 8,000 feet, Vallecito Lake offers a variety of accommodations from cabins and dude and guest ranches to motel rooms and full-hookup RV sites and grassy tent camping. Recreation opportunities are boundless with full service marinas, stables and ATV rentals. The area is speckled with restaurants, stores and gift shops. Within San Juan National Forest horseback riding, hiking, backpacking, camping, cross-country skiing, sleigh rides, snowmobiling, and snowshoeing are all popular depending on the season.
Because the lake is located in the Four Corners region, it is a perfect vacation destination with access to the Durango and Silverton Narrow Gauge Train, Mesa Verde National Park, Durango Mountain Resort, and Wolf Creek Ski Area.
VACATION TIP: Bring your camera! In fall the aspen are stunning as new growth spreads across the valley that a few years ago was a pine forest. The wildlife that makes the Weminuche Wilderness Area home fun to watch. In late spring the wildflowers spring out of their winter blankets of snow and dot the valley in a rainbow of color.
Durango Activities & Maps
National Parks and Monuments:
Chimney Rock National Monument
Mesa Verde National Park

Scenic Byways:
San Juan Skyway Scenic Byway
Tracks Across Borders Scenic Byway

Seasonal Attractions:
Music in the Mountains

Hiking Trails:
The Colorado Trail

Rafting & Kayaking:
Animas River Rafting & Kayaking
Piedra River Rafting & Kayaking

Jeep & 4WD:
Durango Jeeping & ATV/UTV Trails

Hot Springs:
Durango Hot Springs

Ski Areas & Resorts:
Hesperus Ski Area
Purgatory Ski Resort

Snowmobiling:
Durango Snowmobile Trails

Local Area Maps:
Durango Area Map
Vallecito Lake Area Map

More Activities & Information
Durango, Colorado includes: Bayfield, Hesperus, Ignacio, Lemon, Vallecito Lake
---