Colorado Whitewater Rafting & Kayaking
Piedra River Rafting & Kayaking
The Piedra River, meaning the Rock River, was named by the conquistadors Dominguez and Escalante. The river runs 22-miles between Durango and Pagosa Springs. The area boasts 1,000 foot deep canyons, alpine rain forests and heart pounding whitewater before it stops at a soothing hot spring. This river is raftable between May and July, and helmets and wet suits as well as experience, are recommended.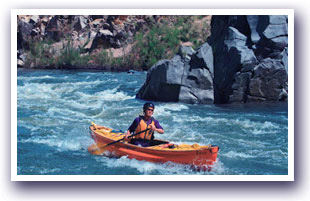 The Upper Box area of the river contains II to IV rapids. The river starts as a small creek that has barely enough water to float on, before it picks up to a cascading river winding through the alpine forests of the Weminuche Wilderness Area. Further down, the Lower Box portion of the river throws you around on III to IV+ rapids. The gradient of the river increases from an average of 53 feet per mile to a fast 100 feet per mile, one of Colorado's biggest drops. This portion of the river boasts undisturbed wilderness boating with towering canyon walls. The forests are filled with trophy mule deer, elk, black bear, the endangered peregrine falcon, eagles and the playful river otter.
PLEASE NOTE: Depending on water levels, some class IV rapids might be class V.
The river is regulated by the Forest Service; very few people are granted permits allowing them into the canyon. Maintaining the pristine beauty of the wilderness is a high priority. See this section of the river with a commercial rafting company might be a good choice.
The International Rapid Rating Scale:
Class I: Easy. Fast moving water with riffles, small waves.
Class II: Novice. Straightforward rapids, wide, clear channels.
Class III: Intermediate. Rapids, moderate, irregular waves.
Class IV: Advanced. Intense, powerful rapids, precise boat handling.
Class V: Expert. Long, obstructed, violent rapids.
More Activities & Information
Durango, Colorado includes: Bayfield, Hesperus, Ignacio, Lemon, Vallecito Lake
---
Rafting & Kayaking in Colorado