Colorado Whitewater Rafting & Kayaking
Lake Fork of the Gunnison River Rafting & Kayaking
The Lake Fork River is one of the many tributaries of the Gunnison. The river runs south of the Curecanti Recreation Area, flowing 16 miles by Hinsdale and Gunnison, and runs north of Lake City in southwest Colorado. The river is deeply cut into its floodplain, forming a canyon within a canyon. Lake Fork River is fed entirely by snowmelt from the San Juan Mountains. The rafting season for this river runs from May to July.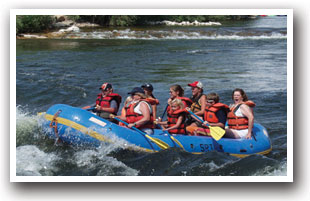 The upper Lake Fork River is a mellow float with Class II rapids, through the Crying Elephant Rock and the Bat Cave making it a fun family trip. The lower Lake Fork River shifts abruptly to a precipitous gorge, plunging through a steep box canyon with wild Class IV - Class V rapids. This beautiful forested canyon contains the wild Surprise, Big Drop and Rattlesnake Rapids, dropping at an average rate of 50 feet per mile. The final descent brings you into Blue Mesa Reservoir. To raft this section of the river, you must be at least 14 years old and have previous whitewater experience.
The International Rapid Rating Scale:
Class I: Easy. Fast moving water with riffles, small waves.
Class II: Novice. Straightforward rapids, wide, clear channels.
Class III: Intermediate. Rapids, moderate, irregular waves.
Class IV: Advanced. Intense, powerful rapids, precise boat handling.
Class V: Expert. Long, obstructed, violent rapids.

Places to Stay & Fun Things to Do
Three Rivers Resort & Outfitting Raft, Fish, Kayak



In Almont, CO 10 miles north of Gunnison. Riverside resort cabins and vacation homes on Three Rivers: Taylor, East, Gunnison. Smokehouse Grill open in summer. Pro-Fly Shop. Outfitting: Fish, Raft, Kayak.
More Activities & Information
Gunnison, Colorado includes: Almont, Blue Mesa Lake, Ohio City, Parlin, Pitkin, Sargents, Sapinero, Taylor Park, Waunita Hot Springs
Lake City, Colorado includes: Powderhorn
---
Rafting & Kayaking in Colorado