Colorado Whitewater Rafting & Kayaking
Colorado River Rafting & Kayaking
The Colorado River starts high in Rocky Mountain National Park and flows 1,450 miles through Colorado, into Utah and Arizona before emptying in Northern Mexico at the Golf of California. As you travel down this river through Colorado, you will experience many exciting sites, such as dinosaur tracks, old stagecoach trails, as well as many spectacular scenic views.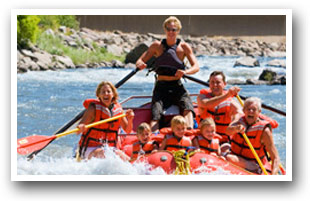 There are two sections of the Colorado River that are popular for rafting, the Upper Colorado River and Glenwood Canyon. The Upper Colorado River is just outside Kremmling, gently flowing through non-intimidating whitewater. Most of the rapids are Class II and III. The scenery ranges from natural to rural, including meadows, valleys, steep slopes and jagged cliffs. The Little Gore Canyon and the Red Eye and Screaming Left Turn rapids are points of interest along the Upper River. This section is enjoyable for all ages!
Continuing downstream on the Lower Colorado River toward Glenwood Springs, you will come across Glenwood Canyon. These rapids are more intense, classified as III-IV whitewater. Shoshone run, Upper Superstition and Tombstone bring you under the sheer cliff walls of the Glenwood Canyon. During high spring waters, most outfitters have a 16-year-old age limit along this section of the river.
Other sections of the Colorado River, such as the Westwater Canyon, offers intense whitewater as the river flows near Grand Junction from Loma, Colorado, through multi-hued red sandstone canyons. Gore Canyon, considered the most intense rafting in the State, begins south of Kremmling and will test any rafting enthusiast with Class IV and V rapids. The river continues through the Colorado Canyons National Conservation Area and flows into Utah.
The International Rapid Rating Scale:
Class I: Easy. Fast moving water with riffles, small waves.
Class II: Novice. Straightforward rapids, wide, clear channels.
Class III: Intermediate. Rapids, moderate, irregular waves.
Class IV: Advanced. Intense, powerful rapids, precise boat handling.
Class V: Expert. Long, obstructed, violent rapids.

Places to Stay & Fun Things to Do
Defiance Rafting

RAFT like a LOCAL! Family-friendly whitewater rafting trips on The Colorado and Roaring Fork rivers. Defiance is near Glenwood Springs in beautiful Glenwood Canyon. Let's unplug and have an adventure.
More Activities & Information
Glenwood Springs, Colorado includes: New Castle
Rifle, Colorado includes: Battlement Mesa, Parachute, Silt
---
Rafting & Kayaking in Colorado