Colorado Whitewater Rafting & Kayaking
Colorado River Rafting & Kayaking
The Colorado River starts high in Rocky Mountain National Park and flows 1,450 miles through Colorado, into Utah and Arizona before emptying in Northern Mexico at the Golf of California. As you travel down this river through Colorado, you will experience many exciting sites, such as dinosaur tracks, old stagecoach trails, as well as many spectacular scenic views.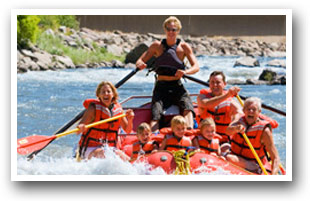 There are two sections of the Colorado River that are popular for rafting, the Upper Colorado River and Glenwood Canyon. The Upper Colorado River is just outside Kremmling, gently flowing through non-intimidating whitewater. Most of the rapids are Class II and III. The scenery ranges from natural to rural, including meadows, valleys, steep slopes and jagged cliffs. The Little Gore Canyon and the Red Eye and Screaming Left Turn rapids are points of interest along the Upper River. This section is enjoyable for all ages!
Continuing downstream on the Lower Colorado River toward Glenwood Springs, you will come across Glenwood Canyon. These rapids are more intense, classified as III-IV whitewater. Shoshone run, Upper Superstition and Tombstone bring you under the sheer cliff walls of the Glenwood Canyon. During high spring waters, most outfitters have a 16-year-old age limit along this section of the river.
Other sections of the Colorado River, such as the Westwater Canyon, offers intense whitewater as the river flows near Grand Junction from Loma, Colorado, through multi-hued red sandstone canyons. Gore Canyon, considered the most intense rafting in the State, begins south of Kremmling and will test any rafting enthusiast with Class IV and V rapids. The river continues through the Colorado Canyons National Conservation Area and flows into Utah.
The International Rapid Rating Scale:
Class I: Easy. Fast moving water with riffles, small waves.
Class II: Novice. Straightforward rapids, wide, clear channels.
Class III: Intermediate. Rapids, moderate, irregular waves.
Class IV: Advanced. Intense, powerful rapids, precise boat handling.
Class V: Expert. Long, obstructed, violent rapids.

Places to Stay & Fun Things to Do
A Liquid Descent Whitewater Rafting


Enjoy relaxing float trip or extreme whitewater with Liquid Descent. Rafting trips near Summit County, Winter Park and the Denver Area. Highlights: riverside hot springs, gorgeous scenery, abundant wildlife.
Agate Dog Inc dba Geo Tours Whitewater Raft Trips


Metro Area base in Morrison! Geo Tours is Whitewater RAFTING. Experienced staff, owners since 1981. Clear Creek mini-trips; closest to Denver, perfect family outing. GOLD MEDAL waters FISHING trips.
Defiance Rafting


Raft like a LOCAL! Family-friendly whitewater rafting trips on The Colorado and Roaring Fork rivers. Defiance is near Glenwood Springs in beautiful Glenwood Canyon. Let's unplug and have an adventure.
High Country Stampede Rodeo


2019 Saturdays: July 6th - August 17th in Fraser -- Colorado High Country. Stampede RODEO: Barrel Racing, Bareback Riding, Saddle Bronco, Bull Riding, Pole Bending, Team Calf Roping, Steer Wrestling.
Hot Sulphur Springs Chamber of Commerce


In Grand Country, along the Colorado Headwaters Scenic Byway Hot Sulphur Springs, this quiet town has soaking pools. Arapahoe National Forest: hike, fish, horseback ride, snowshoe, cross-country ski.
Kremmling Area Chamber of Commerce: Year-Round Recreation


Kremmling, CO is along the Colorado River Headwaters Byway in the heart of Colorado high country! VACATION YEAR-ROUND: Reservoirs, rivers, ranch land, narrow canyons, wildlife, 3 National Forests.
Minturn Anglers: Fly-Shop in Minturn


Anglers are our Guides! You will catch FISH! FLY SHOP in Minturn near Vail Village. We Know Our Water Intimately. Experience Colorado Fly-Fishing. Horseback/Fishing Trip. HOOK YOUR KIDS ON FISHING.
Red Mountain RV Park

A full service RV Park convenient to Summit County in Grand County. The Red Mountain area has over a 100 miles of ATV trails, start at our Park in Kremmling. OPEN ALL YEAR! Fish the Colorado River! WiFi.
Rocky Mountain Adventures: Rafting, Kayaking, Fishing, ATVing Tours


WILDERNESS ADVENTURES: trout fishing, whitewater rafting, kayaking on the Upper Colorado River, Clear Creek, Cache la Poudre River. Side-By-Side ATV Tour in the Rocky Mountains. HQ Fort Collins.
More Activities & Information
Glenwood Springs, Colorado includes: New Castle
Rifle, Colorado includes: Battlement Mesa, Parachute, Silt
---
---
Rafting & Kayaking in Colorado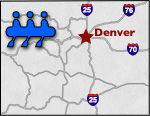 ---