Colorado Whitewater Rafting & Kayaking
Eagle River Rafting & Kayaking
Flowing through the Vail area as a tributary of the upper river, the Ute Indians named the Eagle River so because it has as many tributaries as an eagle's tail has feathers. This is one of the only rivers in Colorado that is completely free flowing, relying 100% on snowmelt. The river meanders through the valley floor and is just minutes from Beaver Creek and Avon. The water is rafted from late May to early July.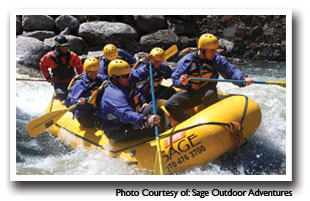 Eagle River is divided into two sections, the upper and lower rivers. The upper section is wild whitewater with only a couple of chances to relax in between rapids. This section is usually classified as class IV, and features the Dowd chute section of the river. This fast moving section with continuous rapids is only 10 minutes away from Vail and Beaver Creek. The Dowd Chute is for the more adventurous and experienced rafter.
As you continue down the river, the lower section is tamer with time to relax and enjoy the colorful canyons of red, yellow and pale brown sandstone, speckled by sagebrush and junipers. The rapids are classified between II-III and the river is a perfect rafting experience for families or first time rafters.
The International Rapid Rating Scale:
Class I: Easy. Fast moving water with riffles, small waves.
Class II: Novice. Straightforward rapids, wide, clear channels.
Class III: Intermediate. Rapids, moderate, irregular waves.
Class IV: Advanced. Intense, powerful rapids, precise boat handling.
Class V: Expert. Long, obstructed, violent rapids.
Places to Stay & Fun Things to Do
A Liquid Descent Whitewater Rafting


Enjoy relaxing float trip or extreme whitewater with Liquid Descent. Rafting trips near Summit County, Winter Park and the Denver Area. Highlights: riverside hot springs, abundant wildlife, gorgeous scenery.
Sage Outdoor Adventures: Rafting, ATVing, Snowmobiling, Horseback Ride, Fishing


Summer and winter fun 20 minutes west of Beaver Creek and Vail resort in Dotsero. Sage Outdoor Adventures: snowmobiling, ATVing, horseback rides, whitewater rafting, fishing, tubing, and kayaking.
More Activities & Information
Vail Area, Colorado includes: Avon, Beaver Creek, Dotsero, Eagle, Edwards, Minturn, Red Cliff, Wolcott
---
Rafting & Kayaking in Colorado