Montrose Area - Southwest Colorado
Includes Cimarron, Olathe
Experience the Museum of the Mountain West: Montrose, Cimarron, and Olathe, Colorado
The Uncompahgre Valley is the gateway to the Black Canyon of the Gunnison National Park and the sapphire waters of Blue Mesa Reservoir, the crown jewel of Curecanti National Recreation Area. This expansive valley offers some of the best fishing in Colorado on the Gunnison and Cimarron rivers along with Soap and West Elk Creeks. Keep an eye out for the many golden eagles, red-tailed hawks, prairie falcons and great horned owls that live here.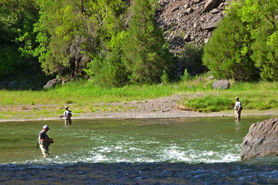 The MONTROSE Area is steeped in history and offers several museums and attractions to help bring the past to life. Visit the Ute Indian Museum, where visitors get a glimpse into the lives of the region's indigenous inhabitants. Chief Ouray and his wife Chipeta of the Tabeguache Ute Tribe called this valley home until 1880 when the US government moved the Tribe to Utah. In the 1880s Montrose provided supplies to the areas mining communities. Soon after agriculture was the economic powerhouse, producing fruits, grains, vegetables, and livestock.
Glimpse back into its' western pioneering roots at Museum of the Mountain West, a re-creation of an Old West town, complete with saloons, chapel, carriage workshop, historic post office, doctor's office, drug store, and dry goods store; plus, 1000s of artifacts on displays used in daily life. The Montrose County Historic Museum at the old Denver & Rio Grande Railroad Depot on the corner of Main Street and Rio Grande Ave is open mid-May to September, see a caboose, vintage machinery, and a rare original stagecoach that once traveled between Montrose and Ouray.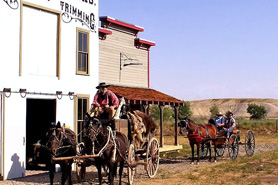 The Black Canyon of the Gunnison National Park to the West is the most stunning day trip of all: as deep as 2,700' and as narrow as 1,300', the canyon was shaped by the churning waters of the Gunnison River. A 50-mile long chasm, the Black Canyon's sheer, shadowy rock walls drop more than a half mile to the river creating a somber and memorable site. Ute Indians did not enter the canyon, preferring to stay on the rim and hunt; when you visit, you'll see why, the trails are difficult to get down. Take a raft trip through the steep canyon to see otherwise inaccessible sites.
Bordered by Gunnison National Forest, CIMARRON is known for its old narrow-gauge railroad, with a part of the original trestle crossing the creek. Cimarron River yields a variety of trout. The Curecanti National Recreation Area, with breathtaking scenery, emphasizes the series of dams created to alter the Gunnison River's course. The Blue Mesa Reservoir, 20 miles long, is ideal for sailing and windsurfing. It's 96 miles of shoreline offer up rainbow, brook and brown trout, mackinaw, and Kokanee salmon.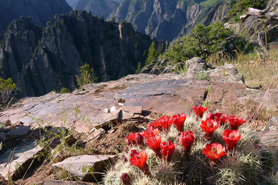 With several National Forests surrounding Montrose there are plenty of trails to keep sledders happy. Experience less crowded snowmobiling trails and snow cover from mid-December through mid-April. The Corral Gulch Snowmobile Trail system in Black Canyon near Hermits Rest Area is a 56 mile drive west. The Little Cimarron Trail Trailhead, at Auggie's corral, features 12 miles of groomed trails; while Big Cimarron takes you over Owl Creek Pass the trailhead is at Vista Point. West of Montrose is the Lower Spring Creek Trail; it's just Highway 90 on Dave Wood Road there is a parking lot at the forest's boundary.
The Gunnison Gorge offers one of the most remote rafting experiences in Colorado. A family friendly option is the Water Sports Park along the Uncompahgre River in the heart of Montrose. In Spring the Little Cimarron River is a fun tubing and kayaking destination.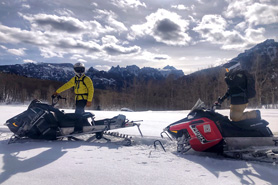 Southwestern Colorado is full of breathtaking drives that highlight its' history, culture, and landscape the West Elk Loop Scenic Byway is no exception. Start near Cimarron, spend one day exploring east along US Highway 50 to Gunnison, Almont and Crested Butte; and a second day, head North on Colorado 92 to Crawford, Hotchkiss and Somerset.
Between Montrose and Delta along the Uncompahgre River is OLATHE a farming community known for their sweet corn! The produce grown here fills the areas' Farmer's Markets with peas, melons, peaches, sweet corn, squash, artisan cheese, and organic certification beef, pork, and eggs. The Olathe Sweet Corn Festival happens in early August; and well, it's a pretty corny event. Get ready for a full day of food, games, and family fun!
Uncompahgre Valley: Montrose, Cimarron, and Olathe, Colorado Driving Directions and Location
LOCATION: The Uncompahgre Valley is in southwest Colorado along US Highway 550; it's 1 hour south of Grand Junction and 2-1/2 hours north of Durango. From Salt Lake City Utah it's a 5-1/2 hour drive; from Denver Colorado it's about 5 hours and from Colorado Springs expect a 4-1/2 hour drive. If you're starting from Albuquerque New Mexico it's 6 hours, from Cheyenne Wyoming it's almost 7 hours, while Las Vegas Nevada is about 8 hours.
Commercial air travel accommodations are handled by Montrose Municipal Airport. Please contact your preferred travel agent or airline for flight arrangements.
Montrose Area is near: Ouray & Telluride

Featured Montrose Area Businesses
Arrowhead Mountain Lodge, Restaurant and Bar
SECLUDED year-round in the Uncompahgre National Forest! Arrowhead Mountain Lodge: Restaurant, bar, UTVing, fishing, snowmobiling. Near the Black Canyon between Montrose and Gunnison off US 50.







---
Blue Mesa Fishing - Guided Lake and Ice-Fishing
A PREMIER FISHING EXPERIENCE in GUNNISON: Guided lake and trolling for Rainbow Trout and Kokanee Salmon on Blue Mesa Reservoir. WINTER Ice-fishing from Mid-December to Late-March.




---
Kings Riverbend RV Park and Cabins
Kings is known for Big ROADS and BIG RIGS! RV sites: pull-thrus, riverside, shade, 50 amp. Luxury Park CABINS on the Uncompahgre River. WiFi. Near: Montrose, National Park, fishing, jeeping, restaurants.






---
Montrose Area Activities & Maps
National Parks and Monuments:
Black Canyon of the Gunnison National Park
Blue Mesa Reservoir/Curecanti National Recreation Area

Scenic Byways:
West Elk Loop Scenic Byway

Fishing:
Blue Mesa Reservoir & Gunnison River Fishing Map

Rafting & Kayaking:
Gunnison River Rafting & Kayaking
Little Cimarron River Rafting & Kayaking
Uncompahgre River Rafting & Kayaking

Snowmobiling:
Black Canyon Snowmobile Trails
Cimarron Snowmobile Trails
Montrose Snowmobile Trails

Local Area Maps:
Delta, Montrose & North Fork Valley Area Map

---