Red Feather Lakes - North Central Colorado
Includes Livermore, Virginia Dale, Tie Siding WY
Lost in the Rocky Mountains, Red Feather Lakes is far from the noise and stress of the city. This group of 14 lakes is about 50 miles northwest of Fort Collins. Six of the lakes are open to the public for trout fishing and boating. Surrounded by the Roosevelt National Forest, it is an outdoor playground: horseback riding, fishing, hiking, biking, off-road vehicle roads, and hunting. This area is a photographers dream with an abundance of wildflowers and wildlife. Look for elk, antelope, moose, mule deer, bears, quail, grouse, mountain lions, bighorn sheep and wild turkey. Wintertime brings cross-country skiers, snowmobilers, snowshoers and ice-fishing enthusiasts to the area.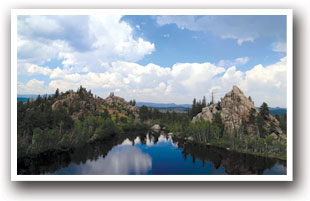 Suggested Hikes: Mt Margaret Trail: one way 4 miles, starting elevation: 8,093', peak elevation: 8,183', Easy. It is popular with hikers and mountain bikers alike. The elevation of Mt. Margaret is 7,957'. The last part of the trail is marked with cairns.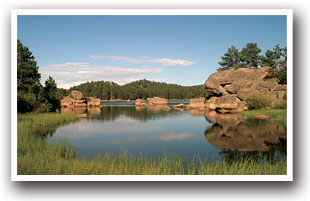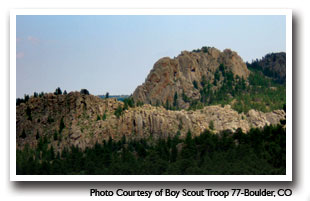 Killpecker Trail: one way 4.2 miles, starting elevation: 9,180', peak elevation: 10,920', moderate. The trail ascends from Deadman Road to the Bald Mountain Jeep Trail at Middle Bald Mountain. It is easy to lose the trail in the logged-over area, follow the Forest Service markers.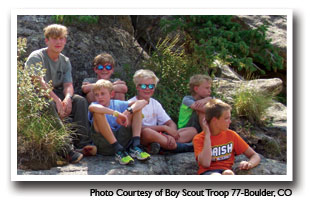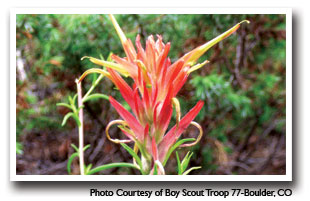 Link Trail: one way 10.8 miles, starting elevation: 8,400', peak elevation: 10,800', difficult. This trail is in the Rawah Wilderness, the trail climbs up through a lodge pole pine forest to the Big McIntyre Burn which offers great views of the surrounding country. The trail intersects the Medicine Bow Trail, the McIntyre Lake Trail and finally joins the Rawah Trail at Rawah Lake #1.
Red Feather Lakes is near: Fort Collins & Poudre River Canyon

Featured Red Feather Lakes Businesses
Hill Top General Store Antiques and Cabins
An authentic Colorado retreat with ICE CREAM SHOP, general store, antiques, and mountain cabins at Red Feather Lakes Village. Vacation between Laramie WY and Fort Collins CO off Highway 287.





---
Rocky Mountain Adventures: Rafting Trips, Kayak Instruction, Gear Rentals and Retail Shop
Rocky Mountain Adventures start in Fort Collins: whitewater rafting, SUPing, kayaking, river tubing on the Cache la Poudre River, designated Wild and Scenic. Winter rentals sledding gear, XC skis, snowshoes.





---
Red Feather Lakes Activities & Maps
Scenic Byways:
Cache la Poudre - North Park Scenic Byway

Fishing:
Red Feather Lakes & Poudre River Fishing Map

Rafting & Kayaking:
Cache la Poudre River Rafting & Kayaking

---