Stonewall - South Central Colorado
Includes Weston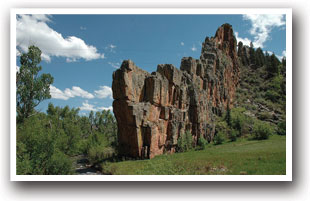 Stonewall, another town on the highway, is near a rock wall that rises 250 feet above town which is part of the Dakota Sandstone formation. In the 1880s, Stonewall was the site of a stand-off between settlers and the government over the Maxwell Land Grand. Today, this is a peaceful, pristine area where the spring waters are said to be enchanted. The Scenic Highway of Legends (Highway 12) was designated as a Colorado State Byway in 1987 and a National Byway in 1988. Like its name, the highway passes through numerous towns which played a part in forming Colorado's fascinating historical legacy. Monument Lake is nestled among the pines and high altitude lakes. A legend here tells of two Indian chiefs who, in search of water for their thirsty tribes, met and embraced in peace, crying for the lack of water. A lake formed at their feet and a volcano erupted, enclosing the two chiefs in rock in the center of the lake. Today both this lake and nearby North Lake offer fishing and other year round outdoor activities.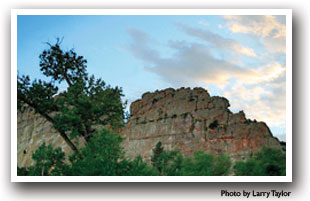 DEL OSO STATE WILDLIFE AREA: Fishing, bird-watching and hunting are popular activities in Del Oso State Wildlife Area just south of Weston. With pinyon-juniper woodland mixed with conifer on the north-facing slopes, and riparian groves along the Purgatoire River it's no wonder second-largest elk herd makes this area their the winter home. Mule deer, wild turkeys, bobcats, bald eagles and trout call it home year round. The south entrance is 9 miles east of Stonewall; there is a gravel parking area.
Stonewall is near: Cuchara Valley Area & Trinidad

Featured Stonewall Businesses
Stonewall View Cabins - A Restful Vacation
Leave your hectic pace at home. Have a restful, quiet vacation with beautiful views. Discover Stonewall, Colorado! Cabin Apartments: Private, personable, eco-friendly. Find the simple pleasure of nature.






---
Stonewall Activities & Maps
National Historic Sites and Landmarks:
Raton Mesa and Pass National Landmark
Spanish Peaks National Natural Landmark

Scenic Byways:
Highway of Legends Scenic Byway

---