The Wild Animal Sanctuary - Wildlife Refuge in Colorado
303-536-0118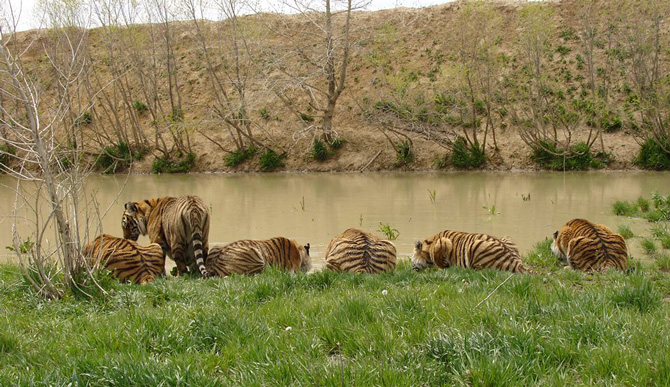 Experience Our 789-acre Wild Animal Sanctuary!
THE WILD ANIMAL SANCTUARY has been rescuing exotic wildlife and endangered species since 1980. TWAS is home to more than 650 lions, tigers, jaguars, leopards, mountain lions, lynx, bobcats, bears, wolves, and other wildlife. The vast majority of the animals were confiscated from illegal or abusive situations by law enforcement officials. The sanctuary also provides a permanent refuge to surplus animals from zoos and other wildlife facilities.
MILE INTO THE WILD WALKWAY: This unique elevated walkway holds the record for being the longest footbridge in the world; it's ideal for watching wild animals as they interact with each other and nature. Experience unprecedented access to tigers, bears, wolves and lions roaming freely in wide-open natural habitats. The walkway is 1.5 miles long and spans over many of the Sanctuary's massive habitats!
GENERAL INFORMATION: The Sanctuary is open from 9am to SUNSET; 7 days a week. $30 (children), $50 (adults) and $20 (senior citizens).
EAT AT THE ON-SITE: Enjoy a meal at the "Lions Den Cafe", or you can bring a picnic lunch, or even stop at our snack bar with a wide variety of nutritious food, snacks and beverages.
SPECIAL GUIDED TOURS: Private tours for individuals and small groups. Your 2-hour tour starts at the Welcome Center and wraps up after an informative and breathtaking 3-mile journey. You'll be guided by an Animal Ambassador each step of your journey down our Mile Into The Wild Walkway. Get an insider's understanding of the animals, their stories, and their lives before and after rescue. COST is $100 per person. Tours must be booked 48 hours in advance by calling 303-536-0118, DON'T FORGET to mention the Colorado Vacation Directory.
DRIVING DIRECTIONS: 30 miles northeast of Denver.
HELPFUL DRIVING INFORMATION: If you use your GPS to get here -- please make sure to enter our 2999 County Road 53 address.
ADDRESS: 2999 county road 53 Keenesburg, CO 8643
PHONE: 303-536-0118 -- For Information; Directions, and Tour Reservations: mention the Colorado Vacation Directory.
FACILITIES
FUN THINGS TO DO
Open Dates For On-Site Activities: All Year
Find local Maps & Fun Things To Do for your Colorado Vacation
---