Colorado Springs - Olympic City USA
800-888-4748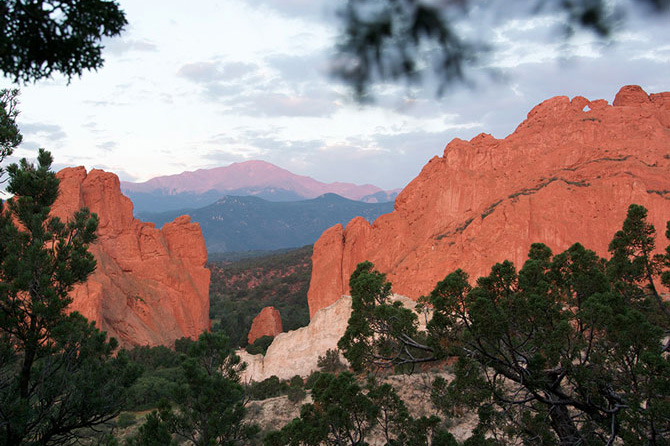 Visit Colorado Springs - Olympic City USA --
Plenty to See, Do, and Explore in the Pikes Peak Region
Colorado Springs is the second largest city in the state. Visitors travel world-wide to enjoy the area's astonishing beauty and more than 55 unique museums, cultural and natural attractions. Colorado Springs boasts more than 300 days of blue skies a year, sits at an elevation of 6,035 feet, and is home to Pikes Peak, Garden of the Gods, and the US Air Force Academy. Adventure awaits around every corner. The Pikes Peak area offers lake and river fishing, ATVing, mountain biking, rafting, rock-climbing, golfing, caving, hiking, zip-lining and ice skating.
VACATION DESTINATION -- Colorado Springs in the Pikes Peak Region
Colorado Springs' most scenic drive is up Pikes Peak!
PIKES PEAK HIGHWAY: This 19-mile toll road takes you to the summit of 14,115 foot Pikes Peak. The entire route is now fully paved. There are numerous pullouts to stop and look. The road is usually open year-round, weather permitting. The highway is patrolled regularly, providing roadside assistance. The Pikes Peak Highway begins off of Highway 24 in the little town of Cascade.
Outdoor Adventures in Colorado Springs
With a sunny, dry climate and mild year-round temperatures, Colorado Springs is the perfect place if you love the outdoors. Families flock to Colorado Springs for fantastic outdoor activities: whitewater rafting, rock-climbing, horseback riding, and biking. There is a wide variety of great family adventures in the Colorado Springs area that offer visitors the opportunity to experience the beauty and grandeur of the Colorado Rockies in fun, exciting ways. Imagine soaring over canyons, valleys, forests, and mountain tops in a hot air balloon, or zipping through the treetops on a zip line tour. If you'd like to keep your feet a little closer to the ground, tear up the trail on one of Colorado Springs' all-terrain ATV or Jeep tours, cruise the city on a Segway or cycle down Pikes Peak and see the sights from a new perspective.
Colorado Springs Golf Courses
In Colorado Springs you will enjoy championship golf courses that challenge the PGA tour, to family 9-hole courses to the fun of mini-golf. Practice your putts, watch your drives soar or relax and unwind on vacation. With a variety of great courses to choose from, you are sure to find one that is perfect for your Colorado Springs golf trip.
Horseback Riding in Colorado Springs
There is no better way to experience the sights on your vacation than while horseback riding in Colorado Springs. The city has trails and parks that offer riding through Garden of the Gods Park or Cheyenne Canon. If you prefer wide open spaces, you can visit one of the many dude ranches in the area, ride with real cowboys and cowgirls, and have an authentic western experience.
SPECIAL ANNUAL EVENT -- Experience Colorado Spring Culture
DECEMBER 10-12; 17-23 AND 25, 2020 -- ELECTRIC SAFARI AT CHEYENNE MOUNTAIN ZOO: The Zoo reopens each evening for Electric Safari from 5:30-8:30pm. Stroll through more than one million sparkling lights and animated animal sculptures. Visit Santa and linger over warm fires throughout the Zoo. This holiday tradition is not to be missed.
MAY 23-25, 2020 -- 39th TERRITORY DAYS IN OLD COLORADO CITY: Commemorates Old Colorado City as the first capitol of the Colorado Territory in 1861. Territory Days began as a barbecue and parade and has grown into a three-day street festival. The historic district on Colorado Avenue between 23rd Street and 27th Street will come alive with live music, food, fun and entertainment for the entire family. Enjoy this event every Memorial weekend.
JULY 8-11, 2020 -- PIKES PEAK OR BUST RODEO AT WILL ROGERS STADIUM: The weekend kicks off with a parade in the true hometown tradition; you'll see floats and equestrian groups as they head south on Tejon on July 11th. There are four performances of the invitational championship rodeo and a finals championship Shoot Out on Saturday night. The best athletes in rodeo are competing for top prize money in bareback riding, steer wrestling, team roping, saddle bronc riding, tie-down roping, barrel racing, and bull riding. It's edge of your seat excitement from the first event to the last!
AUGUST 30, 2020 -- PIKES PEAK INTERNATIONAL HILL CLIMB THE 2ND OLDEST AUTO RACE IN THE US: Also known as The Race to the Clouds, is an annual automobile and motorcycle hill-climb to the summit of Pikes Peak in Colorado. It is the second oldest auto race in the US; this 12.42 mile course has 156 turns ending at the 14,115 foot summit.
SEPTEMBER 5-7, 2020 -- COLORADO SPRINGS LABOR DAY LIFT OFF AT MEMORIAL PARK: The tradition of hot air ballooning in Colorado Springs started in 1976 bringing fun and excitement throughout the Labor Day Weekend for the entire family. Opening ceremony at 6:30 am, with the first wave of inflations beginning at 7am. After all the launches are complete, stick around for the entire morning both Saturday and Sunday to enjoy watching the Wings of Blue US Air Force Skydiving Team Demonstration, an Ultimate Frisbee Exhibition, and Paddle Boarding sessions on Prospect Lake. You can even purchase a ride from Rainbow Ryders for an experience of a lifetime.
OCTOBER 24, 2020: -- 26th ANNUAL EMMA CRAWFORD COFFIN RACES & PARADE IN MANITOU SPRINGS: Since October 1995 Manitou Springs, in honor of Emma Crawford, has annual coffin races. This is a fun and crazy event, honoring her dying wish be buried on top of Red Mountain; 12 men carried her coffin up the 7,200 foot slope. Some say she haunts Red Mountain to this day. A parade and awards for the best Emma, the most creative coffin, and the best overall entourage complete the day-long event.
TIDBITS -- About the Greater Area of Colorado Springs
Colorado Springs is Colorado's second-largest city and founded in 1871 by General William Jackson Palmer.
Elevation: 6,035 feet in Colorado Springs to 14,115 at the top of Pikes Peak
Average annual precipitation: 17.5 inches
Average annual Snowfall: 37 inches
January temperature: High: 43 Low: 18
July temperature: High: 85 Low 57
Days of Sunshine per year: 300+
Colorado Springs is home to The United States Air Force Academy and The US Olympic Training Center.
The Spanish name for Pikes Peak was Almagre, a reference to the reddish color of the granite.
Pikes Peak is known as America's Mountain to honor Katharine Lee Bates, a visiting professor at Colorado College, who penned the words to the poem that then became the song "America the Beautiful".
For your FREE Official Visitors Guide to Colorado Springs
Stop by our offices or call us and we will send it to you.
ADDRESS: 524 S Cascade Ave, Colorado Springs CO 80903
PHONE: 800-888-4748 -- Call Toll Free For a Visitors Guide; Mention the Colorado Vacation Directory.
FACILITIES
Elevation: 6010 feet above sea level.
Restaurant: On site.
Technology For Guests To Use In a Common Area
GROUPS REUNIONS AND WEDDINGS
Groups Welcome: Club. Corporate. Reunion. Weddings. Elopements. Youth group with adult leaders. Retreat.
Group Meeting Area: Indoor room and outdoor area.
Conference Center: Meeting room with tables and chairs can be set up class room style. Some A/V equipment available for seminars. Call for more details.
FUN THINGS TO DO
Open Dates For On-Site Activities: All Year
Primarily Year Round Activities
National Park OR Monument: On site.
National Forests & BLM Lands: On site.
Designated Historic District, Site or Plaza: On site.
Native American Reservation/Pueblo: On site.
Ghost Town: On site.
Designated Scenic/Historic Byway: Along the scenic byway.
Designated Hiking Trails: Trails start on site.
Museum: On site.
Hot Mineral Springs: On site.
Indoor Swimming Pool: Walking distance.
Public Rec Center: On site.
Golf Course: On site.
Hot Air Balloon Rides: On site.
Movie Theater: On site.
Art Gallery: On site.
Outlet/Mall Shopping: On site.
Restaurant(s): On site.
Internet Cafe: On site.
Wine Tours OR Tasting: On site.
Casino Gambling: On site.
Primarily Summer Activities
Outdoor Swimming Pool: Walking distance.
Stocked Fishing Pond: On site.
Fishing in River, Stream or Creek: On site.
Fishing in Lake, Reservoir or Pond: On site.
Guided Fishing Trips (Licensed): Wade Fishing. Float Fishing. Lake Fishing.
Fishing Tackle Sold: On site.
Fly Shop: On site.
Whitewater Rafting Office/Pickup point: On site.
Kayaking Rentals: On site.
Horseback Trail Rides (Guided): On site.
Horse Rides with a Wrangler (Open Range): On site.
Horse Riding Lessons: On site.
Jeep Trails: Trails start on site. (off road, back country, 4WD, Jeep, or jeeping).
Jeep Rentals: On site. (off road, back country, 4WD, Jeep, or jeeping).
Jeep Tours: On site (off road, back-country, 4WD, Jeep, or jeeping).
4-Wheel Drive Sales & Services: On site. (off road, back country, 4WD, Jeep, or jeeping).
ATV (All Terrain Vehicles) and/or Dirt Bike Trails: Trails start on site.
ATV (All Terrain Vehicles) and/or Dirt Bike Rentals: On site.
ATV (All Terrain Vehicles) and/or Dirt Bike Tours: On site.
ATV Sales & Services: On site.
Tourist Train Rides: On site.
Cave Tours: On site.
Historic/Cultural Tours: On site.
Mountain Bike Trails: Trails start on site.
Bike Path: Path starts on site.
Bicycle Shop: On site.
Waterfall Trails: Trails start on site.
Performing Arts Theatre: On site.
Cowboy Supper & Show: On site.
Amusement Rides: On site.
Mini Golf: On site.
Chairlift/Gondola/Tram Rides: On site.
Winter Activities
Cross Country Skiing Trails: Trails start on site.
Snowshoe Trails: Trails on site.
Snowmobile Sales & Services: On site.
Ice Skating (outdoor) Skates Available: On site.
Ice Skating (indoor) Skates Available: On site.
Sled/Tube Hill Equipment Available: On site.
Find local Maps & Fun Things To Do for your Colorado Vacation
---