Cumbres and Toltec Scenic Railroad
1-888-286-2737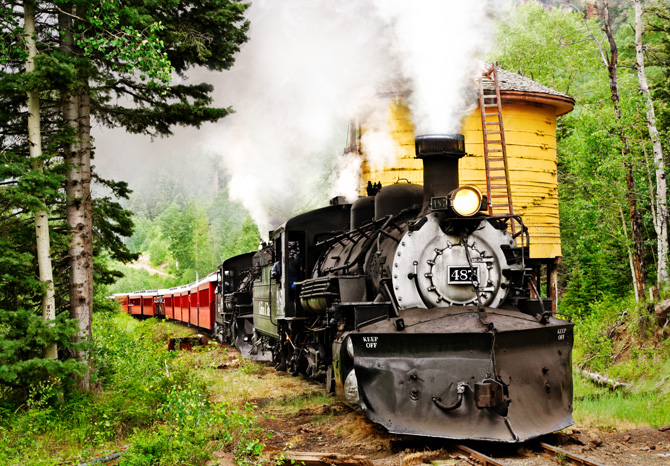 Delightfully Antiquated
Cumbres & Toltec is America's most historic scenic railroad. Climb aboard for a 64-mile day trip you'll never forget.
Our coal-fired steam engine carries you into the unspoiled West, through steep mountain canyons high desert, and lush meadows. You'll zig zag between the Colorado and New Mexico border. Open your eyes to spectacular and rare Western scenery which can only be viewed from our train's unique route.
Ride in the Victorian elegance of our deluxe parlor car or choose the budget-friendly coach car. Either way, a delicious buffet lunch is included. Trains depart daily from Chama, NM and Antonito, CO. A luxury motor coach chauffeurs you back to your starting point at the end of the ride. The season runs from late May through October.
Let's get steamy.
CALL: 1-888-286-2737 for more information and schedules -- Mention the Colorado Vacation Directory.
2019 SCHEDULE for the Cumbres & Toltec Scenic Railroad
Trains depart daily from late May through October from both the Antonito, Colorado and the Chama, New Mexico depots.
Special Event Trains -- The Perfect Blend of Grit and Glory
June 16, 2019: Geology Train -- Join a cadre of distinguished Geologists for a truly extraordinary day. We will stop at many outcroppings and rail cuts along the right of way, so passengers may mingle, marvel and collect photographs. Experience the Rio Grande Rift, the eruptive evidence of the San Juan Volcanic Field, the Precambrian core of the Tusas Mountains, and recent glacial deposits. Lunch at Osier.
July 4, 2019: 4th of July Celebration Train -- Dinner with patriotic DJ El Norteno, Costume contest for most colorful and front row viewing of the best fireworks show since 1776.
July 27, 2019: Sunset Train -- A John Denver Tribute contest with Chris Collins. Celebrate the Woodstock 50th Anniversary with us by wearing your best 1960s bell-bottoms, rose colored glasses or tie-dyed shirts. Prizes for most authentic.
August 4, 2019: Wildflower/Botany Train -- A fun and educational seminar-style train excursion that will point out the indigenous wildflowers in full bloom along route. Mary Stuever, Chama District Forester of the New Mexico State Forestry will serve as the Field Guide throughout the route. Train ride, luxury motor coach ride, lunch at Osier and Botany Train Guidebook are included.
August 17, 2019: Sunset Train -- Mariachis Azteca perform with prizes for best fiesta attire. Our Santa Fe based Mariachis will perform all our favorite songs and new ones added every year!
September 14, 2019: Sunset Train -- A Prohibition Speakeasy evening, famed jazz musician Jon Barnes will lead our rub blow. Only ticket holders will be given the secret word for entrance to this private party. Prizes for most authentic attire.
DEPOT LOCATIONS: Chama, New Mexico and Antonito, Colorado
CHAMA LOCATION: on US Highway 64/84: 47 miles east of Pagosa Springs, CO; and 95 miles west of Taos. The station is in the center of town along New Mexico Highway 17.
ADDRESS: 500 Terrace Drive, Chama New Mexico 87520
ANTONITO LOCATION: on US Highway 285: 28 miles south of Alamosa, Colorado. The depot is located at the intersection of US Highway 285 and Colorado Highway 17, on the southern edge of town.
ADDRESS: 5234 B Highway 285, Antonito Colorado 81120
CALL: 1-888-286-2737 for more information and schedules -- Mention the Colorado Vacation Directory.
Rates
Specialty Discounts (call for availability): Seniors. Groups. Military Personnel.
FACILITIES
Elevation: 10000 feet above sea level.
Restaurant: On site.
Meals Regularly Served: Lunch.
Credit Cards: Visa Card. MasterCard. Discover Card. American Express.
GROUPS REUNIONS AND WEDDINGS
Groups Welcome: Club. Corporate. Reunion. Weddings. Elopements. Youth group with adult leaders. Retreat.
Group Meeting Area: Indoor room.
Maximum # of Day-Use Guests in Indoor Meeting Room: 100
FUN THINGS TO DO
Open Dates For On-Site Activities: 5/25 to 10/20
Primarily Year Round Activities
National Park OR Monument: On site.
National Forests & BLM Lands: On site.
State Parks: On site.
Designated Historic District, Site or Plaza: On site.
Designated Scenic/Historic Byway: Along the scenic byway.
Designated Hiking Trails: Trails start on site.
Museum: On site.
Restaurant(s): On site.
Primarily Summer Activities
Fishing in Lake, Reservoir or Pond: On site.
Horseback Trail Rides (Guided): On site.
Tourist Train Rides: On site.
Performing Arts Theatre: On site.
Find local Maps & Fun Things To Do for your Colorado Vacation
---