Cumbres and Toltec Scenic Railroad
1-888-236-2737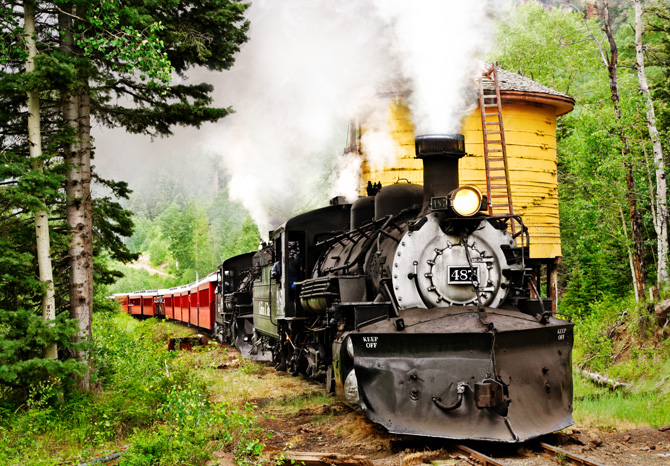 Delightfully Antiquated
The Cumbres & Toltec Scenic Railroad is a full-day, all-inclusive adventure into beauty and bounty. Spend a day in the spectacular, unspoiled West along the Colorado and New Mexico borders. Enjoy a free beverage and an all-you-can-eat buffet lunch with dessert.
USA Today readers voted Cumbres & Toltec the Best Scenic Train Ride in America. Climb aboard this National Historic Landmark for a 64-mile day trip you'll never forget.
Our coal-fired steam engine carries you through steep mountain canyons, high desert, and lush meadows as you zig zag between the Colorado and New Mexico border. Open your eyes to spectacular and rare Western scenery which can only be viewed from this train's unique route.
Ride in the Victorian elegance of our deluxe parlor car or choose the budget-friendly coach car.
Trains depart daily from Chama, NM and Antonito, CO, from late May's blooming wildflowers through the golden leaves of October. A luxury motor coach chauffeurs you back to your starting point at the end of the ride.
Life is short. Ride long.
FOR RESERVATIONS CALL: 1-888-CUMBRES (1-888-286-2737)
2018 SCHEDULE for the Cumbres & Toltec Scenic Railroad
SUMMER SCHEDULE: May 26th - September 2nd, 2018.
FALL SCHEDULE: September 3rd - October 21st, 2018
Trains depart daily from May 26th to October 21st from both the Antonito, Colorado and the Chama, New Mexico depots.
DEPOT LOCATIONS: Chama, New Mexico and Antonito, Colorado
CHAMA LOCATION: on US Highway 64/84: 47 miles east of Pagosa Springs, CO; and 95 miles west of Taos. The station is in the center of town along New Mexico Highway 17.
ADDRESS: 500 Terrace Drive, Chama New Mexico 87520
ANTONITO LOCATION: on US Highway 285: 28 miles south of Alamosa, Colorado. The depot is located at the intersection of US Highway 285 and Colorado Highway 17, on the southern edge of town.
ADDRESS: 5234 B Highway 285, Antonito Colorado 81120
Rates
Specialty Discounts (call for availability): Seniors. Groups. Military Personnel.
FACILITIES
Elevation: 10000 feet above sea level.
Restaurant: On site.
Meals Regularly Served: Lunch.
Credit Cards: Visa Card. MasterCard. Discover Card. American Express.
GROUPS REUNIONS AND WEDDINGS
Groups Welcome: Club. Corporate. Reunion. Weddings. Elopements. Youth group with adult leaders. Retreat.
Group Meeting Area: Indoor room.
Maximum # of Day-Use Guests in Indoor Meeting Room: 100
FUN THINGS TO DO
Open Dates For On-Site Activities: 5/26 to 10/21
Primarily Year Round Activities
National Park OR Monument: On site.
National Forests & BLM Lands: On site.
State Parks: On site.
Designated Historic District, Site or Plaza: On site.
Designated Scenic/Historic Byway: Along the scenic byway.
Designated Hiking Trails: Trails start on site.
Museum: On site.
Restaurant(s): On site.
Primarily Summer Activities
Fishing in Lake, Reservoir or Pond: On site.
Horseback Trail Rides (Guided): On site.
Tourist Train Rides: On site.
Performing Arts Theatre: On site.
Find local Maps & Fun Things To Do for your Colorado Vacation:
---