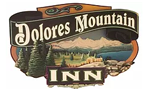 Dolores Mountain Inn
970-882-7203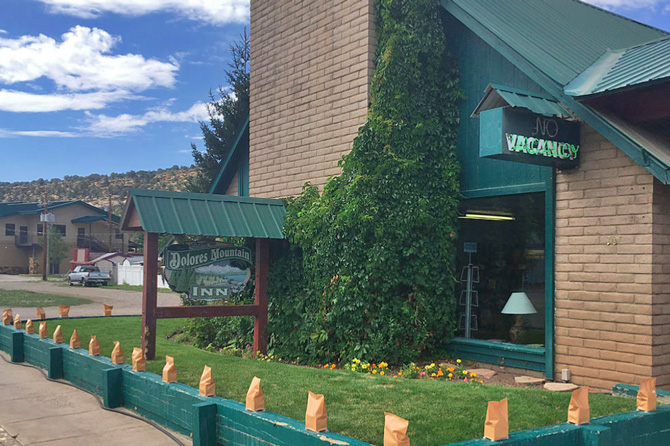 DOLORES MOUNTAIN INN welcomes boaters, mountain bikers, fishermen, skiers, outdoors enthusiasts, hunters and families (including your pets) with Available in 1 or 2 bedroom suites and roomy motel rooms.
ACCOMMODATIONS: Our Suites offer the added amenities of a kitchenette and a living room separate from the bedrooms. We also have comfortable and clean motel rooms with microwave and mini-fridge. Vacation in our beautiful little mountain town with access to the mountains, hiking and biking trails, the Dolores River, and McPhee Reservoir.
WALK TO: A variety of restaurants, shops and the grocery store. Learn about the Galloping Goose #5 at the Historical Museum. Also nearby visit Canyon of the Ancients National Monument and the Anasazi Heritage Center.
BOGGY DRAW TRAIL SYSTEM: This biking, hiking, snowshoeing trail beginning in downtown Dolores; this popular trail is family friendly because it is mostly flat. The trail weaves through ponderosa pine, oak brush and meadows. Look for trail posts at road crossings. The Boggy Trailhead also hosts three other trails that offer a wide variety of terrain and range of difficulties.
DOLORES RIVER & MCPHEE RESERVOIR: The Dolores River flanks the town just north of CO 145 with great fly-fishing for Brown, Cutthroat, and Rainbow Trout; locals also like to tub, kayak and raft. McPhee Reservoir is the 5th largest lake in Colorado and is one of the best spots in the Southwest to enjoy a day at the beach with easy access for swimming, fishing, and boating.
GREAT DAY TRIPS: We are 18 miles from the Entrance to Mesa Verde National Park, a World Heritage Site. In winter there are 3 ski resorts towns of Telluride, Durango, and Hesperus. In Durango take the Durango Silverton Narrow Gauge Train to Silverton.
MESA VERDE NATIONAL PARK AND WORLD HERITAGE SITE: This ancient site is a well-preserved Ancestral Puebloan cliff dwellings; Cliff Palace is awe inspiring with its multi-story construction kissing the canyon steep walls. The Chapin Mesa Archeological Museum gives you a glimpse of ancient Native American culture. Mesa Top Loop Road winds past archaeological sites and overlooks, including Sun Point Overlook with panoramic canyon views. Petroglyph Point Trail is a2.5 mile round-trip loop with narrow passages, stone steps, canyon views and rock petroglyphs.
LOCATION: We are in the heart of Dolores, Colorado with easy access to the San Juan Mountains, Mesa Verde National Park, McPhee Reservoir, Four Corners National Monument, and the Dolores River; we are along the San Juan Skyway Scenic Byway (SH 145) in the southwestern part of the Colorado.
We are 10 miles from Cortez. 7 hours southwest of Denver; 6 hours from Colorado Springs; 8 hours from Fort Collins; 3-1/2 hours from Grand Junction and 4-1/2 hours Albuquerque, New Mexico.
DRIVING DIRECTIONS: From Grand Junction take I-70 take US 50 to Delta, in Montrose take US 550 to Ridgway where you will turn west onto SH 62 (the San Juan Skyway Scenic Byway) to Placerville turn south onto SH 145 to Dolores. We are on the Right. From Albuquerque New Mexico take I-25 north to US 550 into Colorado; in Durango merge onto US 160 west to Mancos; at the stop light turn right (northwest) onto SH 184 past Summit Reservoir at CR 30 turn left, and then left on 4th Street cross over the Dolores River and turn right onto SH 145 (Railroad Avenue) we are on the left.
ADDRESS: 701 Railroad Avenue, Dolores Colorado 81323
PHONE: 970-882-7203 -- For Current Rates and Availability; To Book Your Vacation: mention the Colorado Vacation Directory.
LODGING
Lodging Open Dates: All Year
Lodging Rates
Nightly Lodging Rates On-Season: Range from $92 to $160
Off-season rates available, call for information.
Accommodation Description
About Smoking: All non-smoking units.
Condos & Luxury Suites: 16
Motel/Hotel Rooms without Cooking Facilities: 13
Microwave and Mini Fridge Only: All units.
Units with King Beds: Some units.
Units with Queen Beds: Most units.
Additional Amenities (ask about availability): Coffee Maker with coffee.
Technology In Units
Units with TV: All units.
Type of Reception: Satellite.
Number of Channels: 350
Internet Access in Units: All units.
Internet Access at No Additional Fee: Through Wi-Fi wireless.
FACILITIES
Elevation: 6500 feet above sea level.
Location: In Town.
Setting: Mountain views. Country feel.
Meals Regularly Served: Continental Breakfast.
On-Property in Central Area for Guests to Use: Outdoor Hot Tub. Central Picnic Area with BBQ Grills. Laundry Area (washers and dryers).
Credit Cards: Visa Card. MasterCard. Discover Card. American Express.
Pet Policies
Pets in Lodging: Sorry, NO pets are allowed in rental units.
Technology For Guests To Use In a Common Area
Phone: In private rental units.
GROUPS REUNIONS AND WEDDINGS
Groups Welcome: Club. Reunion. Youth group with adult leaders. Retreat.
Group Meeting Area: Outdoor area.
Central Picnic Area with BBQ Grills: Yes
FUN THINGS TO DO
Primarily Year Round Activities
National Park OR Monument: 25 minutes drive.
National Forests & BLM Lands: 5 minutes drive.
Native American Reservation/Pueblo: 30 minutes drive.
Indian Ruins - Archeological Site: 30 minutes drive.
Designated Scenic/Historic Byway: Along the scenic byway.
Designated Hiking Trails: Walking distance to trailhead.
Museum: Walking distance.
Public Rec Center: 15 minutes drive.
Golf Course: 10 minutes drive.
Movie Theater: 10 minutes drive.
Art Gallery: Walking distance.
Restaurant(s): Walking distance.
Wine Tours OR Tasting: 20 minutes drive.
Casino Gambling: 25 minutes drive.
Primarily Summer Activities
Stocked Fishing Pond: 10 minutes drive.
Fishing in River, Stream or Creek: Walking distance.
Fishing in Lake, Reservoir or Pond: 5 minutes drive.
Marina: 10 minutes drive.
Fishing Tackle Sold: Walking Distance (within 1 block).
Fly Shop: 10 minutes drive.
Boat Rentals: Canoe, Raft, Row, Paddle &/or Motor: Walking distance.
Whitewater Rafting Office/Pickup point: Walking distance.
Kayaking Rentals: 60 minutes drive.
Designated Whitewater Park (Kayak, Canoe): 5 minutes drive.
Horseback Trail Rides (Guided): 25 minutes drive.
Horse Riding Lessons: 25 minutes drive.
Jeep Trails: 10 minute drive. (off road, back country, 4WD, Jeep, or jeeping).
4-Wheel Drive Sales & Services: 10 minutes drive. (off road, back country, 4WD, Jeep, or jeeping).
ATV (All Terrain Vehicles) and/or Dirt Bike Trails: 5 minute drive.
ATV Sales & Services: Walking distance.
Tourist Train Rides: 45 minutes drive.
Historic/Cultural Tours: 30 minute drive.
Mountain Bike Trails: 1 minutes drive to trailhead.
Bicycle Shop: Walking distance.
Hunting
Hunting in Area: 1 minutes drive.
Colorado Hunting Units/Areas: 70, 71, 72, 73, 711
Find local Maps & Fun Things To Do for your Colorado Vacation
---