Great Sand Dunes Oasis: Campground, RV Park, Cabins
719-378-2222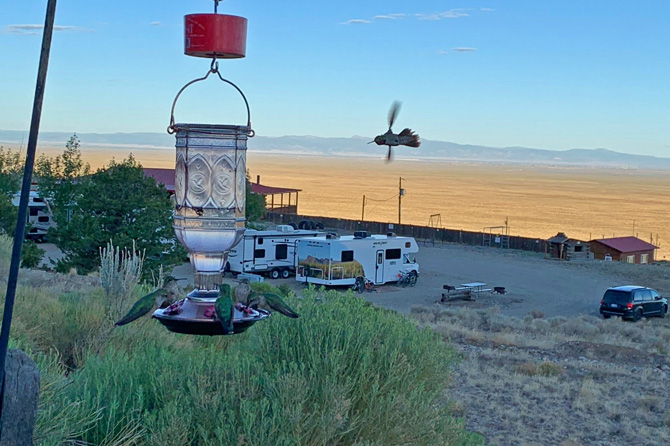 GREAT SAND DUNES OASIS: CAMPGROUND, RV PARK, CABINS is surrounded by fun activities for the whole family!
Try Sand-boarding at Great Sand Dunes National Park; rent your sand-board and sand-sled here! Kids and adults love this X-Sport -- a combination of: the classic snow board, a little wax and gravity! While you are asked to respect the natural beauty of the area, your mode of transportation on the dunes can be natural, and FUN!
SPECTACULAR VIEWS: We are at the entrance of Great Sand Dunes National Park and Preserve. The amazing beauty of the Great Sand Dunes makes you forget that the area also has a long, and mysterious history of strange and unusual phenomenon. From ghosts to dancing balls of unexplainable light and energy, lovers of paranormal and extraterrestrial explorers have chronicled countless tales and experiences.
ACCOMMODATION OPTIONS: Camper cabins. Motel rooms. RV Sites: 20 level pull-thru, full hookup 20/30/50 amp. Shaded tent sites in separate area, mountain rustic. All rates listed below are for two people.
GROUP SITES (ten or more people): $5 per person; call for reservations: 719-378-2222
SECLUDED VACATION CABIN NEAR GREAT SAND DUNES: Our Cabin Rental is in the quiet and beautiful San Luis Valley surrounded by Rocky Mountain Juniper trees, perfect for your family to relax and enjoy time away. Our home has an open floor plan the full kitchen dining area and step down living room allow for family time and room to spread out. The King bedroom has its' own private bathroom, and the Queen bedroom and 2 single bedroom share a bathroom. There is also a 1/2 bath-laundry room. Twelve people sleep comfortably here is a king bed, queen bed, 2 single beds and 2 sets of bunk beds. Great Sand Dunes National Park is minutes away with hiking, sightseeing, and don't forget to try sand-boarding (rentals available at Great Sand Dunes Oasis just before the park entrance; a 15 minute drive). Be sure to take a picnic lunch to gorgeous Zapata Falls the hike is family friendly! No smoking; No pets.
OASIS AMENITIES: Hot showers, restaurant, store, fuel, BBQ grills at RV sites and cabins, picnic tables. Playground with swings, monkey bars, and climbing structures. Sand Board rentals and information.
OUR RESTAURANT: We serve breakfast, lunch and dinner daily.
LARGE GIFT AND SOUVENIR SHOP: Our convenience store is stocked with what you left behind and what you need more of! Gasoline available for all your toys that make vacationing so much fun.
CATTAILS GOLF COURSE: Get away from the crowds and enjoy a relaxed round of golf in Alamosa, a 30 minute drive. Special events are throughout June - September. North of the Rio Grande River with 360 degree view of the Sangre De Cristo and San Juan Mountain Ranges. 9 and 18 hole rounds, open to the public.
SUGGESTED DAY TRIP NOT TO MISS: The Rio Grande Scenic Railroad runs from Alamosa to La Veta and back by way of old La Veta Pass. It also runs to join the Cumbres & Toltec Scenic Narrow Gauge Railroad in Antonito.
LOCATION: Great Sand Dunes Oasis is in south central Colorado in the San Luis Valley between Walsenburg and South Fork along Colorado Highway 150 at the entrance of Great Sand Dunes National Park. 5 hours from Grand Junction; 4 hours from Albuquerque, New Mexico, 3-1/2 hours from Denver and Durango; 2-1/2 hours from Colorado Springs; 2 hours from Trinidad; 75 minutes from South Fork; and 30 minutes from Alamosa.
DRIVING DIRECTIONS: In Alamosa take US Highway 160 East 14 miles to Colorado Highway 150, head north for 16 miles, we are on the right hand side at the Entrance to Great Sand Dunes National Park and Preserve.
ADDRESS: 7800 Colorado Highway 150, Mosca CO 81146
PRE and POST SEASON, LIMITED HOURS AND SERVICES. PLEASE CALL.
PHONE: 719-378-2222 -- For Current Rates and Availability; To Book Your Vacation: mention the Colorado Vacation Directory.
LODGING
Lodging Open Dates: 5/1 to 9/30
Lodging Rates
Nightly Lodging Rates On-Season: Range from $60 to $199
Multi-Night Stay Required: Always required, please call for details.
Accommodation Description
About Smoking: All non-smoking units.
Camper Cabins/Yurts Outdoor Cooking: 6
Motel/Hotel Rooms without Cooking Facilities: 2
Units with Queen Beds: Most units.
Technology In Units
Units with TV: Some units.
Type of Reception: Satellite.
Number of Channels: 41
CAMPING
Camping Open Dates: 5/1 to 9/30
Along a Highway: Easy access for quick and convenient RVing along Interstate or State Highways.
Camping Rates
Tent Camping Rates: $28 a night for two people.
RV Camping Rates: $42 a night for two people.
Additional Person Rate: Adult: $3. Kids free under the age of 5. Kids: $3.
Site Description
RV Sites: 20
Tent Sites: 70
Separate Tenting Area: Yes
Total Sites: 90
Full Hookups: 20 sites with water, electric and sewer.
50 Amp Hookups: 20 sites with 50 amp electrical service.
Long RV Sites 45+ Feet: 20 RV sites are 45 feet or longer.
Pull-Thru Sites: 20
RV Sites Wide Enough for Slideout(s): 20
Separate Group Camping Area: Yes
FACILITIES
Elevation: 8100 feet above sea level.
Location: Away from Town, but close to a community convenience store and restaurant.
Setting: Mountain views. Adjoins public lands. Country feel. Ranch setting.
OPEN Campfires (individual use): Yes. (If no local fire bans are active.)
Restaurant: On site.
Meals Regularly Served: Breakfast, Lunch & Dinner.
On-Property in Central Area for Guests to Use: Central Area for OPEN Campfires. (If no local fire bans are active.)
Kid's Play Structure: On site.
Credit Cards: Visa Card. MasterCard. Discover Card. American Express.
Pet Policies
Pets in Lodging: Sorry, NO pets are allowed in rental units.
Pets at Campground & RV Park: There are pet restrictions, please call and make prior arrangements.
GROUPS REUNIONS AND WEDDINGS
Groups Welcome: Club. Reunion. Weddings. Youth group with adult leaders.
Group Meeting Area: Outdoor area.
Central Area for OPEN Campfires: Yes. (If no local fire bans are active.)
Maximum # of Day-Use Guests in Outdoor Open Picnic Area: 90
Maximum # of Lodging Guests with a Group: 22
Maximum # of Camping Sites with a Group: 90
FUN THINGS TO DO
Primarily Year Round Activities
National Park OR Monument: 5 minutes drive.
National Forests & BLM Lands: 5 minutes drive.
Designated Scenic/Historic Byway: 2 minutes drive to the scenic byway.
Designated Hiking Trails: 5 minutes drive to trailhead.
Museum: 5 minutes drive.
Hot Mineral Springs: 25 minutes drive.
Golf Course: 30 minutes drive.
Movie Theater: 30 minutes drive.
Art Gallery: 30 minutes drive.
Restaurant(s): On site.
Primarily Summer Activities
Fishing in River, Stream or Creek: 30 minutes drive.
Fishing in Lake, Reservoir or Pond: 30 minutes drive.
Whitewater Rafting Office/Pickup point: 90 minutes drive.
Kayaking Rentals: 90 minutes drive.
Jeep Trails: 10 minute drive. (off road, back country, 4WD, Jeep, or jeeping).
4-Wheel Drive Sales & Services: 30 minutes drive. (off road, back country, 4WD, Jeep, or jeeping).
ATV (All Terrain Vehicles) and/or Dirt Bike Trails: 15 minute drive.
ATV Sales & Services: 30 minutes drive.
Tourist Train Rides: 30 minutes drive.
Mountain Bike Trails: Trails start on site.
Bicycle Shop: 30 minutes drive.
Waterfall Trails: 5 minutes drive to trailhead.
Amusement Rides: 25 minutes drive.
Mini Golf: 35 minutes drive.
Hunting
Hunting in Area: 15 minutes drive.
Colorado Hunting Units/Areas: 82
Find local Maps & Fun Things To Do for your Colorado Vacation
---