Leadville CO & Southern Railroad Co
866-386-3936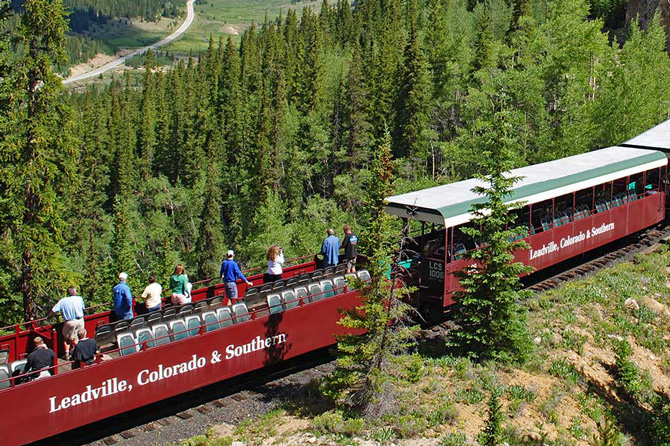 Current Schedule | Train Ride Reservations
Discover a True Gem High Above The Clouds . . .
. . . In the Colorado Rocky Mountains
ALL ABOARD LEADVILLE'S SCENIC TRAIN RIDE
The historic mining town of Leadville is tucked away in an alpine valley at the base of Colorado's highest peak, Mount Elbert (14,439 feet elevation). Here you will find spectacular views, volumes of living history and a population proud of its working class heritage. Winding through this colorful tapestry like a brilliant red ribbon is the Leadville, Colorado and Southern Railroad.
Originating in "the highest incorporated city in North America," the LCandS takes passengers along the old Denver, South Park and Pacific and Colorado and Southern lines to the CONTINENTAL DIVIDE. But, as the old adage states, "It's not the destination, but the journey that's important." This journey is full of panoramas across the Arkansas River Valley and humorous narratives about Leadville's colorful past. Mining and railroading were a large part of the local history, and today's passengers will find it easy to step back in time.
Besides the spectacular views and relaxing ride, the best part is entering the untamed wilderness. We go through aspen and pine forests with brilliant colors in the fall, and meadows covered with wildflowers and sometimes wildlife. We stop just before the Climax Molybdenum Mine. There you can get off the train to view the wildflowers, take pictures and wander for fifteen minutes.
SERVICES OFFERED: Coach Ride, Engine Ride, Caboose Ride, Wildflower Rides, Fall Photo Rides, BBQ Rides; and Free Parking: Cars, RVs and Buses.
2021 SUMMER SCHEDULE
FAQ: The train is dog and turtle friendly!
In 2021 the Leadville Colorado and Southern Railroad Train Runs From May 29th - October 8th. Our Oktoberfest Rides runs from October 9-31, 2021 on Saturday and Sunday only. Our Holiday Express runs from November 19, 2021 - January 15, 2022 on Saturdays and Sundays only.
All trips are 2-1/2 hours long unless otherwise noted
2021 TRAIN SCHEDULE IN SPRING: May 29th - June 11th: Departing at 1pm
2021 TRAIN SCHEDULE IN MID-SUMMER: June 12th - August 15th: Departing at 10am and 2pm
2021 TRAIN SCHEDULE IN LATE SUMMER: August 21st - October 3rd: Departing Monday-Thursday at 1pm; and on Friday, Saturday and Sunday at 10am and 2pm
2021 SPECIAL TOURS - Call for Information and Reservations -- 866-386-3936
TOP OF THE ROCKIES ZIP-LINE AND TRAIN RIDE SPECIAL: Enjoy a scenic train ride through the San Isabel National Forest then Zip Line down to base camp. This four hour tour is perfect for adults and children giving them an opportunity to see untouched wilderness.
RAFT AND RAIL PACKAGE SPECIAL: Spend the morning rafting through class 3 and 4 rapids in Brown's Canyon. Then head up to Leadville in the afternoon to relax on a 2-1/2 hour scenic train ride through the Rocky Mountains. This package includes a lunch upon arrival at the depot. This full day adventure offers fun for the whole family!
OKTOBERFEST 2021: Every Saturday and Sunday in October, the 1pm our train will be departing for a two and a half hour train trip. Featuring seasonal libations including beers and hot cider. This trip is great for the whole family to enjoy. As we head into cooler weather remember jackets, mittens, hats and blankets so that you can bundle up for the journey.
October 9th-10th @ 1pm
October 16th-17th @ 1pm
October 23rd-24th @ 1pm
October 30th-31st @ 1pm
WINTER HOLIDAY EXPRESS 2021-22: For a magical, fun-filled holiday adventure! Travel through the snowy Colorado mountains on a memorable trip for the entire family! Enjoy seating in one of our three brand-new heated lounge cars with comfortable booth seating and large windows. Come enjoy our decorated train with lights.
November 19th-21st @ 1:30pm
November 26th-28th @ 1:30pm
December 3rd-5th @ 4:30pm
December 10th-12th @ 4:30pm
December 17th-January 8th @ 1:30 & 4:30pm
January 13th-15th @ 1:30pm
TRAIN RIDE RESERVATIONS
LOCATION: We are in north central Colorado along the Top of the Rockies Scenic Byway in Leadville, Colorado. Two hours west of Denver. Within one hour from Summit County's many resorts and 45 minutes from Buena Vista. Colorado Springs is a 2-1/2 hour drive.
ADDRESS for the TRAIN DEPOT: 326 East 7th Street, Leadville CO 80461
PHONE: 719-486-3936 or 1-866-386-3936 -- For more information on daily departures and seasonal events, mention the Colorado Vacation Directory.
Rates
Specialty Discounts (call for availability): Groups.
FACILITIES
Elevation: 10000 feet above sea level.
Credit Cards: Visa Card. MasterCard.
GROUPS REUNIONS AND WEDDINGS
Groups Welcome: Club. Corporate. Reunion. Weddings. Elopements. Youth group with adult leaders. Retreat.
Group Meeting Area: Outdoor area.
Maximum # of Day-Use Guests in Outdoor Open Picnic Area: 250
Your Host will Cater or Arrange Meals with Advance Arrangements: Yes
FUN THINGS TO DO
Open Dates For On-Site Activities: 5/29 to 10/31
Primarily Summer Activities
Tourist Train Rides: On site.
Historic/Cultural Tours: On site.
Find local Maps & Fun Things To Do for your Colorado Vacation
---