Oleo Ranch - Colorado Vacation Cabins
210-545-2181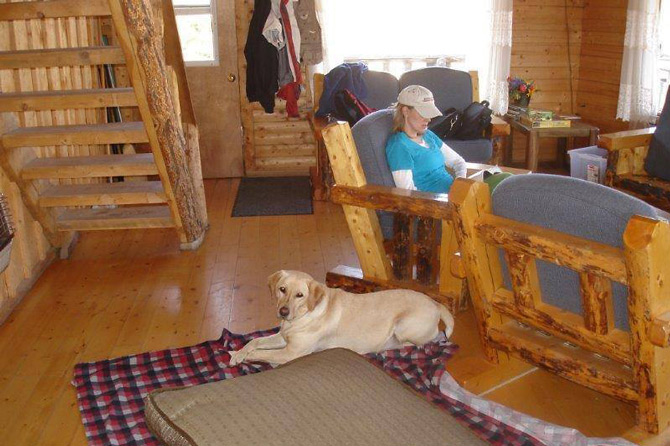 OLEO RANCH is an alluring Rocky Mountains destination: picturesque trails for horseback riding, hiking, wildlife viewing and photography. 1-1/2 miles of the Cebolla Creek runs through our Ranch providing epic trout fishing.
FURNISHED LOG CABINS: Decks, propane lights, wood-burning fireplaces, full kitchens (utensils, cookware, dishes), linens and towels. Note: If you're planning a special recipe while on vacation, be sure to bring what you need or ask us if we have it.
PHONE SERVICE: While we have no cellular service at the Ranch, we do have WiFi calling available at the manager's cabin in case of emergency.
PET FRIENDLY: We allow dogs in our designated cabins when they are registered guests the nightly fee is $20 per dog per night. Guests with Horses we have automatic waterers, but guests must bring their own feed.
Vacation away from WiFi and TV! Say hello to nature and family!
SLUMGULLION NATIONAL NATURAL LANDMARK and INTERNATIONAL DARK SKY PARK: Slumgullion Earthflow became a National Landmark in 1965 and on September 2020 an International Dark Sky. The Earthflow moves about 20 feet a year and the night sky offers amazing views of the Milky Way nightly. We have telescopes for your families use. Windy Point Observation Site is 20 minutes south and then west on CO Highway 149.
WILDLIFE VIEWING: Surrounded by Rio Grande National Forest you will often see deer, elk, moose and bighorn sheep wander by your cabins. If you're a twitcher be sure to keep your binoculars close at hand as rose-breasted grosbeaks, stellar jays, Clark's nutcracker, chickadees are seen year round while you're sure to see an osprey fishing in our ponds and broad-tailed hummingbirds fluttering around our feeders. If you're lucky a Bald Eagle will catch your eye.
WHEELER GEOLOGIC AREA is a full day so pack your 4-wheeler with a picnic and snacks. The 14 miles of rugged road is not for your family SUV! However an ATV, UTV or high clearance Jeep will sing with joy! BRING YOUR CAMERA! The volcanic formations dubbed the "City of Gnomes" is Colorado's first National Monument.
LOCATION: Our Ranch is in Southwest Colorado between Lake City and Creede off Highway 149, just off the Silver Thread Scenic & Historic Byway. 18 miles (30 minutes) from Lake City, CO, Oleo Guest Ranch is two miles below the Continental Divide.
ADDRESS: 1001 Hinsdale County Road 17, Lake City CO 81130
PHONE: 210-545-2181 Max -- For Reservations, Information: Mention the Colorado Vacation Directory.
LODGING
Lodging Open Dates: 5/27 to 9/30
Lodging Rates
Nightly Lodging Rates On-Season: Range from $240 to $450
Multi-Night Stay Required: Always required, please call for details.
Accommodation Description
About Smoking: All non-smoking units.
Cabins/Cottages with Cooking Facilities: 7
Units with Queen Beds: All units.
Units with Wood Fireplaces: 7
Technology In Units
Internet Access in Units: None.
FACILITIES
Elevation: 10500 feet above sea level.
Region: Lake City - Southwest, Colorado
Location: Remote, far away from a community convenience store and restaurant.
Setting: Mountain views. Waterfront setting along a river, stream or creek. Adjoins public lands. Country feel. Forested. Ranch setting.
BBQ Grills (individual use): Yes
Pet Policies
Pets in Lodging: All Dogs are allowed in designated Pet Friendly rental units. When making a reservation, be sure to ask for one of these units. There may be a fee or a deposit.
Horse Facilities
Guest's Horses Welcome (call for availability): You may bring your horse.
Horse Trailer Parking: On site.
Horse Trails: Trails start on site.
Technology For Guests To Use In a Common Area
FUN THINGS TO DO
Primarily Year Round Activities
Designated Scenic/Historic Byway: 1 minutes drive to the scenic byway.
Designated Hiking Trails: Trails start on site.
Museum: 30 minutes drive.
Art Gallery: 30 minutes drive.
Primarily Summer Activities
Fishing in River, Stream or Creek: On site.
Fishing in Lake, Reservoir or Pond: On site.
Whitewater Rafting Office/Pickup point: 45 minutes drive.
Kayaking Rentals: 45 minutes drive.
Jeep Trails: 5 minute drive. (off road, back country, 4WD, Jeep, or jeeping).
Jeep Rentals: 30 minutes drive. (off road, back country, 4WD, Jeep, or jeeping).
Jeep Tours: 30 minute drive (off road, back country, 4WD, Jeep, or jeeping).
ATV (All Terrain Vehicles) and/or Dirt Bike Trails: 5 minute drive.
ATV (All Terrain Vehicles) and/or Dirt Bike Rentals: 5 minute drive.
ATV (All Terrain Vehicles) and/or Dirt Bike Tours: 30 minute drive.
Hunting
Hunting in Area: 5 minutes drive.
Colorado Hunting Units/Areas: 66, 67, 76
Find local Maps & Fun Things To Do for your Colorado Vacation
---