Adventure Paragliding - Tandem Flights - Glenwood Springs
970-274-1619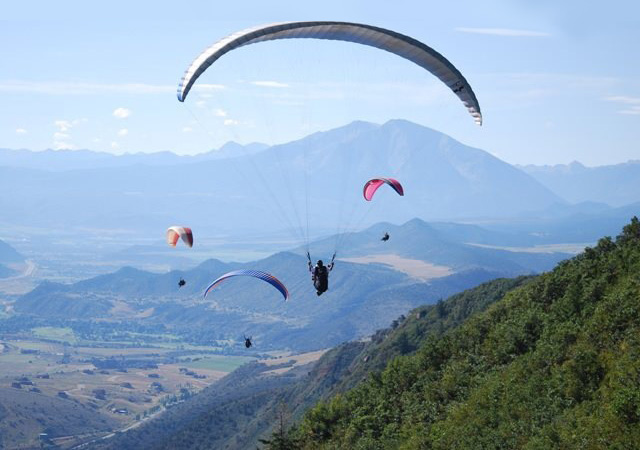 Tandem Paragliding!
See the World From an Entirely Different Perspective
No prior experience or training needed to float through the skies over Glenwood Springs with a certified instructor. Create a totally unique, once-in-a-lifetime experience, during your Colorado vacation. Paragliding is not just for the thrill-seeking adrenaline junkie, if you can jog a few steps, you can fly with us!
If you have ever dreamed of flying, or have gazed up at the birds soaring above longing to join them, this is your chance to live that experience! You will be with us for about an hour with the flight itself lasting between 10-22 minutes. Experienced tandem pilots navigate the air currents above Glenwood Springs gradually descending with a smooth landing.
With paragliding, there is no free-falling or jumping off of cliffs. Even a fear of heights is rarely a factor since there is no sensation of falling. The launches and landings are slow and gentle. Once in the air, most people are surprised by the serenity of the experience.
See the World From an Entirely Different Perspective
TANDEM FLIGHTS: Our flights are always with a US Hang Gliding Association Certified Instructor. At Adventure Paragliding, you can rest assured you are in the best of hands. Our primary focus has always been on the safety and comfort of our customers and students.
Adventure Paragliding does not have any age restrictions. Our weight limit tops off at 260 pounds, please, call us if you have any questions about this.
FLIGHTS LEAVE: There are five flights per day, weather permitting.
PHONE: 970-274-1619 -- For Current Rates and Availability; To Book Your Vacation Adventure: mention the Colorado Vacation Directory.
FACILITIES
FUN THINGS TO DO
Open Dates For On-Site Activities: 5/1 to 10/31
Find local Maps & Fun Things To Do for your Colorado Vacation
---