Rio Chama RV Park In Northern New Mexico
575-756-2303





Family Friendly Camping
Near Cumbres and Toltec Scenic Railroad!
Stay at RIO CHAMA RV PARK in Northern New Mexico and ride or take photos of the Cumbres and Toltec Narrow Gauge Train as it steams over the river on an historic bridge by our park! Our RV Park is about 2 blocks from the Cumbres & Toltec Railroad Depot.
CAMPGROUND: Camp along the Rio Chama with tall trees to shade our grassy sites. Sites have 30 amp or 50 amp service. Big rigs will enjoy the spacious 60 foot drive-thrus sites with room for slideouts. Some sites have BBQ grills. 20 sites have river views. Separate area for tenters. All have WiFi, fires rings and picnic tables. RV supplies are available in our camp store.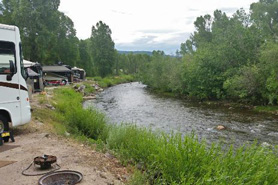 TWO COVERED PAVILIONS: Have a fire ring or grill to support separate areas of our park. Pancake Breakfast served on Occasional Saturdays.
FISHING: Fish on-site along the Rio Chama known for its trout. Angler's will delight in the excellent salmon and trout fishing at nearby Heron Lake State Park and El Vado Lake State Park.
LOCAL ATTRACTIONS: Your family will enjoy whitewater rafting and kayaking on the Chama River. By day see wildlife (elk, deer, fox, bald eagle) roam through our Park and at night gaze at the Milky Way visible above. Take a Ride to Colorado on the Cumbres & Toltec Narrow Gauge Railroad. Edward Sargent Wildlife Management Area has trails for hiking, mountain biking and horseback riding. The Echo Amphitheater, in Carson National Forest, is a large natural amphitheater with paved hiking trails to Echo Canyon; it's 44 minutes from Chama.
Because of our central location at the southern end of the Rocky Mountains, we are within a day's drive of Santa Fe, Taos, Mesa Verde, Sandia Peak and Pikes Peak.
SCENIC DRIVES: Los Caminos Antiguos Byway, Tracks Across Borders Byway, and Enchanted Circle all provide opportunities to explore and discover New Mexico's art, culture, and outdoor recreation.
A Brief Railroad History -- We're Railroad Buffs
The San Juan Extension: The track over which the CUMBRES & TOLTEC SCENIC RAILROAD runs was originally built by the Denver & Rio Grande out of Denver, Colorado. After reaching Alamosa, its tracks headed south toward Antonito, then west into the mountains, reaching Chama, New Mexico in 1880 with it's intended destination being Durango and Silverton Colorado, 107 and 152 miles away (respectively), being reached by the year 1882. The most scenic section is now preserved as The Cumbres and Toltec Scenic Railroad. When you are up in the high passes and the clatter of rail joints lulls your mind, think of all the people, and all their reasons for traveling, that have gone this way before. In one hundred years, that's a lot of reasons.
Chama is in Northern New Mexico - Driving Directions, GPS and Phone
LOCATION: Rio Chama RV Park is in northern New Mexico, 7 miles south of Colorado on scenic Highway 17 and 52 miles West of Antonito. Two blocks North of the Train Depot on Highway 17.
DRIVING DIRECTIONS: From Fort Collins, Colorado take I-25 south to Denver take exit 216 onto I70 then take exit 260 onto 470 at Exit 5A merge onto US 285 past Fairplay to Johnson Village where you will continue south on US 285 to Center where you will hope on SH 112 to Del Norte and pick up US 160 heading west to Pagosa Springs where you'll head south on US 84; in New Mexico the Highway name becomes US 64 which will "Y" at SH 17 Turn north for 2 miles; drive through Chama and the Campground is on your right. From Antonito, Colorado drive south US 285 continue straight onto SH 17 when US 285 take a sharp turn south. At the Colorado-New Mexico Border continue on SH 17 for 7.7 miles our RV Park will be on the left. From Albuquerque, New Mexico take I-25 north exit 382A in onto US 84/285 into Santa Fe; after Fernandez US 285 curves east, stay on US 285 as it continues north to Chama where it briefly is call US 64 and becomes SH 17.
DRIVE TIMES: Durango Colorado 2 hours. Albuquerque, New Mexico and Durango, Colorado 3 hours. Pueblo Colorado 5 hours. Colorado Springs Colorado 5.5 hours. Highlands Ranch and Grand Junction Colorado 6 hours. Garden City, Kansas 6.5 hours. Fort Collins, Colorado and Amarillo, Texas 7 hours. Phoenix, Arizona 8.5 hours.
MAILING ADDRESS: PO Box 706, Chama NM 87520
GPS: 36.906132, -106.57782 (latitude, longitude)
STREET ADDRESS: 182 N Hwy 17, Chama NM 87520
NEW OWNERS Dale and Jeannie welcome you.
PHONE: 575-756-2303 -- For Current Rates and Availability; To Book Your Vacation: mention the Colorado Vacation Directory.
Rates
Specialty Discounts (call for availability): Groups. Military Personnel.
CAMPING
Camping Open Dates: 5/1 to 9/30
Along a Highway: Easy access for quick and convenient RVing along Interstate or State Highways.
Camping Rates
Tent Camping Rates: $25 a night for two people.
RV Camping Rates: Range from $36 to $79 a night for two people.
Additional Person Rate: Adult: $6. Kids free under the age of 2. Kids: $4.
Weekly RV Camping Rates On-Season: Range from $216.00 to $390.00 for two people.
Site Description
RV Sites: 91
Tent Sites: 10
Separate Tenting Area: Yes
Total Sites: 101
Electric & Water Hookups: 15 sites with electric and water only.
Full Hookups: 76 sites with water, electric and sewer.
50 Amp Hookups: 30 sites with 50 amp electrical service.
Long RV Sites 45+ Feet: 64 RV sites are 45 feet or longer.
Pull-Thru Sites: 64
RV Sites Wide Enough for Slideout(s): 85
Separate Group Camping Area: Yes
FACILITIES
Elevation: 7960 feet above sea level.
Location: Close to Town.
Setting: Mountain views. Waterfront setting along a river, stream or creek. Country feel. Forested.
OPEN Campfires (individual use): Yes. (If no local fire bans are active.)
On-Property in Central Area for Guests to Use: Central Area for OPEN Campfires. (If no local fire bans are active.) Central Picnic Area with BBQ Grills.
Credit Cards: Visa Card. MasterCard. Discover Card. American Express.
Pet Policies
Pets at Campground & RV Park: Pets are allowed at campsites for additional fee or deposit. Well-behaved dogs or cats are allowed on a leash outdoors while their owners are on site.
Pet Park (leash free zone): On site.
Vet Services: Walking Distance (within 1 block).
Technology For Guests To Use In a Common Area
WI-FI Wireless Internet: Available free.
GROUPS REUNIONS AND WEDDINGS
Groups Welcome: Club. Youth group with adult leaders.
Group Meeting Area: Indoor room and outdoor area.
Central Area for OPEN Campfires: Yes. (If no local fire bans are active.)
Central Picnic Area with BBQ Grills: Yes
Maximum # of Day-Use Guests in Indoor Meeting Room: 14
Maximum # of Day-Use Guests in COVERED Outdoor Picnic Area: 48
Maximum # of Day-Use Guests in Outdoor Open Picnic Area: 65
Maximum # of Camping Sites with a Group: 50
FUN THINGS TO DO
Primarily Year Round Activities
National Forests & BLM Lands: 10 minutes drive.
Designated Historic District, Site or Plaza: Walking distance.
Designated Scenic/Historic Byway: Along the scenic byway.
Art Gallery: Walking distance.
Restaurant(s): Walking distance.
Casino Gambling: 30 minutes drive.
Primarily Summer Activities
Stocked Fishing Pond: 25 minutes drive.
Fishing in River, Stream or Creek: On site.
Fishing in Lake, Reservoir or Pond: 25 minutes drive.
Boat Rentals: Canoe, Raft, Row, Paddle &/or Motor: 25 minutes drive.
Whitewater Rafting Office/Pickup point: 60 minutes drive.
Kayaking Rentals: 25 minutes drive.
Horseback Trail Rides (Guided): 5 minutes drive.
Jeep Trails: 15 minute drive. (off road, back country, 4WD, Jeep, or jeeping).
ATV (All Terrain Vehicles) and/or Dirt Bike Trails: 15 minute drive.
Tourist Train Rides: Walking distance.
Mountain Bike Trails: 10 minutes drive to trailhead.
Hunting
Hunting in Area: 15 minutes drive.
Find local Maps & Fun Things To Do for your Colorado Vacation
---