Rock Ledge Ranch Historic Site
719-578-6777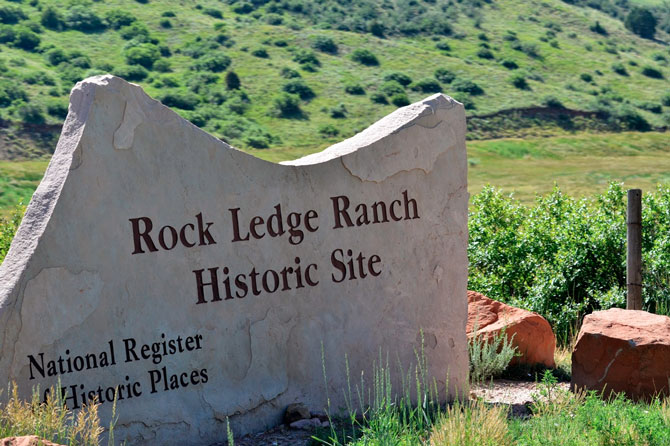 ROCK LEDGE RANCH -- A LIVING LEGACY -- NATIONAL REGISTERED HISTORIC PLACE
The spirited history of the Pikes Peak Region comes to life! Discover the American Indian Area, 1860s Galloway Homestead, the 1880s Rock Ledge House and Chambers Farm, Blacksmith Shop, the 1907 Orchard House, and the General Store. Rock Ledge Ranch Historic Site, listed on the National Register of Historic Places, is alive with activity.
LEARN ABOUT: The rigors of homesteading, the perils of 19th century agriculture, and the sophistication of an early 20th century estate built by the founder of Colorado Springs -- General William Jackson Palmer.
ON THE NATIONAL REGISTER OF HISTORIC PLACES IN COLORADO SPRINGS
OPEN: Year Round with Special Events and Daily Interpretive Exhibits
Summer: June - Mid-August: Wednesday - Saturday from 10am to 5pm
Autumn: Call for open days and times, and ask about our special Fall Events.
Winter: We have several winter events. Please contact us for information.
Rock Ledge Ranch Historic Site is Educational and FUN
A Non-profit living history farm and museum that depicts life in the Pikes Peak region in four time-periods: American Indian area in 1775; 1860s Galloway Homestead; 1880s Chambers Home and Ranch; 1907 Edwardian Country Estate.
EXHIBITS: Knowledgeable interpreters present the true-to-life history of the people of the Pikes Peak Region.
1775 to 1835 American Indian Area where visitors have an opportunity to see an elk or buffalo hide tipi, a wide variety of tools and items used in everyday tasks, play games, and listen to stories of Ute or Plains Indians culture.
1860s Galloway Homestead one-room log cabin depicting life in the rough and tumble west before the railroad.
1880s Chambers working farm and Rock Ledge House, which was a boarding house as well as the family dwelling; plus a smokehouse, root cellar, and a restored apple orchard.
1907 Orchard House a gracious Edwardian Dutch Colonial country estate, built by General William Jackson Palmer, the founder of Colorado Springs, for relatives, William and Charlotte Sclater.
LIVING LEGACY: See the craftsmanship of a 19th century blacksmith or enjoy old fashioned soda and candy in the General Store. This Museum Store has a wide variety of historic reproductions, books and gifts, including items made by hand at Rock Ledge Ranch Historic Site.
ADMISSION: Adults are $8, Seniors age 55+ are $5, Children (6-17) are $4, children age 5 and under are FREE. Call for Group Rates.
Parking is Free.
Special Events - Festivals - POW WOWs - Workshops
In addition to daily activities, special events flourish the Ranch. Enjoy an 1880s baseball game (Labor Day), 4th of July celebration, Harvest Festival in October, musical performances, lectures, horse drawn equipment demonstrations, and the annual Holiday Evening and Teas in December.
Some events are included in the entrance fee, while others need a reservation and have a fee. Please Call: 719-578-6777 -- Mention the Colorado Vacation Directory.
In Colorado Springs near Garden of the Gods
GPS: If you have a GPS device you could try the address "3105 Gateway Road", however some devices position that address quite a distance from the actual gate. The following coordinates should bring you closer: 38.87737, -104.87140
LOCATION: Off of North 30th Street across from the Garden of the Gods Park Visitors Center in Colorado Springs on Gateway Road.
PHONE: 719-578-6777 -- For more information on daily activities and seasonal events, mention the Colorado Vacation Directory.
Rates
Specialty Discounts (call for availability): Seniors. Groups.
FACILITIES
Elevation: 6400 feet above sea level.
GROUPS REUNIONS AND WEDDINGS
Groups Welcome: Club. Corporate. Reunion. Weddings. Elopements. Youth group with adult leaders. Retreat.
Group Meeting Area: Outdoor area.
Maximum # of Day-Use Guests in Outdoor Open Picnic Area: 50
FUN THINGS TO DO
Open Dates For On-Site Activities: 6/3 to 9/7
Primarily Year Round Activities
Designated Historic District, Site or Plaza: On site.
Designated Hiking Trails: Trails start on site.
Museum: On site.
Primarily Summer Activities
Historic/Cultural Tours: On site.
Performing Arts Theatre: On site.
Find local Maps & Fun Things To Do for your Colorado Vacation
---