Colorado
Downhill Skiing & Snowboarding
Kendall Mountain Recreation Area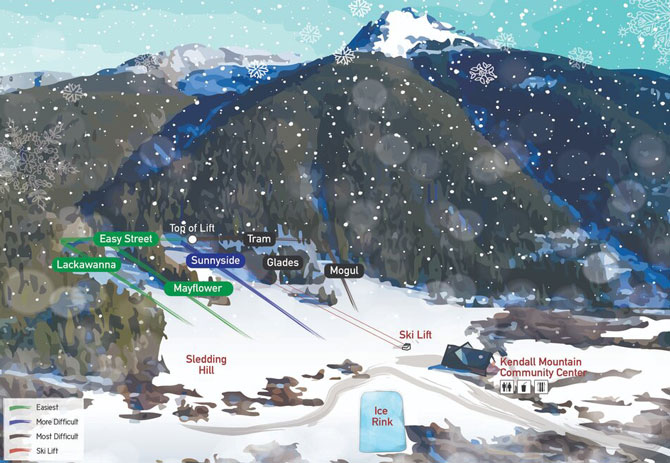 Kendall Mountain
With approximately 200 inches of snowfall per year, Silverton and the San Juan Mountains make the perfect setting for any winter activity. Silverton offers and array of recreational opportunities just waiting for you and your family.
Kendall Mountain Ski Area
"The Cheapest Ski area in the West" - life ticket prices range from $20/day for adults ages 19-64, children are only $15/day and seniors are only $10/day. Family and season passes are available.
The ski lift, which is a 950-foot rope tow, operates 11 a.m. to 4 p.m. on Fridays, Saturdays and Sundays and on holidays when the snow "flies."
Ice Skating & Sledding:
The town rink at the Kendall Mountain Recreation Area is free of charge and is always open-conditions permitting. (Rental skates are available at the Visitor's Center). The Recreation Area is also a sledder's paradise. You'll find a gentle slope for the youngsters and a tubing hill for the more adventurous. Remember this is old-fashioned fun so be ready to hike up and bring your own sled.
Ice Climbing
Try a myriad of gully climbs and excellent alpine routes. Ouray Ice Park is located 22 miles over Red Mountain Pass.
Cross-Country Skiing
The "Town Loop" is available for a short trip around the outskirts of town.Also try Molas Pass near Molas Lake, Andrews Lake and Little Molas Lake.
Snowshoeing
Enjoy the peace & serenity of the San Juans. Rentals are available at the Grand Imperial Hotel and Outdoor World.
Snowmobiling
Over 150 miles of maintained trails. Easy access from town or Molas Pass.
Backcountry Skiing
Backcountry skiing is plentiful, with 80% of public land surrounding Silverton. Be aware of avalanche danger. Guided and snow-cat skiing is also available.
General Skiing Information

Season Opening Date: December 15, 2023
Season Closing Date: March 31, 2024
Vertical Rise: 283 ft.
Terrain: 16 acres
Number of Trails: 7
Trails:
Beginner - 50%
Intermediate - 40%
Advanced - 10%
Terrain Parks: Tree Runs, Small Jumps, Rails & Features
Annual Snowfall: 200 inches
Lifts: 1 Double Chair

Chairlift Schedule: 11am - 4:00pm Fridays - Sundays & Holidays
Facilities
Base Elevation: 9,313 ft.
Summit Elevation: 9,596 ft.
Map Location: Southwest F-13
Location: Drive into Silverton, turn off at Town Hall (14th Street). Kendall Mountain is at the end of the road (approx 4 blocks).
More Activities & Information
---
Downhill Skiing & Snowboarding in Colorado