Twin Lakes Roadhouse Lodge and Cabins
719-486-9345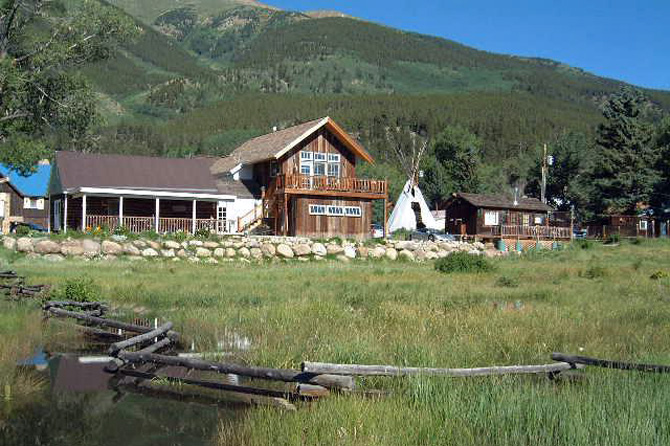 Experience the peaceful, quiet of scenic Twin Lakes Village, Colorado while staying at TWIN LAKES ROADHOUSE LODGE AND CABINS. Start your mornings in our covered dining area overlooking the lakes with fresh ground Vail Mountain Coffee and home-made cinnamon rolls.
Twin Lakes Roadhouse Lodge and Cabins has 4 Elegant Rooms and a Carriage House. Room 1, our most popular, features a queen bed with stunning tiled bath, porch, bright and sunny with Twin Peak Views. Room 2 is a romantic get-a-way with amazing views from your queen bed and porch. Room 3 is for families, it sleeps 6 with 2 extra long double beds and a queen futon plus a dining table with chairs. The Hikers Room is our smallest the Clawfoot bathtub gives this room a cozy historic feel. The Carriage House is a one bedroom honeymoon suite with gas log fireplace, small kitchen and lake view deck.
Spend your days with a fly rod, canoe, mountain bike, hiking boots, or take a lazy walk around our 130 year historic mountain village on its' old dirt streets.
Hike or bike unlimited ancient Ute Indian trails to historical mines, hotels, and hidden high mountain lakes and beaver ponds.
Photograph elk, summer snow capped peaks, and golden aspen in the fall.
Browse our art gallery, in the lobby, featuring artist-in-residence, Constance Erickson.
Plan a drive over Independence Pass to Aspen only 35 miles; and, spend the day hiking Maroon Bells or enjoy the boutique gift shops and fine dining.
Enjoy lunch at one of the local diners, enjoy a cocktail and dinner at the Twin Lakes Inn right next door.
Take a scenic drive along Collegiate Peaks Scenic Byway to Leadville or Buena Vista.
AAA APPROVED: Best in views, comfort and rates. The Closest accommodations to the lake. Wireless internet, cable TV, private baths.
LOCATION: Closest lodging to Mt Elbert Trailhead along the Collegiate Peaks Scenic Byway in north central Colorado along SH 82. 30 minutes south of Buena Vista, Colorado and 30 minutes south of Leadville, Colorado.
ADDRESS: 6411 Highway 82, Twin Lakes CO 81251
PHONE: 719-486-9345 -- For Current Rates and Availability; To Book Your Vacation: mention the Colorado Vacation Directory.
LODGING
Lodging Open Dates: 5/15 to 10/15
Lodging Rates
Nightly Lodging Rates On-Season: Range from $130 to $270
Multi-Night Stay Required: During holidays and special events, please call for details.
Accommodation Description
About Smoking: All non-smoking units.
Cabins/Cottages with Cooking Facilities: 1
Lodge Rooms without Cooking Facilities: 4
Units with Queen Beds: All units.
Units with Gas/Electric-Log Fireplaces: 1
Technology In Units
Units with TV: All units.
Type of Reception: Satellite.
Number of Channels: 150
Internet Access in Units: All units.
Internet Access at No Additional Fee: Through Wi-Fi wireless.
FACILITIES
Elevation: 9200 feet above sea level.
Location: In Town.
Setting: Mountain views. Waterfront setting along a river, stream or creek. Waterfront setting beside a lake, reservoir or pond. Adjoins public lands. Country feel.
Meals Regularly Served: Breakfast.
On-Property in Central Area for Guests to Use: Central Picnic Area with BBQ Grills. Laundry Area (washers and dryers).
Credit Cards: Visa Card. MasterCard. Discover Card. American Express.
Pet Policies
Pets in Lodging: Sorry, NO pets are allowed in rental units.
Technology For Guests To Use In a Common Area
Phone: In private rental units.
GROUPS REUNIONS AND WEDDINGS
Groups Welcome: Club. Corporate. Reunion. Weddings. Youth group with adult leaders. Retreat.
Group Meeting Area: Indoor room and outdoor area.
Central Picnic Area with BBQ Grills: Yes
Maximum # of Day-Use Guests in Indoor Meeting Room: 20
Maximum # of Day-Use Guests in COVERED Outdoor Picnic Area: 20
Maximum # of Day-Use Guests in Outdoor Open Picnic Area: 20
Maximum # of Lodging Guests with a Group: 21
Your Host will Cater or Arrange Meals with Advance Arrangements: Yes
Your Host will Provide Wedding Planning Help: Yes
FUN THINGS TO DO
Primarily Year Round Activities
National Forests & BLM Lands: Walking distance.
State Parks: 15 minutes drive.
Designated Historic District, Site or Plaza: On site.
Ghost Town: 30 minutes drive.
Designated Scenic/Historic Byway: Along the scenic byway.
Designated Hiking Trails: Walking distance to trailhead.
Museum: 30 minutes drive.
Hot Mineral Springs: 30 minutes drive.
Golf Course: 20 minutes drive.
Movie Theater: 20 minutes drive.
Art Gallery: On site.
Restaurant(s): Walking distance.
Primarily Summer Activities
Stocked Fishing Pond: Walking distance.
Fishing in River, Stream or Creek: Walking distance.
Fishing in Lake, Reservoir or Pond: Walking distance.
Guided Fishing Trips (Licensed): Wade Fishing. Float Fishing. Lake Fishing.
Fishing Tackle Sold: Walking Distance (within 1 block).
Fly Shop: Walking Distance.
Boat Rentals: Canoe, Raft, Row, Paddle &/or Motor: Walking distance.
Whitewater Rafting Office/Pickup point: 5 minutes drive.
Kayaking Rentals: 5 minutes drive.
Horseback Trail Rides (Guided): 20 minutes drive.
Jeep Trails: 5 minute drive. (off road, back country, 4WD, Jeep, or jeeping).
Jeep Rentals: 15 minutes drive. (off road, back country, 4WD, Jeep, or jeeping).
Jeep Tours: 20 minute drive (off road, back country, 4WD, Jeep, or jeeping).
4-Wheel Drive Sales & Services: 20 minutes drive. (off road, back country, 4WD, Jeep, or jeeping).
Tourist Train Rides: 20 minutes drive.
Mine Tours: 20 minutes drive.
Mountain Bike Trails: Trails start on site.
Bicycle Shop: 20 minutes drive.
Waterfall Trails: 5 minutes drive to trailhead.
Performing Arts Theatre: 20 minutes drive.
Mini Golf: 20 minutes drive.
Find local Maps & Fun Things To Do for your Colorado Vacation
---