WJ Pagosa: Wilderness Journeys Winter and Summer - Guided Tours, Shuttle Service
970-731-4081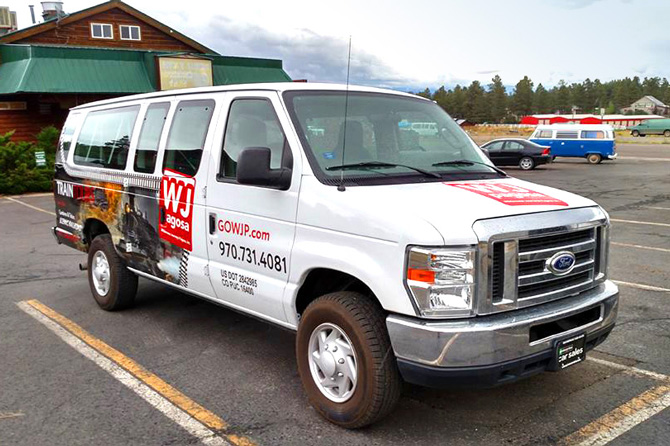 Southwest Colorado -- Year-Round Excursions -- Guided Tours and Shuttle Service
In operation since 1969, providing quality guided tours in the Four Corners Area. We love sharing our knowledge of the history, old-time lore, scenic beauty and wildlife of our region. We are able to accommodate large groups and customize tours for you. For more information or to make reservations, please visit our website at www.GoWJP.com or call us at 970-731-4081. We are conveniently located in uptown Pagosa Springs near City Market at 135 Country Center Drive, Suite D.
ALL TOURS INCLUDE: Naturalists guide/driver, transportation and binoculars. Lunch and beverages provided for an additional cost (or bring your own).
PAGOSA RAFTING OUTFITTERS. INC: The San Juan River flows through the heart of Pagosa Springs. During the spring and early summer snowmelt, we offer rafting trips that range from mild float trips for the whole family to overnight tours that will get you in touch with Mother Nature and the thrill of blood-pumping whitewater.
GUIDED WILDERNESS TOURS: Herds of mule deer and elk are often sighted in our local meadows. Wildflowers blanket the alpine tundra with a rainbow of colors, contrasting sharply with nearby snowfields. Photographers go wild on our mountaintops!
HISTORICAL TOURS: 8-hour tour departs at 8:30am and returns around 4:30pm. All ages welcome on these easy tours, with short walks to old ruins, mines, and waterfalls.
GUIDED FISHING: Spend a day fly-fishing on the Quality Waters of the San Juan River. We provide the fly-fishing boat, equipment and flies, guide/driver, and transportation to and from the river.
4X4 TOURS: The Elwood Pass Stagecoach Trail was once the only road leading east over the Continental Divide from Pagosa Springs. You will travel in the comfort of a 4-wheel drive vehicle with our expert guide/driver. Just past Summitville, we head for the top of the 12,602-foot mountain for an eagle-eye view.
TRAIN RIDES: Experience the Cascade Canyon Narrow Gauge Railroad, the Durango-Silverton Narrow Gauge Railroad, or the Cumbres and Toltec Scenic Railroad. All offer glimpses of how people, gold, silver and goods traveled throughout Colorado. All tour guides/drivers are well versed in the pioneer and gold rush history and the train.
BALLOON RIDES: Sunrise flights slowly rise from earth as the sun starts to shine revealing the beautiful canyons and valleys surrounding Pagosa Springs.
GRAVITY BIKE TOURS: Scenic mountain bike tours are ideal for older children and adults who are not up for an arduous peddle up a steep mountain -- 85% DOWN HILL. See spectacular scenery and wildlife on the decent down the forest service road.
WATER FUN TOURS: Lake Kayaking, River Tubing and Stand Up Paddleboarding. Our tours are led by experienced guides who provide instruction on the use of the equipment and insightful commentary. Tours include transportation in our licensed and insured vehicles and all the required permits for boating on the lake.
WATER FUN RENTALS: Lake Kayaks, River Tubes and Stand Up Paddleboards.
E-BIKE RENTALS: Rediscover the fun of bicycling with our electric-assisted bicycles! They are a great way to explore at a pace that allows you to more fully experience our beautiful area without overexertion. We offer half-day and full-day rentals of our electric-assisted bikes. Helmets and bike locks are included.
MINING TOURS: Your guide/driver will take you over Wolf Creek Pass and along the Silver Thread Scenic Byway and through the Bachelor Loop to see firsthand Creede's historic silver mining district and ghost towns. Walk through a silver mine to experience what it was like to be a miner.
HIKING & BIKING SHUTTLES: For the outdoor enthusiast needing transportation to the trailhead or pick-up at the end of your adventure, arranging a shuttle is the perfect solution.
SHUTTLE TO WOLF CREEK: During ski season we are happy to do the driving for you! Board one of our daily shuttles leaving Pagosa Springs carrying skiers to the Wolf Creek Ski Area and returning in the afternoon.
SNOWMOBILE TOURS: Explore our mountains in the winter. We offer tours near Wolf Creek Ski Area and in San Juan National Forest. Enjoy a guided tour along groomed trails. Ask about our backcountry options.
CROSS-COUNTRY SKI and SNOWSHOE TOURS: Explore our mountains in the winter; we offer tours of Alberta Loop at Wolf Creek Ski Area, Reservoir Hill Nordic Trails and West Fork Nordic Trails.
TAXI AND CHARTER: We provide local taxi service as well as customized charter services for weddings and corporate events in our fully licensed and insured vehicles. Colorado P.U.C # 16400.
Rates
Specialty Discounts (call for availability): Groups.
FACILITIES
Elevation: 7500 feet above sea level.
Credit Cards: Visa Card. MasterCard. American Express.
FUN THINGS TO DO
Open Dates For On-Site Activities: All Year
Primarily Year Round Activities
National Park OR Monument: On site.
State Parks: On site.
Indian Ruins - Archeological Site: On site.
Designated Scenic/Historic Byway: Along the scenic byway.
Designated Hiking Trails: Trails start on site.
Museum: On site.
Dinosaur - Archeological Site: On site.
Hot Mineral Springs: On site.
Outlet/Mall Shopping: On site.
Primarily Summer Activities
Fishing in River, Stream or Creek: On site.
Fishing in Lake, Reservoir or Pond: On site.
Guided Fishing Trips (Licensed): Wade Fishing. Float Fishing. Lake Fishing.
Marina: On site.
Boat Rentals: Canoe, Raft, Row, Paddle &/or Motor: On site.
Whitewater Rafting Office/Pickup point: On site.
Kayaking Rentals: On site.
Designated Whitewater Park (Kayak, Canoe): On site.
Jeep Tours: On site (off road, back-country, 4WD, Jeep, or jeeping).
Tourist Train Rides: On site.
Cave Tours: On site.
Mine Tours: On site.
Historic/Cultural Tours: On site.
Mountain Bike Trails: Trails start on site.
Bike Path: Path starts on site.
Winter Activities
Cross Country Skiing Trails: Trails start on site.
Ski/Snowboard Equipment Rentals: On site.
Snowshoe Trails: Trails on site.
Find local Maps & Fun Things To Do for your Colorado Vacation
---