Burlington Old Town Museum
800-288-1334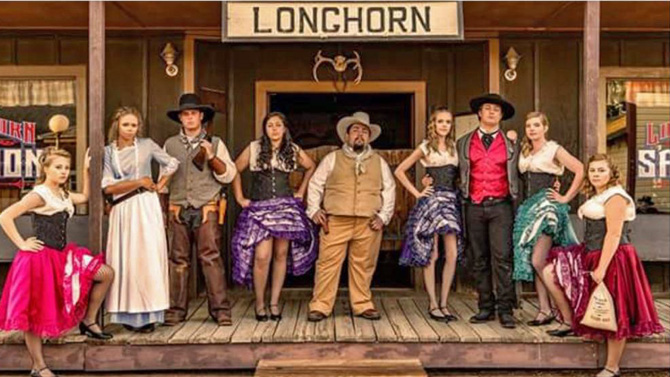 Colorado Wedding Chapel, Reunion-Conference Center | Historic Buildings | Soda Fountain and Ice Cream Shop | Kit Carson County Carousel | Helpful Information | Special Events and Tours
One of the Most Outstanding Outdoor Historical Museums
COME PLAY IN COLORADO'S BACKYARD!
Nestled in the heart of Colorado's Central Plains, Old Town Museum embodies the spirit of the West. The 6-1/2 acre historic site includes 21 fully restored buildings with authentic artifacts from the turn-of-the-century. Just off I-70 near the Colorado/Kansas border, Old Town Museum celebrates agriculture, history and heritage. From Memorial Day-Labor Day, Old Town offers hand-dipped ice cream treats, cancan shows, authentic gunfights, and horse drawn wagon rides. The Emporium at Old Town is a shopper's delight . . . cover 1500 square feet of souvenirs, gifts, apparel, art and hand-crafted pieces.
Burlington is also home of the historic Kit Carson County Carousel, which was awarded the Governor's Award for Historic Preservation in 2007. The Carousel, which was originally located at Elitch Gardens and is one of only 89. A complement to the history of the region, Burlington also houses the wonderful and historic Old Town Museum. A treasure of the pioneer days, Old Town gives visitors a chance to experience life in the simpler, nostalgic days of the Wild West.
A COLORADO WEDDING, REUNION AND CONFERENCE CENTER
Authentic Rustic Barn -- Western Saloon -- Historic Church
Burlington Old Town Museum has the only conference center between Denver and Burlington along I-70!
Looking for a unique place to host your wedding, Dad's 50th Birthday party or a Family Reunion banquet they'll talk about for years? Our facilities are just the ticket! We have a 6-1/2 acre facility with a 100 yr old barn, authentic saloon with small stage, and historic church. WiFi available. Perfect for families that are spread across the mid-west!
FACILITY AMENITIES: Historic Location, Museum, Conference Center, Catering.
HISTORIC BUILDINGS -- Re-Created turn-of-the-Century Prairie Town
Buildings include the Depot (1889), law office, bank/real estate office, barber shop, cream station, general store, blacksmith shop, old town barn, caretaker's house, soddies (sod houses), school house (1911), church (1921), doll house, manor house, old town drug store/doctor's office, leather shop, wood shop, jail cells, Longhorn Saloon, newspaper office, and the Heritage Hall with exhibits.
OLD TOWN EXPRESS: Enjoy a horse drawn wagon ride to the Kit Carson County Carousel!! The wagon runs on the 4th SATURDAY of the month, Memorial Day through Labor Day.
LIVE CANCAN AND GUNFIGHT SHOW: From Memorial Day through Labor Day, our cast of Cancan girls and authentic gunfighters perform on SATURDAYS at HIGH NOON. Make your reservations for our Wild West Dinner theatre on the 4th SATURDAY of every month.
BURLINGTON OLD TOWN MUSEUM HELPFUL INFORMATION
SUMMER HOURS: Monday-Saturday 9-5pm, Sunday 12-5pm.
WINTER HOURS: January 1st through March 30th, Monday-Saturday 9-5pm.
CLOSED: Thanksgiving, Christmas, and New Years.
RATES: Seniors (60+) $6, Adults $8, Children (12-17) $4, Children (3-11) $2, Children under 3 Military are Free.
DISCOUNTS: AAA Discount, Group Discount (call for details), Senior Citizen Discount.
CALL: 719-346-8404 or toll free 800-288-1334 -- Mention the Colorado Vacation Directory.
SPECIAL EVENTS -- TOURS -- WALKING PATHS -- GOLD PANNING
SCHOOL DAZE: The second Tuesday in May -- A day set aside for schools to bring their students to learn about the settling of the plains.
WILD WEST DINNER THEATRE: On the 4th Saturday of the month from May through August join us at 6:30pm for a dinner theater a full western meal and melodrama stage show.
Call for Dates and Reservations: 800-288-1334
HALLOWEEN: Attend one of the longest running community activities in the area the Saturday before Halloween. Trick or treat in the Old Town buildings and go through the Haunted House in the barn.
WINTER WONDERLAND and CHRISTMAS TREE STROLL: Starting at 6pm come grab a cup of hot coffee, cocoa or cider and stroll through the buildings at Old Town to view 20 decorated Christmas trees, while carolers sing. There is a story time for kids with cookies. At 6pm and 7pm we have horse-drawn wagon rides through downtown to view the lights.
Call for Dates and Reservations: 800-288-1334
LOCATION: Easy to get to just off I-70 from either Exit 437 or Exit 438.
ADDRESS: 420 South 14th Street, Burlington CO 80807
PHONE: 719-346-7382 or toll fee 800-288-1334 -- For more information on daily activities and seasonal events, mention the Colorado Vacation Directory.
Rates
Specialty Discounts (call for availability): Seniors. Groups.
FACILITIES
Technology For Guests To Use In a Common Area
GROUPS REUNIONS AND WEDDINGS
Groups Welcome: Club. Corporate. Reunion. Weddings. Elopements. Youth group with adult leaders. Retreat.
Group Meeting Area: Indoor room and outdoor area.
Conference Center: Meeting room with tables and chairs can be set up class room style. Some A/V equipment available for seminars. Call for more details.
Maximum # of Day-Use Guests in Indoor Meeting Room: 1000
Maximum # of Day-Use Guests in COVERED Outdoor Picnic Area: 250
Maximum # of Day-Use Guests in Outdoor Open Picnic Area: 1000
Your Host will Cater or Arrange Meals with Advance Arrangements: Yes
Your Host will Provide Wedding Planning Help: Yes
FUN THINGS TO DO
Open Dates For On-Site Activities: All Year
Primarily Year Round Activities
Designated Historic District, Site or Plaza: On site.
Designated Hiking Trails: Trails start on site.
Museum: On site.
Primarily Summer Activities
Historic/Cultural Tours: On site.
Find local Maps & Fun Things To Do for your Colorado Vacation
---