Colorado Springs Historic Walking Tours
719-428-6781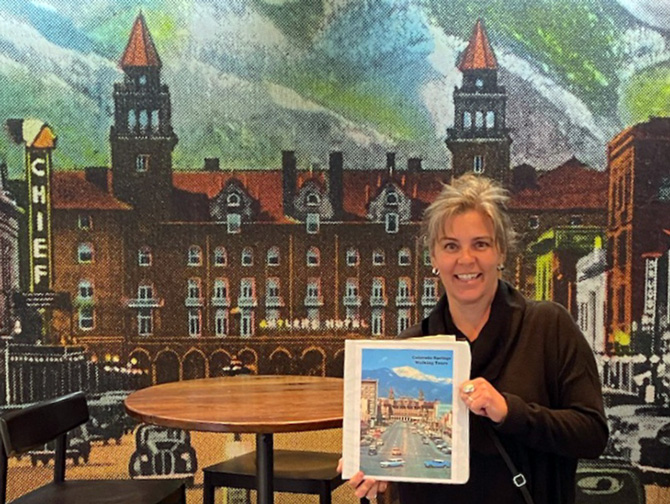 The Pikes Peak Region is full of history and outdoor adventure! The Ute, Cheyenne, and Arapaho tribes would gather in what is now known as the Garden of the Gods Recreation Area, a National Landmark; American prospectors arrived in 1859, creating the Pikes Peak gold rush; and in 1871, General William Jackson Palmer founded Colorado Springs as a resort town. If your family is like mine, heading to a city's downtown to explore is a vacation must!
I love history! I love Colorado Springs! I love people! I have created a unique and intriguing experience for your family as we explore the streets of downtown Colorado Springs. I will share with you my favorite secrets, lesser-known facts, and details from Colorado's history, including some of Colorado Springs' colorful individuals that helped create this unforgettable town.
Did you know . . . .
"God Bless America" was inspired by our very own 'purple mountain'?
Nikola Tesla really had a secret experimental lab on the east side of town?
Colorado Springs was shockingly the tuberculosis capital of the world!?
An anti-prohibitionist gang terrorized the streets of downtown?
Learn these interesting facts and SO MUCH MORE as we explore the rich, colorful history of Colorado Springs as we wind through the city streets to explore the history, culture, art, and entertainment aspects of Colorado Springs from the 1800s through today.
Your 2-hour excursion is paced for your whole family to enjoy . . . from meandering toddlers to poky grandparents.
We meet at Starbucks coffee shop in the lobby of the Historic Antlers Hotel. From there, we wind through the streets of downtown, finishing at Jack Quinn's Irish Pub, one of the oldest buildings in Colorado Springs, to quench your thirst and satisfy your appetite.
Enjoy a free plate of Irish nachos and a $5 gift card (good towards libations, appetizers, meals, or dessert). PRO TIP: Ask about the $5 shot of Prohibition Edition Irish Whiskey. While you dine, take in the original tin roof and walk the original creaky floor boards of the 1800s as you enjoy a cold brew or plate of poutine.
LOCATION: Downtown Colorado Springs.
DRIVE TIMES: Manitou Springs and the Air Force Academy are both 15 minutes. Woodland Park is 30 minutes. Cañon City is 60 minutes. Pueblo and Castle Rock are both 45 minutes. Denver and Walsenburg are both 90 minutes. Fort Collins is 2-1/2 hours.
PHONE: 719-428-6781 - For Current Rates and Availability; To Book Your tour, mention the Colorado Vacation Directory. See you soon!
Rates
Specialty Discounts (call for availability): Firefighters and Police Officers. Military Personnel.
FACILITIES
Elevation: 6035 feet above sea level.
Restaurant: On site.
FUN THINGS TO DO
Open Dates For On-Site Activities: All Year
Primarily Year Round Activities
Designated Historic District, Site or Plaza: On site.
Art Gallery: On site.
Restaurant(s): On site.
Primarily Summer Activities
Historic/Cultural Tours: On site.
Find local Maps & Fun Things To Do for your Colorado Vacation
---