Doc's Outdoor Sports and Ski Rentals
800-225-WOLF (800-225-9653)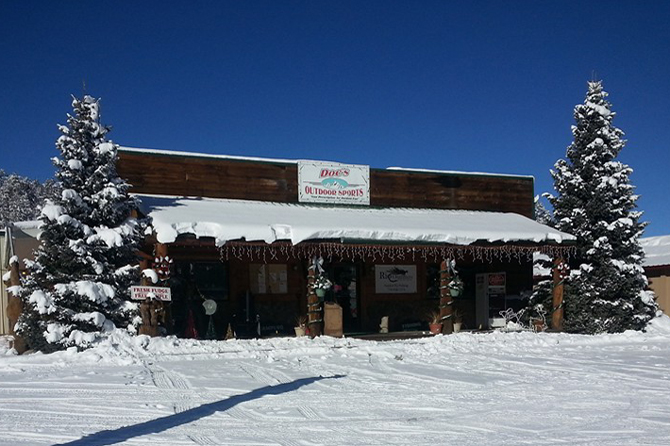 Your "Prescription for Outdoor Fun!" in South Fork Colorado
Doc's Outdoor Sports -- Fun in the Sun! We are a full service ski shop and sporting goods store located in South Fork, Colorado, just minutes from Wolf Creek Ski Area. South Fork is where the South Fork of the Rio Grande joins the main body of the Rio Grande. Situated near Rio Grande National Forest with winter, spring, summer and fall outdoor adventures out your door we offer all your sporting good needs.
Sample our freshly made fudge! I'm Sure you will be taking some home for your friends and family.
SOUTH FORK'S 4-Season Sporting Goods Store
Get Your Colorado Fishing and Hunting licenses plus Fishing Tackle
We have a great selection of t-shirts and outdoor sportswear to choose from and a variety of outdoor sports equipment in our camping and fishing departments. We sell hunting and fishing licenses. We also have hiking, backpacking, golfing and hunting accessories.
Ski, Snowboard & Snowshoe RENTALS -- Minutes to Wolf Creek Ski Area
We have the largest ski and snowboard rental fleets in the area and rent all types of winter sports equipment including: Alpine skis, Nordic skis, Snowboards, Skiboards, Snowshoes, Helmets, Car Racks and more. Whether you are a beginner at 40, 30, 20, 10 or 5 or you are an expert boarder/skier from out of town we have the equipment you need for the perfect ride down the slope.
We also have a large selection of snowshoe and cross country ski rentals for those who would rather set their own pace and explore the national forest as the fur trappers might have seen it over 100 years ago. Doc's Outdoor Sports also carries a full lineup of winter clothing and accessories including jackets, bibs, pants, gloves, goggles, sun glasses, long underwear, head bands, stocking caps and beanies.
LOCATION: Easy On-off Highway access on Highway 160!
ADDRESS: 31101 West Highway 160, South Fork CO 81154
PHONE: 800-225-9653 -- 719-873-5151 -- For Current Equipment Rental Rates; Local Ski and River Conditions: Mention the Colorado Vacation Directory.
FACILITIES
Elevation: 8180 feet above sea level.
Credit Cards: Visa Card. MasterCard. Discover Card. American Express.
Technology For Guests To Use In a Common Area
FUN THINGS TO DO
Open Dates For On-Site Activities: All Year
Primarily Year Round Activities
National Forests & BLM Lands: 5 minutes drive.
Designated Scenic/Historic Byway: 1 minutes drive to the scenic byway.
Primarily Summer Activities
Fishing in River, Stream or Creek: 5 minutes drive.
Fishing in Lake, Reservoir or Pond: 15 minutes drive.
Fishing Tackle Sold: On site.
Hunting
Hunting in Area: 5 minutes drive.
Colorado Hunting Units/Areas: 76, 79, 80, 78,
Winter Activities
Downhill/Snowboarding Ski Area: 20 minutes drive.
Cross Country Skiing Trails: 15 minutes drive to trailhead.
Ski/Snowboard Equipment Rentals: On site.
Snowshoe Trails: 15 minutes drive to trailhead.
Ice Fishing: 15 minutes drive.
Find local Maps & Fun Things To Do for your Colorado Vacation
---