Glenwood Caverns Adventure Park and Lookout Grille
800-530-1635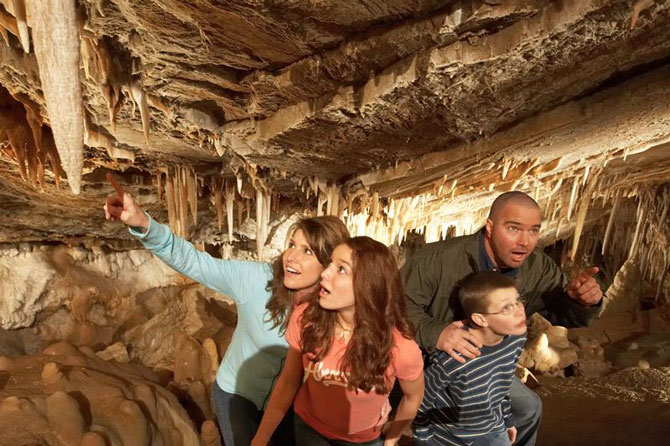 Glenwood Caverns Adventure Park . . .
America's only Mountain-top Theme Park
Take the NEW Glenwood Gondola to the top of Iron Mountain and experience western Colorado's #1 'must-see' attraction. You'll find a host of activities for kids of all ages along with amazing educational activities. Experience thrill rides that will take your breath away along with other rides and attractions, along with Glenwood Caverns and Historic Fairy Caves, a natural wonder, millions of years in the making.
It's a truly affordable day full of family fun as you experience one of Colorado's longest Alpine Coasters, named one of the "10 Best Roller-Coaster Rides of Your Life" by USA Today. Experience the adrenaline rush of the Giant Canyon Swing, the Cliffhanger Roller Coaster and the Canyon Flyer; they are all perched on the edge of Glenwood Canyon 1300 feet above the Colorado River! The Haunted Mine Drop is a hair-raising ride that plunges over 110 feet inside the mountain! It's the only drop ride of its kind in the world.
Other attractions include a 600-foot zip line ride, the Wild West laser tag arena and Colorado's first 4D Motion Theater and many more kid-friendly rides and activities like a kid's roller coaster, Ferris wheel, climbing wall and much more.
Explore Glenwood Caverns and Historic Fairy Caves, rated one of the country's "10 Best Places to Go Underground." There are two different 40-minute cave tours that are great for most ages and no reservations are necessary. A mountain-top restaurant provides sweeping vistas of the surrounding peaks and valleys and a gift shop with the best fudge you've ever tasted! Get it all for one low price with the FUNDAY PASS -- buy online and save! For hours call 1-800-530-1635 or go to our website. We know you'll leave smiling!
LOCATION: Glenwood Caverns Adventure Park and Lookout Grille is conveniently located near I-70 in Glenwood Springs, Colorado near Grand Junction, Aspen and Vail.
ADDRESS: 51000 Two Rivers Plaza Road, Glenwood Springs CO 81601
Iron Mountain Hot Springs Along the Colorado River just down the street, is the perfect place to relax after a day at Glenwood Caverns or enjoying Colorado's incredible outdoors. Make a full day of it by spending time at both Glenwood Caverns and Iron Mountain Hot Springs.
Rates
Specialty Discounts (call for availability): Seniors. Groups.
FACILITIES
Elevation: 7100 feet above sea level.
Restaurant: On site.
Meals Regularly Served: Lunch & Dinner.
Credit Cards: Visa Card. MasterCard. American Express.
Technology For Guests To Use In a Common Area
GROUPS REUNIONS AND WEDDINGS
Groups Welcome: Club. Corporate. Reunion. Weddings. Elopements. Youth group with adult leaders. Retreat.
Group Meeting Area: Indoor room and outdoor area.
Conference Center: Meeting room with tables and chairs can be set up class room style. Some A/V equipment available for seminars. Call for more details.
Maximum # of Day-Use Guests in Indoor Meeting Room: 100
Maximum # of Day-Use Guests in COVERED Outdoor Picnic Area: 200
Maximum # of Day-Use Guests in Outdoor Open Picnic Area: 300
Your Host will Cater or Arrange Meals with Advance Arrangements: Yes
Your Host will Provide Wedding Planning Help: Yes
FUN THINGS TO DO
Open Dates For On-Site Activities: All Year
Primarily Year Round Activities
Movie Theater: On site.
Restaurant(s): On site.
Internet Cafe: On site.
Primarily Summer Activities
Cave Tours: On site.
Amusement Rides: On site.
Chairlift/Gondola/Tram Rides: On site.
Find local Maps & Fun Things To Do for your Colorado Vacation
---