Hill Top General Store Antiques and Cabins
970-881-2206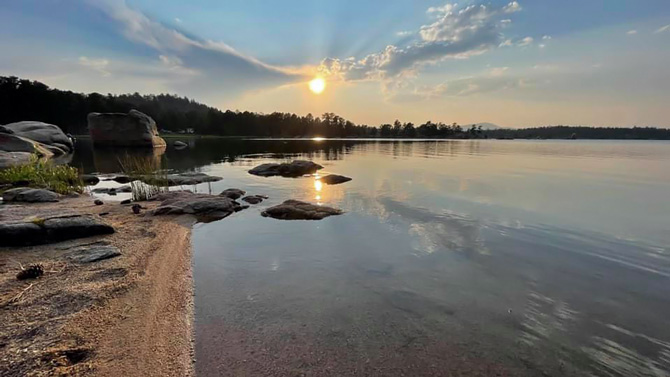 HILL TOP GENERAL STORE ANTIQUES AND CABINS are near three public fishing lakes in Red Feather Lakes Village with panoramic views of meadows, lakes, mountains and forest.
Our retreat has triplex cabins offer studios and 2 mountain cabins. All cabins have a kitchenette, dining table with chairs, TVs and bathrooms and are non-smoking.
AREA ACTIVITIES: Roosevelt National Forest, Fish stocked lakes and streams. Trail, horseback ride, mountain bike and ATV Trails.
DURING THE WINTER MONTHS: Ice fish, cross-country ski, and play on our tubing hill.
GENERAL STORE: Stocked with groceries, beer, wine, antiques, gifts, souvenirs, plus fishing and hunting supplies.
ICE CREAM SHOP: We serve ice cream cones, sundaes, banana splits, malts, and shakes. Our lunch menu includes pizza, subs, hot dogs, brats, polish sausage, and nachos.
LOCATION: We are 45 miles northwest of Fort Collins on the eastern side of Hiawatha Lake. 90 minutes from Laramie, Wyoming. 2-1/2 hours from Denver, Colorado. 75 minutes from Cheyenne, Wyoming. 7 hours from Salt Lake City, Utah.
ADDRESS: 99 Hiawatha Hwy, Red Feather Lakes CO 80545
PHONE: 970-881-2206 or 970-640-7876 -- For Current Rates and Availability; To Book Your Vacation: mention the Colorado Vacation Directory.
LODGING
Lodging Open Dates: All Year
Lodging Rates
Nightly Lodging Rates On-Season: $120
Accommodation Description
About Smoking: All non-smoking units.
Cabins/Cottages with Cooking Facilities: 5
Adjoining rooms/units: Some units.
Units with Queen Beds: Most units.
Additional Amenities (ask about availability): Coffee Maker with coffee.
Technology In Units
Units with TV: All units.
Type of Reception: Satellite.
Number of Channels: 50
FACILITIES
Elevation: 8200 feet above sea level.
Location: In Town.
Setting: Mountain views. Country feel.
BBQ Grills (individual use): Yes
Credit Cards: Visa Card. MasterCard. Discover Card. American Express.
Pet Policies
Pets in Lodging: Some pets are allowed in designated Pet Friendly rental units. When making a reservation, be sure to ask for one of these units. There may be a fee or a deposit. Make advance arrangements
Technology For Guests To Use In a Common Area
FUN THINGS TO DO
Primarily Year Round Activities
National Forests & BLM Lands: Walking distance.
Designated Historic District, Site or Plaza: Walking distance.
Ghost Town: 20 minutes drive.
Designated Scenic/Historic Byway: 25 minutes drive to the scenic byway.
Golf Course: 10 minutes drive.
Art Gallery: Walking distance.
Restaurant(s): Walking distance.
Primarily Summer Activities
Fishing in River, Stream or Creek: 25 minutes drive.
Fishing in Lake, Reservoir or Pond: 5 minutes drive.
Guided Fishing Trips (Licensed): Wade Fishing.
Fishing Tackle Sold: On site.
Boat Rentals: Canoe, Raft, Row, Paddle &/or Motor: Walking distance.
Whitewater Rafting Office/Pickup point: 60 minutes drive.
Kayaking Rentals: 60 minutes drive.
Horseback Trail Rides (Guided): 10 minutes drive.
Jeep Trails: 10 minute drive. (off road, back country, 4WD, Jeep, or jeeping).
ATV (All Terrain Vehicles) and/or Dirt Bike Trails: 10 minute drive.
Mountain Bike Trails: 10 minutes drive to trailhead.
Hunting
Hunting in Area: 5 minutes drive.
Colorado Hunting Units/Areas: 19, 191, 9, 8, 7
Winter Activities
Cross Country Skiing Trails: 15 minutes drive to trailhead.
Snowshoe Trails: 15 minutes drive to trailhead.
Snowmobile Trails: 10 minutes drive to trailhead.
Ice Skating (outdoor) Skates Available: 15 minutes drive.
Sled/Tube Hill Equipment Available: 15 minutes drive.
Sleigh Rides: 15 minutes drive.
Find local Maps & Fun Things To Do for your Colorado Vacation
---