Play Dirty ATV Tours - Mountain Trail Riding
719-275-7373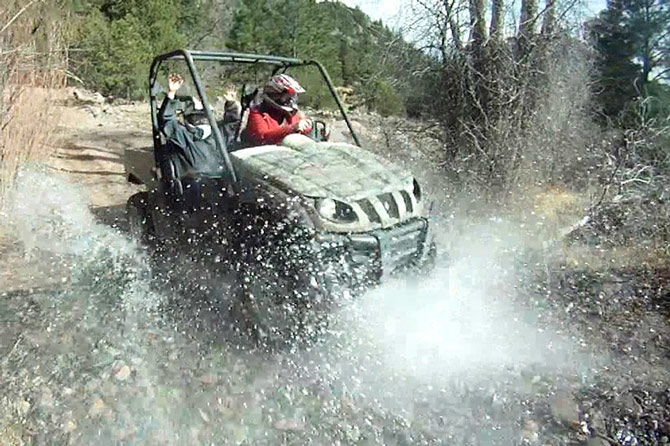 Mention The Colorado Vacation Directory:
Play Dirty ATV Tours is owned and operated by combat veterans. We HONOR, RESPECT and LOVE our military and our veterans! To show our appreciation, if you are a current member of the military, veteran, or first responder, please call -- 719-275-7373 -- so we can extend you a 15% discount to show our thanks.
Texas Creek is the ALL TERRAIN VEHICLE CAPITAL of Colorado
Mountain Trail Riding is Exciting and Fun with Play Dirty ATV Tours!
We are a private, VETERAN OWNED and OPERATED, tour guide service in the Texas Creek Trail System.
OUR PRIVATE TOURS: Each group gets their very own tour guide. Play Dirty ATV Tours starts out at 6,400 feet elevation, in the beautiful Arkansas River valley, also known as the Bighorn Sheep Canyon. We are on Highway 50, between the spectacular Canon City Royal Gorge Bridge and the historic mining town of Salida, Colorado.
Minutes after leaving Texas Creek Junction, the mountain trails lead you up 3,000 feet above the valley, where the views are absolutely spectacular. We have many paths and trails to choose from and each is very different. Your personal interest and riding ability will determine which adventure is awaiting you. All tours are guided by a qualified ASI Certified and 1st Aid trained driver.
TOUR EQUIPMENT
All our ATVs have automatic transmissions, no shifting!
RIDE: Polaris 4 seat Adult RZRs! Perfect for families is our 4 person side-by-side with a back seat Yamaha Rhino 700 Automatic. Our Mac Daddy is a 6 person side-by-side Yamaha Viking 700 allows for all adult riders. We have 2 person side-by-side Yamaha Rhino 660. For those who want to ride and drive on their own Yamaha 350 Grizzly.
ALL PACKAGES INCLUDE: riding instruction, training course and helmets.
RIDES ARE AVAILABLE: 7 days a week, ALL YEAR LONG. Winter months, weather permitting.
TOURS -- By "those who know" Texas Creek Colorado!
TOURS START HERE: Our Trails start across the bridge over the Arkansas River. No need to trailer the ATVs anywhere!
CLASSIC TOURS: We offer a 2 hours - 20 miles tour and a 3 hours - 30 miles. Both of these tours are great for families with children and beginners looking to get their feet wet. This trail twists and turns, up and over a mountain and into Devils bowl where fragments of Colorado mining and out back spirit can be found. Pay respects to Sgt. Nulph while down in the bowl, find out Ponderosa pines secrets.
ADVANCED TOUR: Our advanced tours are longer ranging from 3 hours - 30 miles to 6 hours - 50+ miles. These rides are a bit more challenging, and take you into the harder to reach areas of the Texas Creek Trail System. The trails are steeper with a larger elevation gain to reach the upper mesa with views of The Sangre de Cristo mountain range meeting the Collegiate Peaks.
ROCKY MOUNTAIN ROMANCE TOUR: A perfect date night on the mountain! Watch the sunset! Your guide will take you up to Inspiration Point, which boasts some of the best views in Southern Colorado to watch the beginning of the sunset. A sparking cider toast can be arranged; please save the Champagne for home. Pick a 2 person side-by-side or individual ATVs.
LOCATION: Play Dirty ATV Tours in Texas Creek, Colorado
DRIVING DIRECTION TO PLAY DIRTY ATV TOURS: We are between the Royal Gorge Bridge and Salida in Texas Creek just off Highway 50 on Colorado Highway 69 at milepost marker 251.
PLEASE NOTE: Most navigation maps have this part of Highway 50 along the Arkansas River wrong, watch for Milepost Markers, we are on the south side!
PHONE: 719-275-7373 -- For Current Rates and Availability; To Book Your Vacation: mention the Colorado Vacation Directory.
Rates
Specialty Discounts (call for availability): Military Personnel.
FACILITIES
Elevation: 6400 feet above sea level.
Credit Cards: Visa Card. MasterCard.
Technology For Guests To Use In a Common Area
FUN THINGS TO DO
Open Dates For On-Site Activities: All Year
Primarily Summer Activities
ATV (All Terrain Vehicles) and/or Dirt Bike Trails: Trails start on site.
ATV (All Terrain Vehicles) and/or Dirt Bike Tours: On site.
Find local Maps & Fun Things To Do for your Colorado Vacation
---