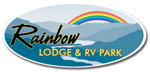 Rainbow Lodge, Cabins, RV Park and UTV Rentals
888-873-5174








RAINBOW LODGE, CABINS, RV PARK AND UTV RENTALS in the heart of South Fork offers lodge room, log cabins with kitchens; and an RV park with large, full hookup grassy sites. Families will have fun vacationing here in winter, spring, summer and fall! This part of Colorado is an outdoor mecca with activities like skiing at Wolf Creek Ski Area in winter; spring snow-melt offers rafters great whitewater; golfing the Rio Grande Club in summer; and in fall the mountain peaks are blanketed in a festival of gold as entire groves of aspen get ready for winter. Rio Grande River fly-fishing is a stones-throw-away from us. Thousands of miles of Rio Grande National Forest to play in: hike, ATV or go hunting. Walk to shopping and restaurants.
SIDE-BY-SIDE RENTALS: A trip to South Fork would not be complete with a day spent exploring the National forest on an ATV! Trails will take you to the top of mountain peaks with amazing views of the San Luis Valley, to creek bottoms and dense forest growth. No matter what your skill from beginner to advanced rider you will find limitless possibilities day after day.
FULL DAY RENTALS range from $275 - $475 depending on the ATV you choose; we have 6-Seaters, 2-Seaters, and single-seat 4-wheelers.
TOP FISHING SPOTS NEAR SOUTH FORK: Rio Grande River, Million Reservoir, Beaver Creek Pond, Pass Creek and Big Meadows Reservoir. The Rio Grande River between South Fork and Del Norte is designated Gold Medal Waters. Million Reservoir is a 5 mile drive west this small reservoir is stocked with Rainbow Trout throughout the summer providing a great dinner back at camp. Beaver Creek Pond allows no wake boats and has a boat ramp from October 1 to December 31 you can catch and keep Kokanee Salmon; in winter it's a great location for snowshoeing and snowmobiling. Pass Creek beginning at the top of Pass Creek Road near the top of Wolf Creek pass; if you're looking for a challenge this little gem has tons of fish, anglers will love the fly-fishing here. Big Meadows Reservoir is a great destination for families with small boat ramp for wakeless boating from Memorial day to late October; and ice-fishing in the winter; there are restroom, picnic tables and concessions.
SILVER THREAD SCENIC and HISTORIC BYWAY: This byway weaves through one remarkable story after another: the historical towns of Creede, Wagon Wheel Gap and Lake City, Wheeler Geologic National Area provides views of exquisite land formations; and ATVing Alpine Loop Backcountry Byway takes you into Colorado's mining past, up above timberline into the tundra, and over two high elevation passes. Be on the look out for elk!
WOLF CREEK SKI AREA: This is Colorado's last family owned ski area and is known for short lift lines and expansive and varied terrain. Its slogan is "Most Natural Snowfall in Colorado" with over 400 inches annually. This high alpine resort boasts the deepest base in the state and is usually open in late-October though early April.
LOCATION: We are in Southwest Colorado 17 miles east of Wolf Creek Ski Area, at the Junction of US Highway 160 and Colorado Highway 149. 3-1/2 hours from Colorado Springs; 4 hours southwest of Denver; 4-1/2 hours from Grand Junction; 5 hours from Fort Collins; and 4-1/2 Albuquerque, New Mexico.
DRIVING DIRECTIONS: From Denver take US Highway 285 South to Johnson Village. At the "T" turn left and continue south over Poncha Pass through Saguache to Center where there is a Gas Station; turn right (west) onto Colorado Highway 12 (a 13 mile short cut to Del Norte). At the junction with US Highway 160 turn right (west), drive 16 miles to Rainbow Lodge, Cabins and RV Park on your right.
ADDRESS: 20359 W Hwy 160, South Fork CO 81154
PHONE: 719-873-5571 -- For Current Rates and Availability; 888-873-5174 To Book Your Vacation: mention the Colorado Vacation Directory.
LODGING
Lodging Open Dates: All Year
Lodging Rates
Nightly Lodging Rates On-Season: Range from $65 to $265
Weekly Lodging Rates On-Season: Range from $275 to $535
Accommodation Description
About Smoking: All non-smoking units.
Cabins/Cottages with Cooking Facilities: 16
Lodge Rooms without Cooking Facilities: 13
Units with King Beds: Some units.
Units with Queen Beds: Some units.
Units with Wood Fireplaces: 13
Technology In Units
Units with TV: All units.
Type of Reception: Satellite.
Number of Channels: 25
Internet Access in Units: All units.
Internet Access at No Additional Fee: Through Wi-Fi wireless.
CAMPING
Camping Open Dates: 5/1 to 10/31
Along a Highway: Easy access for quick and convenient RVing along Interstate or State Highways.
Camping Rates
RV Camping Rates: Range from $40 to $45 a night for two people.
Weekly RV Camping Rates On-Season: Range from $245.00 to $289.00 for two people.
Site Description
RV Sites: 33
Tent Sites: 0
Total Sites: 33
Electric & Water Hookups: 9 sites with electric and water only.
Full Hookups: 24 sites with water, electric and sewer.
50 Amp Hookups: 12 sites with 50 amp electrical service.
Long RV Sites 45+ Feet: 24 RV sites are 45 feet or longer.
Pull-Thru Sites: 2
RV Sites Wide Enough for Slideout(s): 24
FACILITIES
Elevation: 8250 feet above sea level.
Location: In Town.
Setting: Mountain views.
Credit Cards: Visa Card. MasterCard. Discover Card. American Express.
Pet Policies
Pets in Lodging: Some pets are allowed in designated Pet Friendly rental units. When making a reservation, be sure to ask for one of these units. There may be a fee or a deposit. Make advance arrangements
Pets at Campground & RV Park: There are pet restrictions, please call and make prior arrangements.
Pet Park (leash free zone): On site.
Vet Services: 5 minutes drive.
Technology For Guests To Use In a Common Area
Phone: In private rental units.
WI-FI Wireless Internet: Available free.
GROUPS REUNIONS AND WEDDINGS
Groups Welcome: Club. Corporate. Reunion.
Group Meeting Area: Indoor room.
Maximum # of Day-Use Guests in Indoor Meeting Room: 50
Maximum # of Lodging Guests with a Group: 90
Maximum # of Camping Sites with a Group: 24
FUN THINGS TO DO
Primarily Year Round Activities
Designated Historic District, Site or Plaza: 30 minutes drive.
Ghost Town: 30 minutes drive.
Designated Scenic/Historic Byway: Along the scenic byway.
Museum: 30 minutes drive.
Golf Course: 5 minutes drive.
Restaurant(s): Walking distance.
Primarily Summer Activities
Fishing in River, Stream or Creek: 5 minutes drive.
Fishing in Lake, Reservoir or Pond: 10 minutes drive.
Guided Fishing Trips (Licensed): Wade Fishing.
Fishing Tackle Sold: On site.
Whitewater Rafting Office/Pickup point: Walking distance.
Horseback Trail Rides (Guided): 3 minutes drive.
Jeep Rentals: 15 minutes drive. (off road, back country, 4WD, Jeep, or jeeping).
ATV (All Terrain Vehicles) and/or Dirt Bike Trails: 5 minute drive.
ATV (All Terrain Vehicles) and/or Dirt Bike Rentals: On site.
ATV (All Terrain Vehicles) and/or Dirt Bike Tours: 30 minute drive.
Mine Tours: 30 minutes drive.
Mountain Bike Trails: 10 minutes drive to trailhead.
Cowboy Supper & Show: 3 minutes drive.
Mini Golf: 10 minutes drive.
Hunting
Hunting in Area: 15 minutes drive.
Colorado Hunting Units/Areas: 76, 79, 80
Winter Activities
Downhill/Snowboarding Ski Area: 30 minutes drive.
Cross Country Skiing Trails: 10 minutes drive to trailhead.
Snowshoe Trails: 10 minutes drive to trailhead.
Snowmobile Trails: 10 minutes drive to trailhead.
Snowmobile Rentals: 5 minutes drive.
Snowmobile Tours: 5 minutes drive.
Find local Maps & Fun Things To Do for your Colorado Vacation
---